VietNamNet Bridge – The traffic police of Thanh Hoa province have officially used net releasing guns to stop motorcycle racers on the street.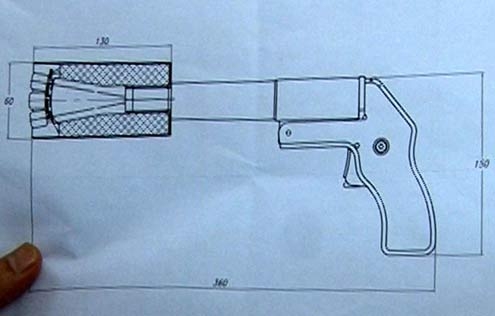 Casting nets to stop illegal racers has been applied by Thanh Hoa police since late 2011. This is the idea of Lieutenant Colonel Vu Quoc Tuong, vice chief of the Traffic Police Team of Thanh Hoa City.
Accordingly, when detecting traffic violators, the police will request them to stop by making a signal. If the driver does not obey the signal and run away, the police will throw the net on motorcycle wheels to control the vehicle. If the net is thrown to the wheel successfully, it will catch the wheel and makes the vehicle unable to move.
Once the measure was widely applied in the day, many people said that police officers using fish nets to catch vehicles looked very offensive. This measure was canceled for further research. However, when the police stopped using this measure, illegal racing recurred and somewhat was more complicated. So the police chief of Thanh Hoa province decided to allow the traffic police to use nets again.
Lieutenant Colonel My Duy Xuan, chief of the Traffic Police Team of Thanh Hoa City, said that the measure was especially useful when traffic police intercepted and dispersed groups of illegal racing at night. It has helped limit a lot of accidents caused by racers when fleeing.
"In just a short time, from January to March 2012, Thanh Hoa City Police stopped and seized more than 200 vehicles of illegal racers and traffic violators to restore order and traffic safety in the area," said Lt. Col. Xuan.
On 25/12/2012, at the online conference of the government and provinces, Mr. Trinh Van Chien, Chairman of Thanh Hoa province, confirmed that this measure is very effective in fighting illegal racing while it is cheap.
Based on the idea of Thanh Hoa police, the Weapon Manufacturing Institute has produced a net releasing device or net gun. According to tests, when the net stuck to spokes, the offender cannot speed up and the motorcycle will slowly stop.
Lieutenant Colonel Tran Xuan Khoa, the head of the net releasing device research group, said that the device can launch the net to a maximum distance of about 15 meters before the net spreads to stick to spokes. "The device does not emit loud sounds so the violators won't detect it. Each tube can be used for about 30 times," said Khoa.
The net releasing device is about 60cm long. Thanh Hoa police and the manufacturers are quite optimistic about the effectiveness as well as the aesthetic appeal of this device.
Colonel Le Van Nghiem - Thanh Hoa City Police Chief - confirmed: "This is a safe, economic and an effective method to control naughty drivers."
This device has been officially used by Thanh Hoa police since June 7, 2013.
Le Anh