VietNamNet Bridge - Not being confident with the size of their penis, dozens of young fishermen in Nam Can District, Ca Mau Province bought liquid silicon and injected into their penis in order to increase the size. They believe that big "guns" show the man stuff. Consequently, they could not enhance their "man stuff" but their "guns" became useless and at risk of disability.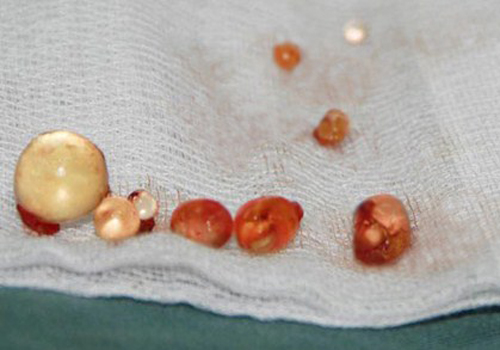 Silicon extracted from the penis of patients.
Dr. Mai Tien Dung of the Binh Dan Hospital in HCM City said previously, the hospital received only 1-2 cases of penis complications caused by silicone injections. But so far this year, the hospital has treated dozens of cases, in which the patients had their penis being damaged, with skin necrosis, deformed...
"For these patients, we have to take out silicon from their penis, cut the entire penis skin and perform new skin graft. For the patients with silicon running to the scrotum, we have to create new scrotum. Patients will be hospitalized from 10-15 days for treatment to overcome the problem," the doctor said.
Dung said in the latest case, a group of men at the age of 19 to 32 "upgraded" their penis by silicon. These youngsters came from a fishing village of Nam Can District, Ca Mau Province. Most of them are fishermen and they are very healthy.
When doctors asked NTK (22 years old) why he "upgraded" his penis by silicon, the boy said in a drink with friends, after being drunken, they were naked and jumped into a river for a bath. They had the opportunity to "admire" each other and made comments of the penis of each other. Being remarked by others that his penis is small and being warned that he would be unable to satisfy his future girlfriend and wife and would be "cuckolded," NTK was very sad.
Then one man suggested NTK to buy silicon from Thailand to inject into his penis to make it bigger. NTK's friends also told him about several men who had their penis bigger thanks to silicon. The boy did the same. After silicone injections, his "gun" looked bigger and NTK was very happy and proud of his new penis.
But only a short time later, the penis was suddenly swollen and had expression of edema, pain, and he could not urinate. Then, his penis was deformed and smelled. Seeing the boy's grimace and uncomfortable feeling, his family members asked him but he did not dare to tell them the truth. When the pain was unbearable, he told the truth and the family took him to the hospital. To save and restore his penis, the doctors recommended him to go to Binh Dan Hospital.
As one of those who injected silicon into his penis, after almost two weeks in the hospital, PQM (27 years old) was successfully treated but he looked very sad. PQM said he got married for only six months. On the wedding day, he was happy and proud of his beautiful wife. He only looked forward to the wedding night. But just before the important moment, his wife missed her tongue, saying "I just imagined that it is too big, but..."
PQM thought his wife found fault with his "gun." For several days he kept fidgeting and excused to go fishing to stay in his boat at night. Seeing this, some of his friends asked him the reason but he did not say anything. Several days later, after drinking a lot, the young man told his story. A man named S said: "What I thought, but it's a small thing." S. said he had just upgraded his penis by silicon at the advice of his neighbor then he showed off his "gun."
Seeing this, the young man also bought silicone to inject into his penis. After pumping "panacea" to the "gun," PQM's penis looked bigger. He came home to show off to his wife but he could not do anything with it.
M then kept silent for a while, and then said: "I don't know when I will have a baby"
Na Son