VietNamNet Bridge – Under the scorching southern Viet Nam sun, every exertion is a challenge likely to be rewarded with torrents of sweat.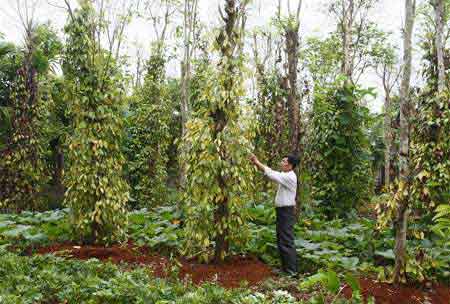 Growing a livelihood: Pepper is an important cash crop for Viet Nam because if farmers can maintain strong harvests, they will enjoy high profits regardless of price fluctuations.
Thankfully for pioneering farmer Tran Huu Thang, his entire pepper garden is automatically watered and fertilised at the flick of a switch.
This innovation is not just a labour-saving tool; it also conserves water and reduces the need for fertiliser by 50 per cent, bringing efficiency and consequent economic rewards.
Tran Huu Thang is not only the subject of admiring tales in Dong Nai Province's Xuan Loc District, he also serves as a teacher to locals who visit his farm in Xuan Tho Commune to seek his advice and experience.
Xuan Tho is considered Viet Nam's "capital of pepper", with almost 100 per cent of farming households working in the industry.
Until a few years ago, the main access route to the area was a simple rugged footpath, dotted with bamboo wall houses, but today, many spacious houses line the route along with attractive villas built with the profits from the cash crop.
Thang's carefully fenced single-hectare pepper plantation makes for an impressive sight. Pointing to his groundbreaking pipe system, he said cheerfully: "Now we do not need to water and fertilise manually, which saves a lot of work. With just a few movements, we can water and fertilise crops without exerting ourselves, also saving on fertiliser and producing higher yields."
Like many other communes in the district, residents in Xuan Tho are mostly immigrants, with more than 90 per cent of the population working in agriculture. But the business wasn't always so lucrative.
Born into a farming family in the northern province of Hung Yen, Thang's parents were poor and he had many brothers. As a result, Thang had to quit school when he was 15 and leave his hometown to settle in Xuan Loc with an elder brother.
He spent more than 10 years grafting as a hired labourer for local farmers but his life was tough throughout.
At the age of 27, he met a young woman who also came from his homeland and, finding they had much in common, the pair quickly married.
Thang and his wife continued to work as labourers for a few more years until they saved enough money to buy 4,000sq.m of land to grow cassava and corn.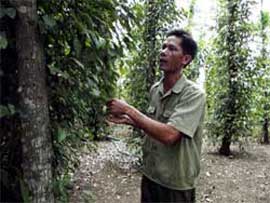 Master at work: Tran Huu Thang checks his pepper poles.
Sitting in his spacious house well-furnished with home appliances, Thang recalled his early days of hardship. "After getting married and settling on our new land, we had to work hard to plant custard-apples and maize. At that time, we didn't even have enough water to drink, let alone water our crops. We saved more money and bought 3,000sq.m to build a hut, also starting to grow pepper with cassava. In the days when we couldn't afford rice, we had to eat cassava instead, feeding our baby by mixing cassava powder with water."
Seeing it would be hard to survive with this intercropping method, Thang boldly began experimenting pepper plantation with his own method.
He divided his garden in three lots of Vinh Linh pepper strain, adopting three different methods to take care for them.
When harvest came, he assessed which area gave the best yield and then settled on that method for future harvests.
His wife, Ta Thi Dieu, recalled: "At that time, my husband and I had to get up at 2am, climbing the Gia Lao Mountain to fetch water for our garden. As pepper prices continued to increase, we began to have enough food and continued to accumulate money, so we bought more land to continue our business."
Like other cash crops, pepper's price often fluctuated, but Thang realised that if he could raise productivity, he could safeguard himself against price instability.
Wishing to expand further, he began visiting other regions to learn new techniques for growing pepper plants.
In 2006, the district Agriculture Extension Centre taught local farmers how to save water and fertilise crops via the method to install an automatic fertilising system (which won an award at the Science and Creative Contest 2011 held by the Viet Nam General Confederation of Labour).
Realising the potential of the system, he discussed with his wife and decided to become an early pioneer.
He returned to his home in Hung Yen to borrow loans and then invested in installing piping systems connected to each pepper pole at a cost of VND90 million per hectare.
A year after he installed the system and applied new growing techniques, pepper productivity increased to more than 6 tonnes per hectare, reaching 8 tonnes the following year.
Since then, his pepper plantation has provided a stable yield of between 7 and 10 tonnes per hectare each year, while a normal pepper plantation only reaches 5 tonnes per hectare.
In the last two years, Thang has earned VND700-800 million per hectare every 12 months.
He has bought three more hectares for pepper growing and 4 hectares for rubber, earning an annual net profits of between VND1.8 to 2.2 billion.
Asked about his recent recognition, Thang said: "For three consecutive years, some foreigners visited my pepper plantation and asked me about yield and how to care for the crops. At that time, I just thought they were travellers who wanted to study something. But later, I received an invitation on April 18 to receive the title "The world's best pepper farmer". I now know that that these people in fact came to study my progress."
Thang still remembers the three consecutive years when the International Pepper Community experts visited his plantation.
During the last visit, when their bus parked in front of his farm, an Indian man asked to take a photo with Thang. When the Indian man sent the photo to Thang via mail, he discovered that the man was in fact the President of the International Pepper Community.
The picture still hangs on his wall next to the certificate declaring him "the best pepper farmer from Viet Nam".
He was invited to Indonesia to receive the award along with two other winners, but because Thang could not attend, the ceremony was moved to Viet Nam.
"Maybe for my farming life, this was the greatest honour," he said.
Before receiving the certificate, the story about Thang's pepper plantation triumph spread rapidly around Dong Nai and nearby provinces.
Every day, representatives from other provinces visited the garden to study his methods. Many high-ranking officials from ministries, institutes and the Viet Nam Pepper Association also visited his plantation, leading local residents to dub his farm the farm for officials to watch".
"When it was reported that Thang's plantation had a yield of 7–10 tonnes per ha, I couldn't believe it and insisted on visiting his pepper plantation myself," said Dong Nai Province's Party Secretary Tran Dinh Thanh.
After he visited the farm, Thanh encouraged Thang to continue helping others and immediately asked district leaders to support him in developing this model across the whole district.
Not just content sharing experience with local farmers, Thang also gives telephone counselling to pepper growers in other provinces including Binh Phuoc and Ba Ria-Vung Tau, demonstrating his increasingly recognised role as Viet Nam's "Godfather" of pepper farming.
Source: VNS