VietNamNet Bridge – Nanotechnology applications offer fresh hope for beleaguered shrimp farmers in the Cuu Long (Mekong) Delta provinces, experts said at workshops held in Ben Tre Province on Wednesday and in Bac Lieu Province on Friday.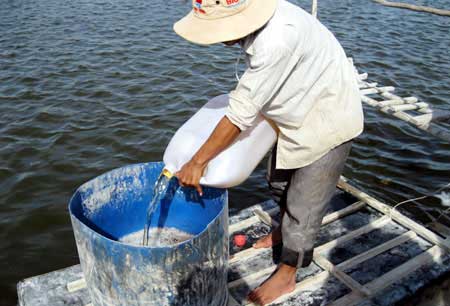 A researcher with the Laboratory for Nanotechnology under the Viet Nam National University-HCM City mixes nano-silver solution with water before using it in a pond belonging to the Thai Tuan Shrimp Farm in Can Gio District, HCM City. — Photo Courtesy of LNT
Farmers in the delta have suffered severe losses over the last several years as shrimps have been dying in larger numbers due to various diseases.
Le Thi Liet, a farmer in Ben Tre Province's Binh Dai Town, said that shrimp farming has helped her family become wealthy over the last ten years.
However, for the last two years, her farm has not been doing well. While the same breeding method has been applied, shrimps have been dying after 15-30 days, and she said she did not know why this was happening.
She has lost nearly VND450 million (US$21,428) since the end of last year, Liet said.
"I am very worried and confused about whether or not I should continue with shrimp farming," she said, adding that she has been seeking ways to improve the situation.
Liet said that she'd hoped to directly contact scientists of the Laboratory for Nanotechnology (LNT) under the Viet Nam National University of HCM City (VNU-HCM) and ask that her farm is allowed to participate in experiments using the new solution.
Nguyen Van Buoi, head of Ben Tre Province's Aquaculture Division, said nearly 700ha out of 3,800ha of intensive and semi-intensive shrimp farming area currently affected by diseases.
He said two common diseases causing high mortality rates among shrimp are the white spot syndrome and the acute hepatopancreatic necrosis syndrome (AHPNS), formerly referred to as early mortality syndrome.
AHPNS is caused by a bacterial agent which is transmitted orally, colonizes the shrimps' gastrointestinal tract and produces a toxin that causes tissue destruction and dysfunction of the digestive organ known as the hepatopancreas.
The pathogen has been identified as a unique strain of a relatively common bacterium - Vibrio parahaemolyticus - which causes many diseases among shrimp.
Test results have shown that the nano silver solution possesses the ability to kill several bacteria including vibrio cholera, E.Coli, V.Parahaemolyticus and V.Parahaemolyticus, said Dang Thi My Dung, a postgraduate researcher with LNT.
The tests were carried out by the Pasteur Institute and the Southern Monitoring Centre for Aquaculture Environment and Epidemics under Research Institute for Aquaculture No.2, Dung said.
Moreover, it could stop the growth of blue-green algae which also harmed the shrimps' development, she added.
Many experiments using the nano silver solution in shrimp farming, carried out by LNT at its own lab and in a large farm belonging to the HCM City University of Agriculture and Forestry in Thu Duc District have shown that the solution improves water purity significantly, Dung said.
In tanks with the nano silver solution, shrimps were healthier and swam briskly; and 85 per cent of them were alive after 53 days of breeding, while all shrimps bred in tanks without the solution died.
The solution is one of the methods that can be applied to improve the water environment in shrimp ponds, said LNT director Dang Mau Chien, who has spent many years in aquaculture research, particularly shrimp farming.
Water environment plays an important role in shrimp farming, Chien said, explaining that purer water will help shrimps develop high resistance to diseases.
Therefore, more attention should be paid to improving the water environment in shrimp farms, he said.
Currently, the nano silver solution is being piloted at the Thai Tuan Shrimp Farm in HCM City's Can Gio District, apart from shrimp farms of the Hoang Vu Company in Ben Tre Province, he said.
Scientists from LNT visited farms in Bac Lieu Province yesterday, hoping to carry out further tests using the nano silver solution.
Positive signs
Le Van Tuoi, owner of the Thai Tuan Shrimp Farm in HCM City's Can Gio District, says he has lost around VND3.2billions ($152,380) in the last two years because the shrimps have constantly died in large numbers.
"My shrimps were living for less than 30 days," he said.
He met Associate Prof Chien when the latter visited shrimp farms in the district along with his colleagues more than one month ago. He decided to allow the scientists to apply the nano silver solution to three shrimp ponds covering 4,000sq.m each.
The water in two ponds was treated with the solution, while the other was not. Until now, shrimp in the two ponds treated with the nano silver solution were healthy, feeding well and growing quickly, Tuoi said.
They have not been affected by the rain on Tuesday night, he added.
Meanwhile, the shrimp in the pond that was not treated with the solution suffered from the symptoms that showed they were easily susceptible to diseases, and their general condition worsened, he said.
Tran Hoang Vu, director of the Hoang Vu Company, said that their shrimp farms had also suffered the same fate as many others over the last two years.
New technologies for improving shrimp farming, especially the quality in shrimp ponds, was badly needed, he said.
It is important that the solution's price is cheaper than imported products so that investment costs can be reduced, Vu said.
Scientists at the workshop said they could not answer questions raised by farmers about the cost-efficiency and safety of the silver solution until more tests were conducted.
As of now, one litre of the solution would cost about VND200,000 in the open market, and it would take 150 litres to treat a pond with a land area of 4000sq.m, said Tuoi, the shrimp farmer from Can Gio District. During one season, the treatment would have to be applied three times, he said.
Chien said LNT would be able to supply the solution at half the market price.
Tuoi also said that without using the nano silver solution, it took 60 days for 200 shrimps to weigh one kilo, but this was achieved in 32 days with the solution.
Wider application
The workshops, sponsored by the Viet Nam-Finland Innovation Partnership Programme also heard that the nano silver solution is being experimented with, along with other methods, to preserve fruits – especially dragon fruit.
It has been seen that the fruit can be preserved for as long as 35 days.
Ho Van Quang, managing director of the Tropical Fruit and Vegetable Company in HCM City, said post-harvest preservation of fruit is key to export success.
Cao Van Viet, deputy head of Ben Tre's Department of Agriculture and Rural Development, said that the province has for long been seeking ways to improve water environment for farming and to preserve agricultural produce for longer periods.
The province will co-operate with LNT to set up a pilot model to see how effective the nano silver solution is, he said.
If the model is successful, it will rapidly expand within and outside the province, he added.
He said LNT should continue carrying out many experiments to find out the best procedures and methods to use technological advances like nanotechnology for improving agricultural efficiency and productivity.
Source: VNS