VietNamNet Bridge - From July 1, 2013 the vehicles that do not have monitoring device or the black box will be fined from VND2 to VND3 million ($100-150). The transportation enterprises with 20 percent of their vehicles breaking the rules on speed will have their business licenses revoked.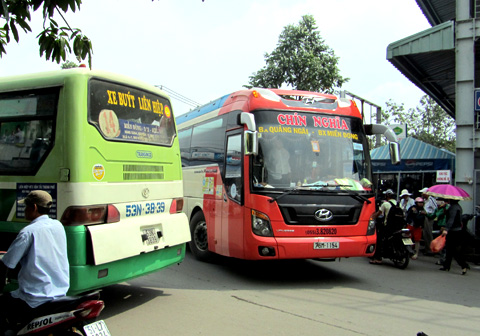 The vehicles required to have the black box include: buses, coaches and container trucks. If the black box is not attached to the vehicle or it does not work, the vehicle owners will be fined VND2-3 million, said Mr. Thach Nhu Si, Vice Chief Inspector of the Ministry of Transportation.
Mr. Nguyen Hoang Hiep, Deputy Chair of the National Traffic Safety Committee, said the offense such as running over speed, driving for over four consecutive hours and opening the door too many times during a trip will be also recorded in the black box. He also said the committee is developing management software for the detection of any vehicle that does not have the black box or the black box does not work.
Mr. Khuat Viet Hung, Acting Director of the Transport Department, 80 percent of traffic accidents are caused by behaviors such as running at high speed, driving in poor health status such as fatigue, drowsiness or using stimulants.
It is expected that the use of this device will save 15 to 25 percent of the total cost of transport enterprises, including fuel costs, maintenance cost, accident costs, fines...
The majority of transportation businesses have realized the benefits of this monitoring device. Even taxi firms, which are not required to use the black box, have installed this device on taxis.
"At present, the country has more than 48,000 cars installed with this device, reaching over 98 percent of the total. We believe that before July 1, all vehicles will be installed with this device," Hung said.
Le Ha