VietNamNet Bridge - Dr. Nishimura Masanari, a Japanese archaeologist who had 20-year relations with Vietnam, died in a traffic accident in Hanoi on June 9.
Ha Noi village opens archaeological museum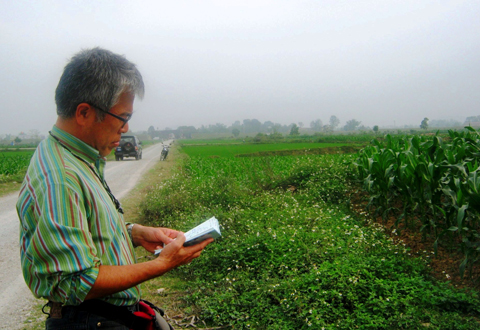 Dr. Masanari.
Dr. Masanari died after a traffic accident on Highway 5, which connects Hanoi and Hai Phong, when riding a motorbike to an excavation site. The Vietnam-Germany Friendship Hospital in Hanoi and the Vietnam Archaeology Institute helped the Japanese scientist's family to prepare funeral observances for him.
Masanari was born in 1965 in the city of Shimonoseki, Japan. He has a Vietnamese name - Ly Van Sy - and could speak Vietnamese very well. He came to Vietnam for the first time in 1990, in the cooperation program between Japan and Vietnam to excavate a number of ancient tombs in Nghia Dan district in Nghe An province.
Over the past 20 years, he had many valuable archaeological research works in Vietnam. He discovered the only piece of bronze drum mold in Vietnam, dating from the 1st-3rd century AD. This shows that bronze drums were cast in Vietnam, not being brought from elsewhere.
He also contributed to the construction of the ceramic museums of Kim Lan and Duong Xa in Bac Ninh Province. He and his Vietnamese colleagues discovered arrow molds in Luy Lau. This proves that the arrows dating back to the An Duong Vuong era were manufactured on the spot.
"Vietnamese archaeologists were stunned by the death of Mr. Nishimura Masanari," said Associate Professor Nguyen Lan Cuong, deputy general secretary of the Vietnam Archaeologists' Association.
"Nishimura Masanari was an honest man who always helped his friends. He is one of the archaeologists who have the deepest research works in the field in Vietnam," added Cuong, who worked with Dr. Nishimura Masanari in many projects.
This is not the first time a foreign scientist encountered a traffic accident in Vietnam.
On December 7, 2006, American professor Seymour Papert collided with a motorcycle while crossing the Dai Co Viet intersection to the Hanoi University of Technology. The famous mathematician suffered from brain injuries. He was taken to the Vietnam-France hospital for an emergency surgery. A few days later, he was brought to the US by his family on a special ambulance plane.
P. Linh