VietNamNet Bridge – To avoid touching the 1,000 year old structure Dan Xa Tac, a bended flyover will be built at the O Cho Dua intersection, slanted toward Nguyen Luong Bang Street.
Flyover to blend with ancient heritage site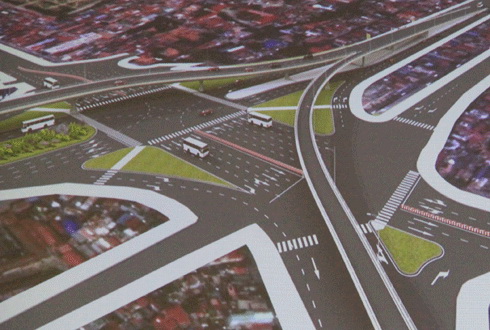 The perspective of the overpass at O Cho Dua intersection.
At a meeting yesterday, Mr. Tran Huu Son, General Director of the state-owned Transport Design Consulting Corporation (TEDI) presented six plans to build the flyover at O Cho Dua intersection. These plans are not different from the ones that were published for comments early this year.
However, the option 2 - the flyover is slanted toward Ton Duc Thang Road to avoid Dan Xa Tac, which was considered the optimal plan before - was not supported by officials and experts this time. Most of the participants favored the option 3 and 4 - the flyover will be slanted to Nguyen Luong Bang Street, even though it will be bended.
According to Son, in the option 3, the overpass will be slanted to the south while in the option 4, it will be added with another branch, running from Kham Thien Street to O Cho Dua, creating a Y shape.
Professor Phan Huy Le, Chairman of the Vietnamese Historian Association said that following the excavations in 2006, three workshops were held, where scientists agreed that this ruin is Dan Xa Tac.
The historian said the option 1 and 2 will infringe upon the relics. The option 3 and 4 basically do not harm the core zone but the foundation may touch the relic, so the relic should be excavated before the construction is continued.   
Most officials agreed with the option 4. However, many experts wondered about the Y-shaped overpass. Mr. Tran Ngoc Long, Chairman of the Bridge and Road Science Association, did not agree with the option 4 because Dan Xa Tac will be surrounded by the two branches of the flyover. He proposed to amend the option 3 to reduce the bend of the overpass.
Hanoi Chairman Nguyen The Thao confirmed the necessity to build a flyover at the O Cho Dua intersection to deal with traffic jams. However, he stated that Dan Xa Tac is a national monument, so it should be preserved in the best conditions.
Thao asked TEDI to further complete the option 3 and 4. The selected plan will be made public for the comments of the people in four wards of Dong Da District, where the flyover will be built, before it is submitted to the Ministry of Culture, Sports and Tourism, Ministry of Transport and Ministry of Construction for consideration.
Dan Xa Tac was built in 1048 by the Ly Dynasty as a platform for worshipping Heaven and Earth (with Man in between). It was classed as a national heritage site by the Ministry of Culture, Sports and Tourism in 2007.
S. Tung