Hanoi hosts seminar on LBGT in Vietnam
The first dialogue on legal and social challenges facing the lesbian, gay, bisexual, and transgender (LBGT) community in Vietnam was held in Hanoi on June 5.
The event was organised by the Information Connecting and Sharing Centre (ICS) group, a Vietnamese organisation for the LBGT community, as part of the Being LBGT in Asia project.
It was initiated and sponsored by the United States Agency for International Development (USAID) and the United Nations Development Programme (UNDP) to review the living standards of LBGT people in the region.
Vietnam is one of six countries in Asia taking part in the project.
Participants discussed the development of the LBGT community as well as difficulties that it face in education, health care, jobs, domestic issues, media, society and politics.
Social organisations presented projects to raise public awareness and reduce discrimination against LGBT people.
Fewer buses for My Dinh Station
Ha Noi Transport Department started transferring 313 buses from the city's most crowded station, My Dinh, to other stations yesterday, June 4, to reduce overloading.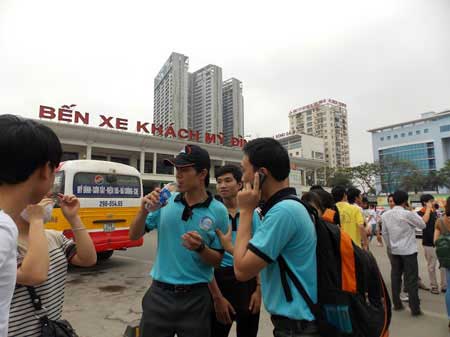 Ha Noi Transport Department started transferring 313 buses from the city's most crowded station, My Dinh, to other stations yesterday to reduce overloading.
The move is part of the city's plan to re-organise coach stations.
An additional 200 buses will be transferred from July 20. All run on routes of less than 200 kilometres, departing from Ha Noi to the northern provinces of Thai Binh and Nam Dinh.
Passengers to those provinces now depart from Gia Lam Station in the outlying district of Gia Lam, Yen Nghia Station in Ha Dong District or Nuoc Ngam Station in the south of the city.
The city has also begun to crackdown on overcharging scams by taxi and cyclo drivers that have upset tourists.
Vietnam, France strengthen scientific cooperation
A delegation of the Vietnam Academy of Social Sciences (VASS) headed by Professor Nguyen Quang Thuan has visited France.
During their stay from June 1-5, it attended the General Meeting of the European Consortium for Asian Field Study (ECAF) and the signing of a chapter to establish the Public Interest Group (GIP) – ECAF.
The meeting aimed to promote social science research and teaching, especially in the fields of linguistics, culture, history, archaeology, and religion.
Participants in the GIP ECAF chapter agreed to supply approaches and institution frameworks in Asia for mutual benefit, develop a joint programme on Asian studies for each managing member and utilize research centres by setting up networks sharing available documents and promoting Europe-Asia cooperation dialogues between research communities in the two regions.
On the occasion, Professor Thuan and Director of the French College EPHE signed a cooperative agreement on cooperation in teaching and researching culture, Han-Nom characters, and archaeology.
The VASS and EPHE will exchange researchers, lecturers, students and scientific publications, organise seminars and conduct joint research projects.
In the initial period, the two sides will give priority to researching religious and ancient epigraphy and publishing documents with the Institute of Han-Nom Studies.
Thuan emphasised that Vietnam plays an important role in implementing research projects in Vietnam and other Asian countries. Vietnam wants to share experience in history research, training, cultural heritage preservation and social issues of mutual concern.
Fugitives caught in Son La Province
Police in northern Son La Province have arrested two criminals wanted for years, one for allegedly being involved in child rape and the other involved in drug trafficking.
Mua Chu Dia, 36, was indicted on a child rape charge while Cha Xua Tho, 61, was charged with trafficking drugs.
Both are from Song Ma District's Nam Ty Commune.
The two had allegedly been hiding in the district for years. They have been transferred to the provincial detention centre for further judgement.
Air-compressor blast kills child in City
A 13-year-old boy died yesterday morning, June 4, when an air compressor exploded by the roadside in HCM City's Binh Chanh District.
The victim was reportedly killed on the spot while playing nearby the air-compressor, which was used by mobile vehicle repairers to mend punctures.
Local people reported a buzzing noise at the time of the blast and a slight shaking of nearby buildings.
US, Norway help UXO victims in Quang Tri
The US's Humpty Dumpty Institute (HDI) and Norway's Renew Project in Vietnam have supported the victims of unexploded ordnances (UXOs) in the central province of Quang Tri through a programme named "Mushrooms with a Mission".
HDI and Renew on June 4 handed over advanced mushroom production equipment worth 123,000 USD to the Mushroom Centre of Cam Lo district to implement this programme.
According to Jeanne Samuel, HDI Country Director in Vietnam, the Japan-funded equipment will increase monthly mushroom production capacity from 30,000 bags to more than 300,000, contributing to expanding the programme and increasing financial resources for bomb and mine clearance.
Implemented since 2010, the "Mushrooms with a Mission" was designed to support UXO victims and disabled people in Quang Tri province through providing them with necessary mushroom growing tools and knowledge, thus increasing their incomes.
It also aim s to build a sustainable mushroom growing industry as well as create jobs and production establishments in the province.
Quang Tri remains one of the most mine-affected provinces in Vietnam. According to the reports, more than 100,000 people in the province are victims of UXOs and landmines, and they are facing difficulties in their life.
Software piracy uncovered in raids
Inspectors from the Ministry of Culture, Sports and Tourism detected pirated software during recent raids at two leading IT companies in Ha Noi and HCM City.
Over 60 computers were found to be installed with illegal and unlicensed copies of Microsoft software that had been used for business activities in the Ha Noi Computer Co Ltd on Le Thanh Nghi Street and in the De Nhat Phan Khang Shopping Center on HCM City's Tan Binh District.
Representatives of both companies admitted the violations, and committed to buying legal software programmes as soon as possible, according to the inspectors.
Epidemics under control
Major epidemics, including bird flu, swine flu, and foot and mouth disease have been brought under control across the country since the beginning of the year.
At a review meeting in Hanoi on June 4, the National Steering Committee on Bird Flu Prevention and Control attributed the success to the strict implementation of instructions of the Prime Minister and relevant ministries and agencies.
Notably, it said the transportation and trading in poultry and poultry products illegally imported into Vietnam across border areas were put under the microscope, helping nip a possible new outbreak of bird flu in a bud.
Ministry of Trade and Industry representatives said its market management forces have worked hard along border areas, and found it difficult to cull illegally imported poultry products on spot.
The steering board reminded localities and farmers not to be complacent about the recurrence of these epidemics, as adverse weather might reduce immunity of poultry and animals.
The board asked them to continue implementing the PM's instructions on preventing A/H7N9 and A/H5N1 influenza, by taking poultry samples to early detect and stop the emergence of deadly bird flu viruses within the community.
The localities were required to comply with the breeder requirements, and regularly sterilize farms and adjacent areas.
The Ministry of Agriculture and Rural Development has reserved 40 million doses of vaccine to be distributed to localities in case a possible epidemic breaks out.
Swine flu kills a man in Dong Thap
A local resident in Phu Tho Village, Tam Nong District of the southern province of Dong Thap has died of A/H1N1 influenza, the provincial Health Department reported on April 4.
Ly Kim Sen, 61, was admitted to the Dong Thap General Hospital on June 1, showing flu-like symptoms such as constant coughing and breathing difficulty.
He was shortly transferred to HCM City's Cho Ray Hospital for intensive care, but passed away on the evening of June 3.
Testing results from the HCM City Pasteur Institute showed that the patient proved positive for A/H1N1, known as swine flu virus.
The Tam Nong District Medical Center has disinfected the area where the patient was living.
Swine flu has killed a 12-year-old girl in Thanh Hoa province and two men in Yen Bai province in April.  
US-supported deworming campaign benefits over 900,000 kids
Vietnam's Ministries of Health, and Education and Training on June 4 completed a large-scale, US-supported distribution of medicine to help over 918,000 children in disadvantaged provinces fend off intestinal worms.
According to the US Embassy's press release, from May 5 to June 4, the US Agency for International Development (USAID) joined Vietnam's National Institute of Malariology, Parasitology and Entomology (NIMPE) of the Ministry of Health (MoH) to distribute medicine to children living in the 10 provinces of Bac Giang, Cao Bang, Dien Bien, Ha Giang, Ha Nam, Lai Chau, Lao Cai, Nam Dinh, Son La and Thanh Hoa.
"The deworming programme supported by USAID has been very successful," said NIMPE Director Tran Thanh Duong, adding that more than half of the children have shown no signs of worms over the time and a significant reduction in malnutrition was reported in these provinces.
Between November 2011 and September 2013, USAID is funding mass drug administration campaigns for children and women of reproductive age in 17 provinces where the MoH has identified gaps in deworming drug coverage.
Mass drug administration campaigns are being conducted in partnership with World Vision Australia, which is donating the drugs. USAID covers all transport and other logistical costs.
Last year, over 882,000 school-aged children in 12 provinces received the drugs.
Since 2000, USAID has provided US$595 million for development and relief efforts in Vietnam.
VNN/VOV/VNS/VNA