VietNamNet Bridge – On the morning of June 3, a man was hit by a train on Binh Loi Bridge, HCM City, and fell down to the Saigon River.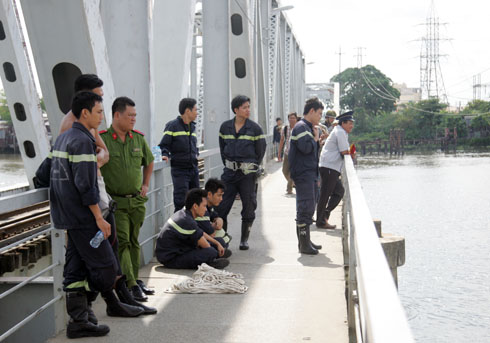 Rescue workers on the Binh Loi Bridge to find the victim.
At 7:30am, the Binh Loi bridge guards detected Mr. Toan Quoc Thang, a native of Tien Giang province, walking on the rail track in the middle of the bridge. The guards asked Thang to leave the railway but he did not obey.
At the same time, a Saigon - Phan Thiet train ran through the bridge. Thang saw the train but he did not avoid it. He stood on the railway, outstretched his hands as a signal to stop the train. The train hit him and knocked him straight down into the Saigon River.
Rescue workers joined Mr. Ba Chuc, who has picked up drowned people for 30 years at the Binh Loi Bridge, to find the man. The search continued until late afternoon of the same day.
After the incident, the train had to stop for 20 minutes.
Binh Loi Bridge was built in 1902. This is the first bridge over the Saigon River. Today, Binh Loi Bridge is mainly used for the north-south railway route and a lane for motorcycles and bicycles.
Dam Duc