VietNamNet Bridge - A new law on tobacco harm-reduction that bans smoking in public places such as schools, hospitals and workplaces took effect on May 1. But it immediately has been violated publicly.
Anti-smoking law comes into effect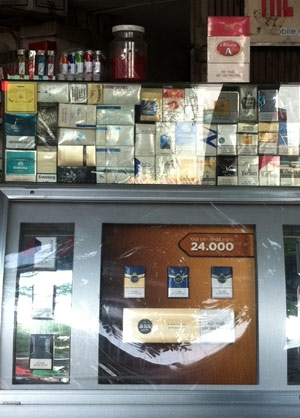 According to our observation, tobacco is available at all groceries in Hanoi. It is also eye-catchingly displayed on glass boxes of tobacco sellers along the roads.
At a big grocery on La Thanh Road, Hanoi, which has long been a familiar shop of smokers, we saw different brands of cigarette, including imported ones. Cigarette packages and cartons were displayed on a big glass chest facing the road to easily catch the eye of drivers.
At many other groceries and pavement tobacco selling points, cigarette packages and cartons were displayed the same way even though under the new law, retailers are allowed to display only one package, one carton or one box of cigarettes.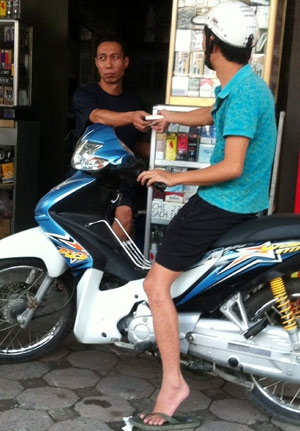 These shops also sell cigarettes to any buyer, regardless of their age.
VietNamNet talked with some cigarette sellers. They said they read newspapers and knew about the Law on tobacco prevention. However, they did not concern about the law and said that no one told them that they must be licensed to sell tobacco.
Regarding the sale of tobacco to persons under 18 years old, some tobacco retailers said that if they do not sell cigarettes to young people, others will. Moreover, they cannot determine the age of the sellers. They said the best way is to educate young people under 18 to not smoke right at their families because many fathers send their kids to buy cigarettes.
On the sidelines of a recent conference on the implementation of the Law on Tobacco Prevention, Mr. Nguyen Huy Quang, Head of the Legal Department of the Health Ministry admitted that the regulations are very clear but the implementation is still so hard.
Quang said the penalty provisions are primarily to uphold the deterrence and education. The implementation of this law depends largely on self-consciousness and awareness of the people about the harmful effects of tobacco on health and community.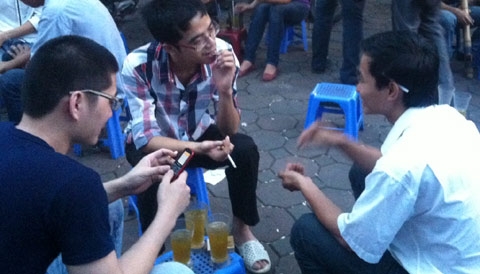 The survey of 1,500 points of sale of cigarettes in 10 provinces from 2009-2011 by the University of Public Health showed that about 95 percent of the sale points violated regulations on advertising and promotion of tobacco.
The results of the monitoring of the Public Health University in December 2012 and January 2013 at the sale points of tobacco in Hai Phong, Khanh Hoa and Ho Chi Minh City showed that 100 percent of the points broke the rule on displaying only one cigarette package, carton or box.
Currently, a lot of the shop owners and tobacco agents do not know about the Law on tobacco prevention and regulations on the prohibition of advertising, promotions and sponsorship of cigarette.
Cam Quyen