VietNamNet Bridge – A new law on tobacco harm-reduction bans smoking in public places such as schools, hospitals and workplaces.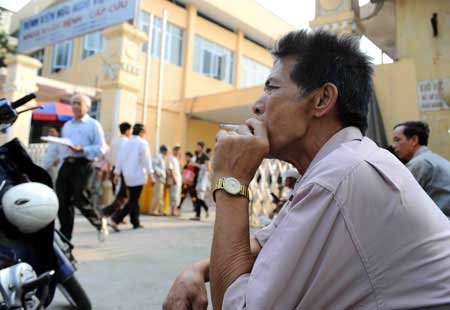 A man smokes a cigarette at the gate of Viet Duc Hospital in the capital. The Law on Tobacco Harm-reduction that takes effect this month bans smoking in public places and selling tobacco products to those under 18.
The law, which took effect on May 1, prohibits selling tobacco products to anyone under 18 years of age.
The law requires cigarette manufacturers to print pictorial health warnings on the front and back of cigarette packages, replacing written warnings.
Shops in HCM City were still selling cigarette packages with written warnings only. "We haven't received cigarette packages with pictorial warnings from suppliers," one seller in HCM City told Tuoi Tre (Youth) newspaper.
Bui Nhat Tien, deputy director of Vinataba (Viet Nam Tobacco Corporation), said his company was making intensive preparations to print new packages by the end of this year.
Nguyen Huy Quang, director of the Health Ministry's Legislation Department, said public-service providers and consumers had warmly welcomed the law.
"Everybody knows that smoking is harmful to health. However, we'll face lots of challenges in implementing the law,' Quang said.
"In many countries, sellers can ask buyers to show their ID cards if they doubt their age. But here in Viet Nam, it's difficult for sellers to do so," he said. "The law also bans advertising and marketing of tobacco."
In recent years, the Health Ministry and the Culture, Sports and Tourism Ministry issued circulars that banned advertising.
However, according to Quang, logos of tobacco producers on ashtrays and umbrellas, which are bought by restaurants and other shops, continue to appear.
Although the Government in 2009 issued a decree banning smoking in public places, it was ignored. Smoking in public was widespread and teenagers were able to buy cigarette at all shops.
Enforcement was weak. For example, since 2009, only 10 people have been fined for smoking in non-smoking areas in Lao Cai Province.
Nguyen Thi Phuong, a cigarette seller in HCM City's BinhThanh District, said she had not heard about the ban on selling cigarettes to people under 18 years old.
"We sell cigarettes to anyone who wants to buy. We don't ask their age," Phuong said.
According to the World Health Organisation, Viet Nam has 15 million smokers and is one of 15 countries with the highest rate of cigarette smokers in the world (48 per cent for men and 1.4 per cent for women).
Tobacco kills 40,000 people every year in Viet Nam, and that figure is expected to rise to 70,000 per year by 2030, according to local media reports. Cigarette smoking is the main cause of lung cancer.
The Prevention and Control of Tobacco Harm Fund will be given up to VND210billion (US$10million) this year to promote its activities.
Source: VNS