VietNamNet Bridge – Vietnamese netizens are heated up by a video clip featuring a woman and her son who beat and stripped naked a woman on the road in a scene of jealousy for filming. The incident occurred in the presence of many people.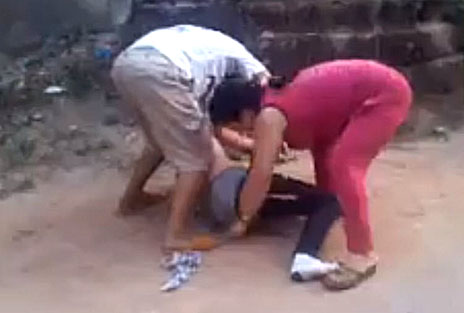 The online community is indignant with the mother and son in the clip, which was uploaded to the Internet on April 20 and quickly got millions of comments. There are mixed opinions about this incident but most of the comments expressed outrage for the act of the jealous mother and son against the victim, a woman of around 40 years old.
According to the clip, the victim was brutally attacked and stripped naked in the middle of the road by a young man called Quy and his mother, called Mrs. Hai. The victim could not do anything rather than crouching and rolling her body on the ground to avoid Quy's kicks and punches. Mrs. Hai ripped her shirt while Quy stripped her trousers.
The woman called Mrs. Hai constantly shouted: "Do not beat her, strip her trousers, strip her trousers ..." Also in the clip, Quy heaped abuse on the woman. At least two people tried to stop them but they failed.
The brutal jealous acts just stopped after the mother and her son stripped the victim naked completely. Quy held the victim's hair for his mother to film the naked woman with her cell phone. At the end of the clip, Mrs. yelled: "Dare you to seduce my husband to take our house ownership certificate for mortgage?" Taking photos her and send them to her colleagues...
From information in the clip, this case is determined to happen in the southern province of Binh Duong.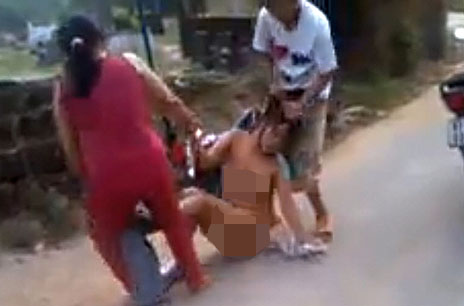 In the afternoon of April 21, the Phu Hoa Ward Police in Thu Dau Mot Town, Binh Duong Province said they had been reported of the case and they were investigating it.
According to the police, the victim in the clip is Mrs. NTB, 41 and the two jealous persons are Le Thi Tuyet, 43 or Mrs. Hai and her son, Le Dinh Quy, 16. All of them are residents of Phu Hoa Ward, Thu Dau Mot Town.
Mrs. NTB said Tuyet suspected her husband having affairs with her so Tuyet three times blocked NTB on the road to attack. The incident in the clip happened on April 16.
After being tortured and stripped naked, Mrs. NTB tried to go home, changed clothes and went to the local police station to report the incident.
Ly Son