VietNamNet Bridge - As being planned by the transportation sector, in the next seven years the number of motorcycles in Vietnam will be about 36 million units. However, the latest statistics show that the current number is already more than 37 million.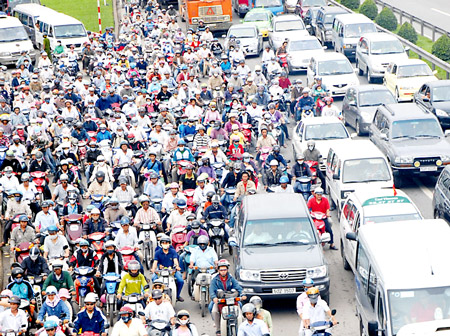 In the first quarter of this year, over 691,500 motorcycles were registered, bringing the total number of this kind of vehicle in the country to more than 37 million, according to latest statistics from the Ministry of Transportation.
The decision to adjust the road transportation development plan approved by the Prime Minister one month ago, identified that by 2020 the country will have about 36 million motorcycles.
The government's plan also mentioned administrative, economic and technical measures to restrict the increase of motorcycles in Vietnam. Accordingly, motorcycles will be used mainly in rural areas, where there is no public transport system.
While the big cities like HCM City and Hanoi are struggling with the problem of reducing private vehicles, the number of motorcycles has surpassed the government's plan for the next seven years just only a month after the plan was approved.
At present, HCM City has more than 5.6 million motorbikes, not to mention more than a million motorcycles brought into the city by people from other provinces.
According to traffic experts, in the context of poor infrastructure and rapid increase of motorcycles, people in big cities, especially Ho Chi Minh City, are facing the more severe congestion.
Mai Lan