VietNamNet Bridge – News that a baby in the US was cured of HIV give new hope for Vietnamese babies born with the virus, said Truong Huu Khanh, head of the HCM City-based Paediatrics Hospital 1's infection ward.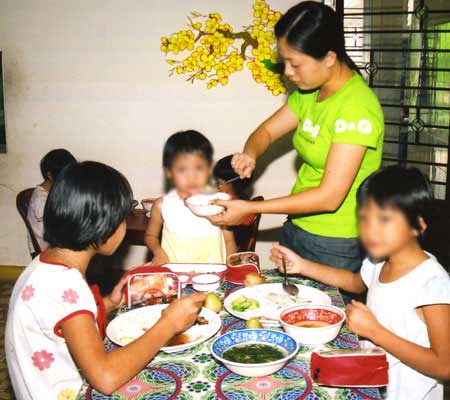 HIV-infected children are looked after at Mai Hoa Centre in HCM City's Cu Chi District, one of 13 centres in the city offering support to orphan, disabled and HIV-infected children. Early diagnosis and application of US doctors' method can save infants born with HIV.
 
US researchers unveiled their ground-breaking research on March 3 at a conference on retroviruses and opportunistic infections in Atlanta.
The team administered antiretroviral therapy to an infant born to an HIV-infected mother 30 hours after the child was born. The researchers say that in a series of tests afterwards, the presence of the virus in the baby's blood kept dropping until it hit undetectable levels 29 days after birth.
The baby remained on antiretroviral therapy until 18 months of age, when researchers lost contact with the child and treatment was stopped.
Ten months later, researchers were able to conduct blood tests on the child, all of which indicated no viral presence. Tests for HIV-specific antibodies were also negative.
"The case in the US has fortified the idea of treating HIV, and that treatment should be given as soon as possible," said Khanh.
In Viet Nam, newborns infected with HIV receive treatment when they are 1.5-2 months old, he said.
"Giving earlier treatment for newborn babies infected with HIV is not difficult as the type of equipment used in the US is used for Vietnamese children and these facilities are not expensive," said Khanh.
"The only difficulty is that we need an early diagnosis," he said.
Despite the health sector's efforts in publicising the HIV threat, public awareness on HIV is still limited. Many pregnant women do not have blood tests and only find out that they are HIV positive when they are going to deliver their baby.
"It's too late to apply the US doctors' method as we have to wait for four weeks to receive the results of blood tests carried out on newborn babies as we do not have enough medical workers to carry out quick tests," he said. Khanh said at least four children in Viet Nam infected with HIV since 1997 have received negative tests to HIV after treatment. However, "we cannot confirm that they are completely cured," he said.
In foreign countries that have state-of-the-art technology, detection of the HIV virus in blood samples is a lot more accurate and doesn't take as long.
The four children in Viet Nam still undergo antiretroviral treatment as they received treatment when they were two months old, quite late compared with the baby in the US.
The first child born with HIV in Viet Nam is 19 years old now and will also be the child who has lived the longest despite being born with HIV.
"Children who receive early treatment are rarely ill and hospitalised due to diseases caused by immune deficiency," said Khanh.
While some doubts can be cast over the US case as a special example, it is still an inspiration to those fighting the virus.
"Thanks to this case, the Vietnamese health sector will have a new way of researching the disease," said Khanh.
In the long term, the country should have a national programme and a pilot project on giving early treatment for infants born with HIV.
About 4,000-5,000 children are living with HIV in the country, however, this is only the reported number, and the real number could be as high as 10,000, as it is estimated that about 2,000 babies infected with HIV are born each year, according to Khanh.
Source: VNS