VietNamNet Bridge - In addition to moving easier, electric bicycles are favored by Hanoi's teens because they are stylish, have eye-catching colors and beautiful accessories.
Cycling – new fashion in Hanoi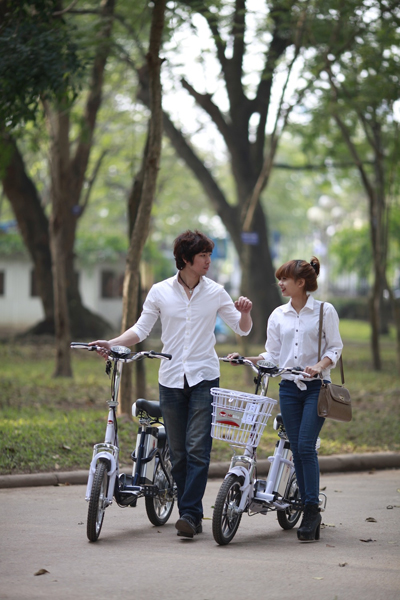 Joining her 16-year-old daughter to electric bike shops on Ba Trieu Street, Mr. My Dung said: "Before the lunar New Year, my daughter told me that she would use the lucky money to buy an electric bike like those of her classmates. Today going to electric bike shops with my daughter, I could understand why the kids love it so much. They are very abundant in color and styles, very eye-catching, even the adults are allured."
Electric bicycles are sold mainly in the streets of Ba Trieu, Ton Duc Thang, Nguyen Luong Bang, Hue... with popular brands of HKBike, Yamaha, Bridgestone, Songtian, Giant ... Shops on these streets have about 60 different models, with the price from VND9 to VND18.5 million ($450-900).
The sale of electric bikes is very good now since this product has become a fashionable item among teens. Ms. Hang Nga, an electric bike shop owner in Hue Street, said her shop sells 5-7 bikes a day.
Mr. Van Hoang, manger of the My Hai electric bike shop on Ton Duc Thang Street, said that the purchasing power is quite good. The shop can sell 4-5 bikes a day to teens. He said the purchasing power will increase highly in from July to September, before the new school year. Last year, his shop sold over 10 bikes/day during this peak period.
Electric bikes are not cheap but parents do not hesitate to buy them for their kids. Explaining this, Mrs. Phuong Lan, from Thanh Xuan district, said: "My child is not old enough to ride a motorcycle, so I chose an electric bike for her to easy her hardness when going to school, especially in the hot summer. The speed is not too fast, up to 25-35 km / h, I think she can easily and safely go to school."
Different from the thoughts of the parents, many teens prefer electric bikes because it is a fashion. Thao Nhi, a junior high-school student, said: "Many of my classmates use electric bikes and they look very stylish. I think this vehicle is also easy to use and can help protect the environment. This summer, I will use my entire savings and ask my parents to buy a pink bike for me".
S. Tung