VietNamNet Bridge - Instead of going to fitness centers, a lot of female workers in Ho Chi Minh City are now eager to learn martial arts. This is a new trend which is formed when robbery becomes a big problem in the city.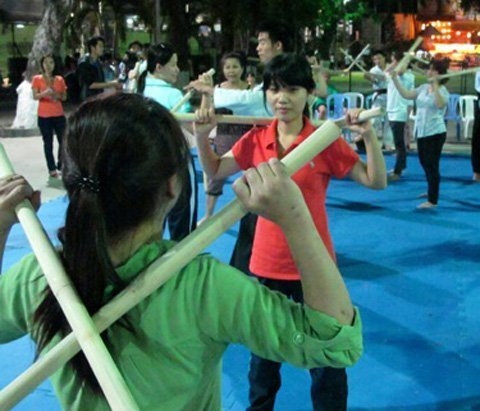 Ms. Tran Thi Lan – a worker of the Tan Vinh Loc industrial zones - says: "A month ago on the way home, my motorcycle was damaged so I had to walk with the vehicle. A middle aged guy just followed me for a long stretch. At a dark site, he suddenly rushed to put his arm around my shoulder. But I turned around to avoid it and at the same time I gave him one elbow and shouted. The man had to run away."
Ms. Nguyen Anh Thu, a worker in the Tan Thuan export processing zone (EPZ), recalls: "Once I had to work at night. On the way home from work, I discovered two young men on a motorcycle, wearing masks, following me. By the time they pressed their vehicle to my bike and I fell down to the ground, two guards in the EPZ just approached and the two men ran away."
"After that incident, I thought I would never ever go out in the evening again, but working in an EPZ, I have to work at night shift. Reading newspapers, I incidentally saw the advertisement of a self-defense skill class, I registered it immediately," she says.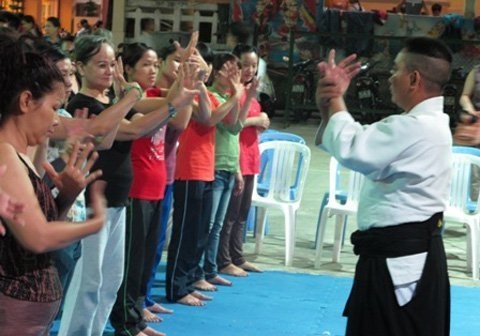 Mr. Nguyen Viet Cuong, Deputy Chair of the HCM City Labor Federation, says that it is good for female workers to practice martial arts to protect themselves, to deal with dangerous situations that they may face when they come home from work late. Learning martial arts is also a way to improve health.
Many trainees of the self-defense skill class were not lucky like Thu and Lan. They say that they were robbed and injured. "These days robbery is quite rampant. It is great to know a little of martial arts," says Ms. Tuyet Nhung, a worker in HCM City. Nhung has passed the second grade and she has just registered a new class.
Ms. Ha – a worker in the Tan Binh IZ – says that she started learning martial art last year. "There are some women in my class determined to learn martial art because they are victims of family violence. They practice martial arts not to fight against their husband but to avoid the blow of their husband, so that their faces will not be swelled up...," she adds.
Mr. Phan Huu Phuoc Huy, vice director of the HCM City Workers' Cultural Palace, the organizer of the self-defense skill class, says that after a month of practice martial arts, women cannot knock down three robbers at the same time but they at least know what to do when they are attacked and can defense themselves.
Le Ha