VietNamNet Bridge - On the first day of 2013, dozens of female traffic police officers will control traffic at several intersections in Hanoi during peak hours in the morning and afternoon.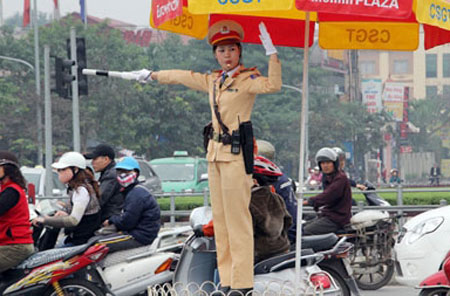 A female police officer controlled traffic on Dinh Tien Hoang Street, Hanoi in 2010.
A representative of the Hanoi Traffic Police Department said that the plan to arrange female traffic policemen to guide traffic at major intersections was submitted to the relevant bodies for approval and will be implemented next week.
Some officials of traffic police teams said that traffic policewoman regulating traffic during peak hours in the morning and afternoon at the major intersection would "create beauty and make the people more comfortable."
After the peak hours, these female police officers will return to the office.
A representative of the Road and Railway Traffic Police Agency said that the traffic policewomen standing on the podium to regulate traffic in rain or shine are beautiful images and some cities have used traffic policewomen to regulate traffic for years.
Previously, during the big events in Hanoi, many female police officers were assigned to guide traffic at the major intersections.
In Ho Chi Minh City, in late 2010, nearly 40 female traffic police officers controlled traffic at seven "hot spots" during the morning rush hours.
Policewomen guide traffic in HCM City
Compiled by Le Ha