VietNamNet Bridge - "This solution is very efficient, economical but racers are very afraid of it", said Chairman of Thanh Hoa Province, Mr. Trinh Van Chien about using fishing nets to prevent illegal motorcycle racing.
Thanh Hoa: Police seize traffic rule violators by fishing nets
Thanh Hoa stops seizing traffic rule violators by fishing net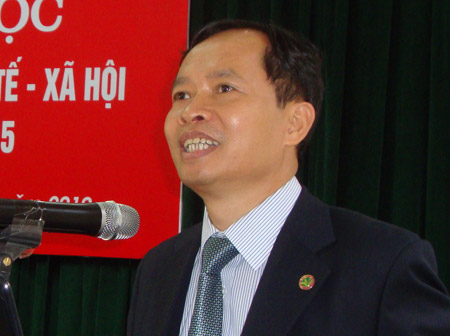 Chairman of Thanh Hoa Province, Trinh Van Chien.
At the online conference between the central government and local authorities on December 25, Chien reported about the security situation, political and social order and safety in Thanh Hoa Province.
In 2012, despite economic difficulties, Thanh Hoa made a good job in maintaining social order and security, Chiens said.
During the year, Thanh Hoa cooperated with the Ministry of Public Security to arrest 7-8 notorious criminals, who were the ringleaders of criminal activities for decades. "We focused and crushed the ringleaders; people are very excited," Chien said.
He also talked about the situation of illegal racing in the province. According to him, in 2011, Thanh Hoa's police began using fishing nets to combat illegal racing. Nets are attached to guns for "shooting to wrap around wheels," not being cast to the wheels or chassis of vehicles.
"This year we applied this measure and Thanh Hoa did not have illegal racing. This solution worked very well and some provinces came to learn from us. I think this is very effective, economical but illegal racers are very afraid of it," Chien said.
When the "initiative" of casting nets to catch traffic violators reported by the local media in late 2011, traffic police officers of Thanh Hoa province said that they were instructed to cast fishing nets to the wheel or chassis to stop vehicles.
This initiative belongs to Lieutenant Colonel Vu Quoc Tuong, vice chief of the traffic police team of Thanh Hoa city. Tuong affirmed that the measure looks "slightly offensive" but it is very effective.
According to Tuong, it is the most appropriate for combating illegal racing though it is not an operational measure of the police.
Compiled by Le Ha