VietNamNet Bridge – Every Monday, Wednesday and Friday, poor people in Nha Trang coastal city come to Lanterns Restaurant to have free lunch.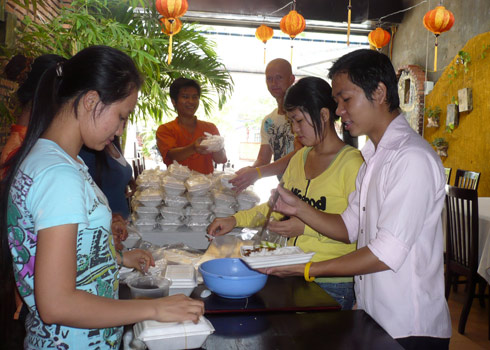 During a tour to Vietnam in 2005, Robert Costabile, 41, from Australia, decided to do business in Vietnam because "[He] likes the country very much".
Three years later, he opened Lanterns Restaurant, a Vietnamese restaurant in Nha Trang, a famous coastal city in central Vietnam. He said that foreign tourists need to taste Vietnamese cuisines to understand the native culture.
In Australia, Costabile is a member of Wesley Mission Victoria, which takes care of the elderly, mental patients and homeless people in Australia. Coming to Vietnam, he has continued his charity work by offering free lunches for the poor and teaching English to children.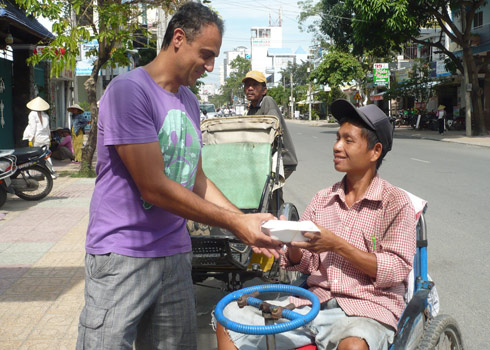 Since 2008, disadvantaged kids in Nha Trang City have attend a summer English class at Lanterns restaurant, where they can also communicate with foreign visitors and learn to cook.
"I earn VND1.3 million a month at Lanterns Restaurant. I have learned a lot here. I wish to become a good chef when I grow up," said a boy named Nguyen Ngoc Minh Trung.
Costabile has offered free lunch for the poor for several months. His restaurant delivers 100-200 free servings of lunch.
"I have received charity food at Lanterns Restaurant for several months. The food is very delicious. The meal is small but it can help poor workers like me," said cyclo driver Dang Xuan Phong.
Phong turned to Costabile to say "thank you". Lanterns Restaurant owner smiled and answered in Vietnamese "Khong co gi" (no problem).
"I worked as a financial manager and had a lot of money but I'm not as happy as Vietnamese children, who don't have much money but they are very happy," Costabile said.
Nguyen Thi Hoang Lam, the manager of Lanterns Restaurant's charity lunch, said this program will be expanded.
Costabile said that he planned to open a class for poor children who don't have birth certificates.
PV