VietNamNet Bridge - Lieutenant General Pham Quy Ngo, Deputy Minister of Public Security, said that HCM City police should learn from the model 141 taskforce of Hanoi to suppress crime.
Robbery on the streets of Saigon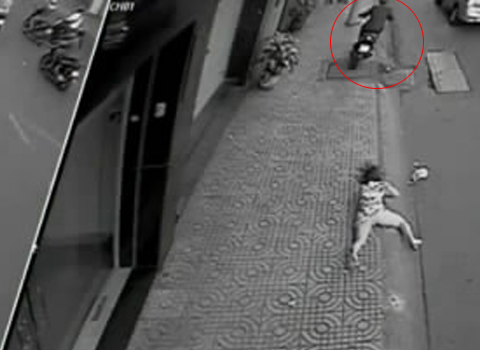 A robber snatched the handbag of a woman, making her to fall flat on her face.
On December 4, in predicting the criminal situation at the end of the year, Lieutenant General Pham Quy Ngo said that it will be very "complicated," because the world and the domestic economy recover is slow this year and many people are unemployed. "The police force will have to work extremely hard in the coming time," said the lieutenant general.
Ngo said the order and security situation in HCM City is "pretty sore." Besides strengthening the staff of the Bureau of Criminal Police and other police departments in the city, the Ministry will have solutions to halt and reverse the crime.
General Ngo said that Hanoi's 141 taskforce works very effectively and Ho Chi Minh City should learn from Hanoi.
"Each area has different characteristics. Ho Chi Minh City has decentralized to a district level to address the situation individually, but the efficiency is still low," he said.
According to him, Ho Chi Minh City should restructure its model against crime. Besides the criminal police, traffic and mobile police forces need to be mobilized to fight robbery. The Deputy Minister said that police would not let criminals to abuse before, during and after Tet holiday.
Recently, HCM City had several cases of robbery with brutal tactics. On November 24, a woman nearly lost her right hand after being stabbed by four robbers on the street. After taking her bag, they tried to take her expensive scooter. Being discovered by a pedestrian, they chased to stab him. The man had to run to the nearby civil defense station to ask for help.
Before the 7th meeting of the HCM City People's Council, which takes place from December 4 to 7, voters in Districts 4, 6, 10, Binh Thanh and Thu Duc complained of insecurity and street crime.
VNE
Compiled by P. Lan