VietNamNet Bridge - A teen couple had sex in the toilet and filmed with a cell phone. The clip was uploaded to Facebook. The police are tracing the one who posted the sex clip.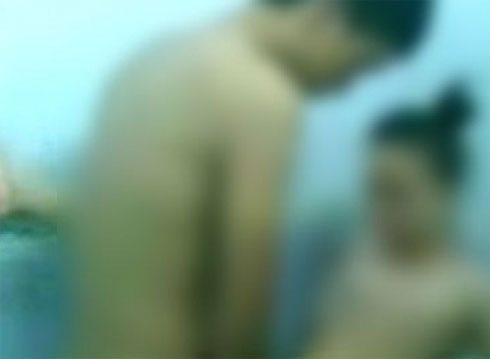 A picture cut from the clip.
In this 9-minute video clip, the young girl was not embarrassed when her boyfriend arranged a cell phone to film their sex scenes. Hot and sensitive positions were filmed closely.
The characters in this video are said to be high school students in the northern port city of Hai Phong. Not long after it was posted on a Facebook page, which is believed to belong to the boy in the clip, the page was removed. However, the clip has been shared widely.
Many people commented that the girl in this clip was "foolish," "indecent" and the clip would affect her future. Many other made rude comments and criticized the girl.
Director of the Education & Training Hai Department of Hai Phong City, Mr. Do The Hung said a high school in the city has confirmed that the girl in the clip is a former student. The girl quit school and is about to get married.
Senior Lieutenant Colonel Pham Duy, Director of Hai Phong Public Security Bureau, said the local police are investigating the case to identify the characters in the clip and the one who posted it on the Internet.
"We must consider the motives and reasons for launching this clip," Dien said.
A person who spreads porn movies can be cited on charges of spreading depraved cultural products, as being defined in Article 253 of the Criminal Code. Those who commit this act can be sentenced from six months' probation to 15 years in prison.
Compiled by Na Son