VietNamNet Bridge - A Vietnamese woman committed suicide with her two children in the port city of Busan, South Korea, on November 23.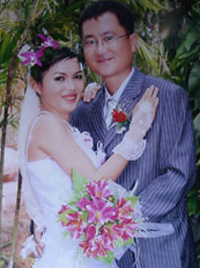 A wedding photo of Phuong and her husband,
provided by her family.
The Korea Times quoted local police as saying that the woman had committed suicide by jumping off the 18th floor of an apartment building, with her 7-year-old daughter and 3-year-old son in her arms.
The woman has been identified as Vo Thi Minh Phuong, 27, from the Mekong Delta city of Hau Giang, Vietnam.
After eight years of marriage, Phuong recently filed for divorce with her Korean husband. However, the 47-year-old husband did not accept. That day, Phuong locked the door from the inside and then held her children to jump off from her apartment.
Police said they would consider the suicide note written in Vietnamese that she left and questioned the husband to shed light on the incident.
On November 24, Mr. Vo Van Ro from Hoa Quoi Village, Hoa An commune, Phung Hiep District, Hau Giang province went to HCM City to fulfill procedures to got to South Korea to receive their daughter's body, according to the wishes of the women in the suicide note.
On November 23, the parents were informed of their daughter's suicide. Her husband, Kim Yeong Hwa, a worker at a car part factory in the city is being questioned by police in order to clarify the cause of the death of his wife.
Before committing suicide, Phuong called to mourn with her mother in Vietnam, saying that she wanted a divorce because her husband was jealous for no reason and usually beat her. She also mentioned domestic violence in the suicide note.
Phuong's family said that in 2004, Phuong went to Ho Chi Minh City to attend an "eye view" of foreign men. She then returned home and asked her parents' permission to get married Kim Yeong Hwa, nearly 20 years older than her. Despite all objections, Phuong decided to marry this man though they knew each other for only one week.
A year later, Phuong gave birth to a baby girl. She then learned Korean and worked at a factory near her house. In 2010, she had the second child, a boy. She invited her parents to Korea to take care of her baby. Just a few months after the visit, she called home to mourn with her mother, saying she wanted a divorce because her husband was jealous for no reason and often beat his wife mercilessly.
More than four years ago, Tran Thi Lan, 22, a Vietnamese girl, also from Can Tho City, who married a Korean man also jump off high-rise building to commit suicide. Lan committed suicide just less than a month since she went to Korea with her husband.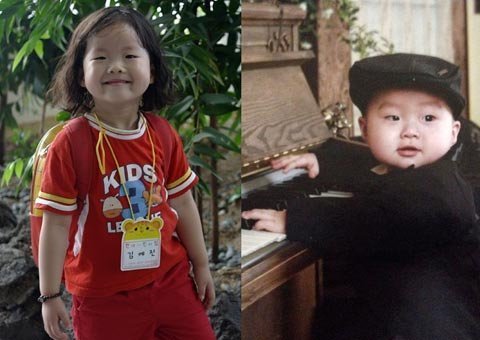 Phuong's children.
Each year thousands of Vietnamese girls marry Korean husbands. According to data announced last month by the Korea Health and Social Institute, for the first time, the number of Vietnamese brides in South Korea ranks first among foreign brides, up to 7,636, outnumbering Chinese brides.
The Vietnamese brides mostly come from the Mekong Delta and get married with rural men in South Korea. The cultural gap as well as age often leads to difficulties in their family life.
The wave to marry foreign women of Korean men began in the early 2000s. By the end of last year, this country had a total of 124,000 foreign brides. They come mainly from Southeast Asian countries such as Vietnam, Indonesia, Cambodia and also China.
Compiled by My Linh