VietNamNet Bridge – Many houses in State-funded floodproof residential clusters in the Cuu Long (Mekong) Delta have been sold or transferred illegally, according to officials in several provinces.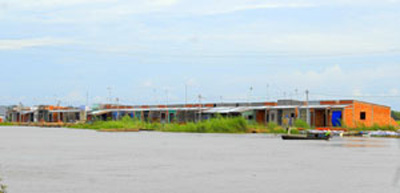 A flood-resistant residential cluster in Dong Thap Province's Tam Nong District.
Around 14,000 families living in flood-and erosion-prone areas
are set to be relocated to 46 clusters in the province.
However, provincial and district authorities have yet to take effective measures to prevent the illegal sales.
Two residential clusters in Truong Xuan Commune in Can Tho City's Thoi Lai District are among the most well developed flood-proof residential clusters in the Cuu Long (Mekong) Delta.
Some 500 households, who were evacuated from flood-prone areas in Can Tho to these two clusters, have enjoyed improving living standards by living there.
However, illegal house sales and transfers have been reported at these two clusters.
Ngo Thanh Bach, who resided in one of two clusters in Thanh Xuan Commune, sold her house to Pham Thanh Thuy, another resident in the same commune, for VND81.5 million (US$3,900).
The sale has never been certified by the commune authority, as Bach's house was built on a 65sq. m. plot of land in the cluster granted to Bach in December 2006 when she was evacuated from a floodprone area to the new resettlement.
She had also been granted a low-interest loan of VND11 million ($580) to build the house.
Tran Van Nghe, another poor resident who was moved from a flooded area to a house in the floodproof residential cluster in Truong Xuan Commune over six years, sold his house for VND90 million ($4,300).
He did so without making any payments for the foundation of the house or on the loan used to build it.
According to the Truong Xuan Commune authority, about 80 of the 500 houses in the two floodproof residential clusters in the commune have been sold or transferred for VND60-90 million ($2,880-4,300) each in the past few years.
The commune authority said it could not stop the illegal sales because all of them had been secretly conducted without any certification.
The chairman of the People's Committee of Dong Thap Province, Le Minh Hoan, said the residential floodproof programme in the Cuu Long (Mekong) Delta was critically important to protect people from the ravages of floods, but residents had exploited the programme.
In the programme's first phase from 2001 to 2007, 204 residential clusters for 37,000 households were built in floodproof areas in Dong Thap.
In the second phase, expected to be completed next year, the province is building 46 more clusters to relocate 14,000 families living in flood-and erosion-prone areas.
The province has identified 7,000 households for relocation to these clusters.
Unemployment problem
The People's Committee of Dong Thap Province has reported that 1,569 illegal sales and transfer of houses in floodproof residential clusters in the province.
Hoan said to attract more residents to these clusters, local authorities and agencies should provide support to residents by offering them jobs.
He said joblessness was one of the major reasons behind the closures, sales and transfer of houses in floodproof residential clusters.
The secretary of the Party Committee in Thoi Tan Commune of Can Tho's Thoi Lai District said that 72 houses had been built on the 238 foundations of the cluster in Thoi Tan Commune.
But only 32 of them are now housing residents and the rest have been closed as their residents have been working in other areas.
Le Van Quan, a resident of Thoi Tan residential cluster, said he could not find a job near the cluster and that many residents had moved to Binh Duong and Dong Nai Provinces and HCM City to earn a living.
Long An Province has built 165 residential clusters to accommodate 32,768 poor households, but they have admitted only 15,490 families.
According to the Long An Construction Department, the residential clusters are unattractive to poor residents from floodprone areas because of the lack of jobs.
In addition to infrastructure development to create favourable living conditions, provincial authorities plan to help people find jobs by providing vocational training courses in agriculture and handicraft and encouraging the development of traditional craft, trade and services.
The department said Long An would try to turn these clusters into urban residential areas that provide jobs and good living conditions.
VietNamNet/VNS