VietNamNet Bridge – Using many tricks, a match-making group lured hundreds of poor girls in a coastal town of Soc Trang province to marry foreign men. Ten women returned home because they could not stand the wretched life abroad.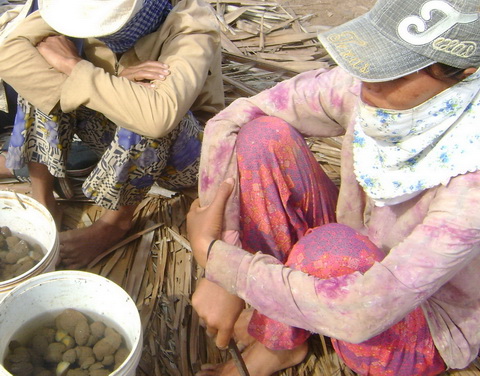 On November 10, the Soc Trang province police agency said they were investigating an illegal marriage brokerage ring in the town of Vinh Chau.
As being reported by the local police, from the beginning of the year, the coastal town of Vinh Chau had 201 women who married foreign men. However, only five of them performed marriage registration procedures at the local Justice Department.
Besides 154 women who married Chinese men, the remaining 47 women went to South Korea. At least ten of them have been "redeemed" by their families or ran away from their husbands because they could not withstand the wretched life abroad.
These girls told the local authorities that taking advantage of their poverty, illegal match-makers visited their parents to use sweet words to persuade them to marry their daughters to Chinese or Korean men to have VND80-100 million ($4,000-5,000).
This amount of money could help their families get out of debt and poverty so girls accepted to leave their home to China or South Korea. However, after they left Vietnam, their parents only received VND5-20 million ($250-1,000) from the matchmakers.
According to Lieutenant Colonel Vo Tan Phong, chief police officer of Vinh Chau Town, women have the right to get married to foreigners. However, very few women in Vinh Chau Town married for the purpose of building a happy family because they are victims of fraud by illegal matchmakers.
"In a number of local and remote areas, girls said they married foreigners because of filial duty but actually they were forced or urged by their parents," a local judicial official said.
P. Linh