VietNamNet Bridge - Leaving their husbands and children at home, these women go to Malaysia to work and save every coin to send back home for their families. Many of them have not returned home to see their families for ten years.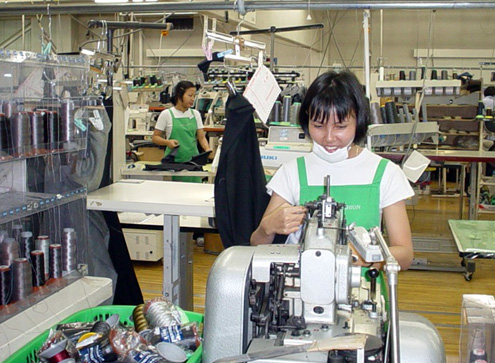 In late October, Vietnam was in the autumn already but in Malaysia, the weather was still hot. Hiding her nostalgia--Ms. Trinh Thi Huyen, from Tinh Gia district, Thanh Hoa province, welcomed a delegation from Vietnam.
Huyen said, she left Vietnam for Malaysia to work in the Esquel garment factory in the State of Penang when her child was just over a year old. The child is now seven years old but Huyen has never returned home, even for a single time.
"I have not returned home to visit my family because the airfare is too expensive. I've told myself that I should be patient to save money for my family. Fortunately, my daughter still remembers her mother because every week we chat via webcam," Huyen said.
Ms. Nguyen Thi Bach Tuyet, from the Mekong Delta city of Can Tho, has been working for 10 years in Malaysia and she has also not visited home during this time. In Malaysia, she works for a large corporation, with good remuneration, so she decided to sign a 10-year contract.
"When I left Vietnam, I was 24 years old. Almost 10 years working here, I've not got married yet. My contract is expiring in early 2013; I'll return home," Tuyet said.
For a living, Ms. Pham Thi Lua, from Nam Dinh province, worked in Malaysia for four years. After the end of the contract, she returned to Vietnam. After that she signed a new contract to continue working in Malaysia in order to earn money for her two children who are of school age.
"It is very sad to work far from home. Sometimes I prepared the dinner but I could not swallow because I missed my husband and my children. Fortunately, my children have grown and they can take care of themselves…," Ms. Lua said.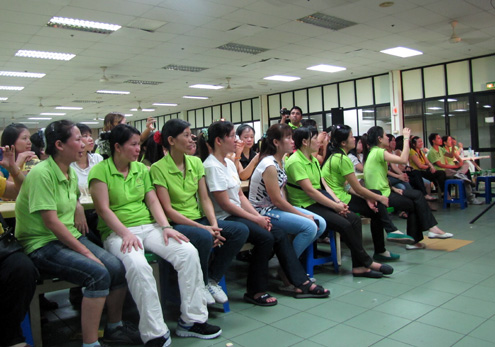 The above women used to work for local companies but they decided to go overseas for work. Huyen said, her salary at home was just over VND1 million ($50)/month, but in Malaysia, she was paid VND4 million. After six years in Malaysia, working 10 hours a day, she saved and sent home VND600 million ($30,000).
"I have not returned home since then but I've heard that it is expensive at home. Previously I worked in Ho Chi Minh City. My wages was just enough to cover rent, water, electricity charges and raising my children. Here my company covers my living costs so I plan to make some more money before visiting home and then returning here again," Ms. Huyen said.
Huyen said that she lives in a multi-story building rented by her company, which is about 25 minutes away by bus from her factory. When she left home, her husband was a building worker. Thanks to the money she sent home, he bought machinery and has become a construction contractor.
Ms. Tuyet said she is always determined to save money for her family. After work, she comes home to rest and have fun with other workers. They cook at home and bring food to factory for lunch to save money.
"We work around 10 hours a day and sometimes up to 12 hours. There are many couples work together here. Malaysia does not require highly qualified personnel, so we only need to contact the broker and perform procedures to work," Tuyet said.
Mr. Ong Wei Seng, the Director of a brokerage firm in Malaysia, which supplies workers for 400 factories across Malaysia (70 percent are Vietnamese), said Malaysian firms prefer female workers from Vietnam. According to him, male workers are smart but lazy and they usually work outside while women are both smart and work hard.
In Malaysia, Vietnamese workers are mostly unskilled workers so their income is lower than other markets.
"I think that Vietnamese workers should go to Malaysia through formal way to avoid troubles. Since 2013, the employment situation will be better because the minimum wage will increase and the brokerage fees here is also lower than other markets in the region," said Mr. Ong Wei Seng.
In Malaysia, around 65,000 Vietnamese workers work in over 350 electronic, apparel, gloves, healthcare, manufacturing, civil engineering, wood processing enterprises.
According to the Overseas Labor Management Agency, Vietnam began sending workers to Malaysia in 2002. Since then, 190,000 Vietnamese workers have been sent to this country.
The life of Vietnamese workers in Malaysia:
Houses for Vietnamese workers.
A Vietnamese couple in Malaysia.
They go to factories by bus.
Translated by M. Lan
from VNE