VietNamNet Bridge - In the same public hospital but there are two completely opposing world for wealthy and poor patients. It should be noted that many hospitals use public resources (doctors, nurses, machines, buildings, etc.) in private services in order to increase revenue, affecting the fairness in the approach to health care services of patients.

A hospital, two worlds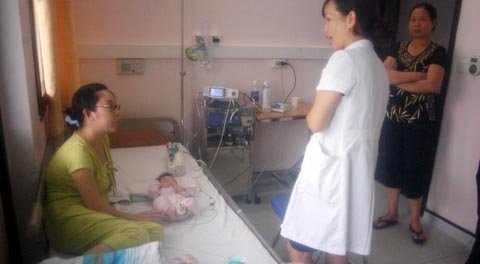 Patients of the center A have private rooms, with air conditioning and
dedicated services. The price of each room is approximately VND2 million ($100) per day.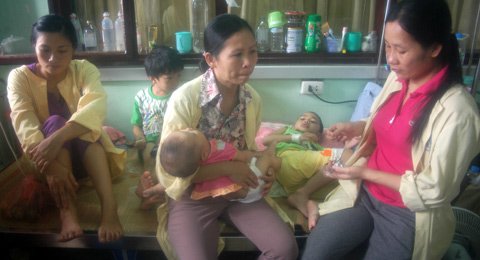 Next to center A is the oncology ward, where four child patients share a bed, accompanied
by four mothers. As a result, the air in these rooms is always stuffy.
The Central Pediatrics Hospital in Hanoi has voluntary treatment centers at the level of A, B, and C, in which the voluntary treatment center A is the most outstanding. If patients come to the voluntary treatment centers B and C, they still have to wait (because the examination fee is only VND90,000 - $4.5) , while they will be served very quickly and at the best quality at the center A, where the examination fee is up to VND680,000 - $34.
The center A is established to meet the need of rich people, who can afford inpatient treatment cost of hundreds of USD per day but on one side it causes negative effects, of which the most prominent effect is that the poor can have a feeling of being discriminated.
While patients coming to the voluntary treatment center A are warmly welcome and the entire center is equipped with air-conditioner. Each patient is taken care by one nurse, has private room, etc., patients who use medical services at other zones have to queue for half of a day to wait for their turn.
Being tired, many patients sit, lie around the lobby to wait for their turn, making up a scene in stark contrast with the voluntary treatment center A, where patients are welcomed, treated very well.
For inpatient treatment, each poor patient has to share a bed with 2 or 3 or even 4 other patients.
"I know that my baby can catch diseases from other patients but we can not afford to use voluntary medical services. Sometimes a ten square meter room hosts nearly two dozen people," said the mother of a 7-year-old patient, who is being treated for cancer at the oncology ward.
More money, more choice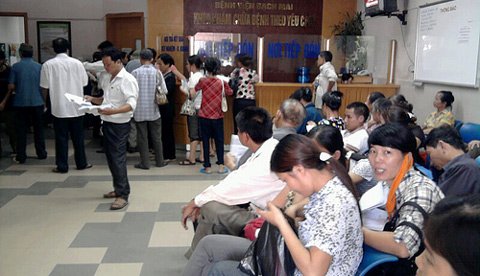 Patients at voluntary medical treatment center of Bach Mai hospital.
Without paying more money, patients must wait months to get surgery. But with the "fast operation" service, they will have to wait for 10 days. This situation currently happens at Viet Duc Hospital (Hanoi).
This service exists under the name of "quick surgical services." Accordingly, if patients pay an additional VND2 million ($100) (out of hospital fees in accordance with regulations,) the waiting time for surgery will be reduced significantly.
Because of overload, hospitals have to wait for a month to get surgery, but thanks to this new service, people who have money just have to wait for 7-10 days.
In the Bach Mai hospital, Hanoi, at the voluntary medical examination ward, the distinction is also clear: The examination fee is VND50,000/ time and it is VND100,000 if patients want to see professors.
It is similar at the Hanoi Medical University Hospital, where there is a very clear distinction between the normal medical sector and the international examination ward.
According to Mr. Ly Ngoc Kinh, Deputy Chairman of the Vietnam Association of Health Economic Science, the opening of the medical service sector has contributed to significant improvement of hospital revenues, reduce budget pressures, and meet the needs of the patients who can afford to pay.
The policy is right, but there are many things to discuss about the implementation of this policy.
Ngoc Anh