VietNamNet Bridge - After the dam of Song Tranh 2 hydropower plant was cracked and continuous earthquakes occurred in this area, the authorities of Quang Nam province have reviewed and determined to cancel 23 hydropower projects in the area.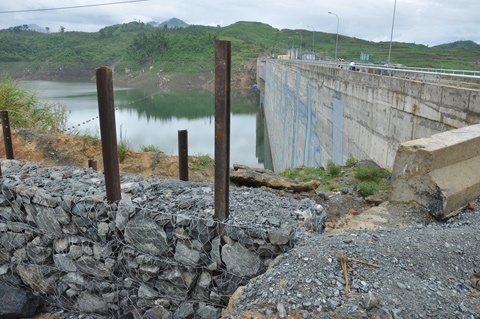 Song Tranh 2 dam.
This morning, October 22, the Office of Quang Nam People's Committee announced the conclusion made by Quang Nam's Chairman Le Phuoc Thanh about the review of hydropower projects in the province.
Based on the review, Chairman Thanh has formally requested to halt 23 small and medium projects. Specifically, Thanh asked to stop research of 18 projects and reject two others from the province's hydropower development plan.
In particular, 3 projects have not yet been added to the hydropower development plan, at the request of local governments, including Song Tranh 5, Ta Moih and Ma Cooih.
These projects are halted due to their large impacts on the population, production of forest land and the environment, low investment efficiency or they were not implemented according to committed schedule.
However, Quang Nam authorities still allowed two projects to continue, including A Grong and Dak Sa.
Though the government does not allow Song Tranh 2 to store water, this plant produced 455.421 million kWh of electricity so far this year, reaching 80 percent of the yearly plan approved by the Electricity of Vietnam Group (EVN).
Thus, though it is allowed to store water or not, consecutive earthquakes still occurred because more than 430 million cubic meters of water in the reservoir (below the dead level) can not be discharged because the reservoir does not have a bottom water discharge gate.
Vu Trung