VietNamNet Bridge – A cold spell has taken hold in Viet Nam's northern region, causing heavy rain and flooding in many areas, the Central Hydrometeorological Forecasting Centre announced today.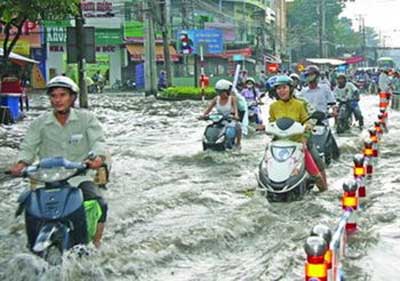 A flood-tide reached nearly 1.59m yesterday in HCM City,
submerging many residential places and roads. (Photo: VNE)
Residents should watch out for strong winds, flash floods and landslides, said the centre.
In northern Lao Cai Province, which borders China, the temperature was below 25 degrees Celsius. Forecasts suggested that the temperature would continue to fall while the rain would continue for another day. Sa Pa, a beautiful mountainous town famous as a tourist site, would see temperatures below 15 DC.
Director of Lao Cai Hydrometeorological Central Luu Minh Hai said no damage fatalities or traffic jams had been reported, but the whole system of rivers and streams in the province has seen flooding with water heights rising from 50 to 100cm. The flooding will continue for the next few days.
Hai said the province has asked relevant sectors and localities to closely monitor the rising water and alert residents about flash floods and landslides so they can protect livestock and plants from the cold and heavy rain.
Meanwhile in the southern region, especially HCM City, daily life has been strongly affected by the flooding.
A flood-tide reached nearly 1.59m yesterday in HCM City, submerging many residential places and roads. The tide occurred at rush-hour when many businesspeople and students were coming home, causing traffic jams and disorder in the city.
Many motorbikes broke down after spark-plugs got wet, forcing the owners to push their vehicles on foot or hire repairers to dry the spark-plugs at the price of VND10,000 each.
Nguyen Thi Be, a resident in Nguyen Thi Thap Street, said the raising flood-tide had immersed many construction works in the street. Because the water could not be discharged, it overflowed into nearby houses. Many local residents could not leave the area, while others could not enter it.
"Our business is very bad. Customers are unable to reach my shop due to flooding," said Be.
The water level was forecast to reach 160m in the coming days in HCM City, exceeding the 2011 record of 1.59m.
In southern Bac Lieu Province, one of the localities in the Cuu Long River Delta suffering the most significant effects of global climate change, a flood occurred early today morning at Ganh Hoa meteorological station that was measured at 2.1 metres.
The province has about 125,000 ha of shrimp ponds and 3,000 ha of salt production as well as thousands of households, State offices and markets in low areas at high risk of flooding.
Although the province has carried out many urgent measures to cope with the flooding, including building a new 56km East Sea dyke system, it has not done enough to protect local residents.
While the southern and northern people are dealing with heavy rain and flooding, the Central and Tay Nguyen (Highland) regions have been forecast to be sunny with temperatures from 25 to 33 DC.
VietNamNet/VNS