VietNamNet Bridge – All prostitutes who are being managed at the HCM City Social Labor Education Center will be released in accordance with the Law on Handling of Administrative Violations. The authorities worry of an outbreak of prostitution in Saigon.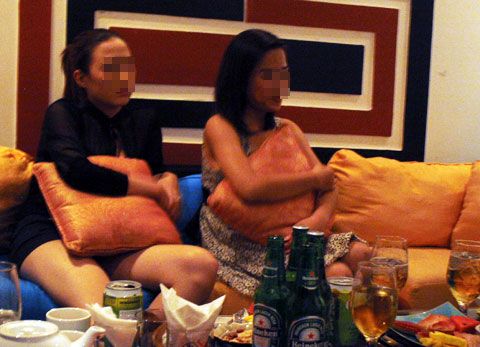 Mr. Nguyen Ngoc Thach, head of the Social Evils Prevention Division of the Ho Chi Minh City Department of Labour, Invalids and Social Affairs, told VNExpress online newswire that the Social Labor Education Center currently manages 79 sex workers. These people have had to pay administrative fines several times and now they are being vocationally trained at the center.
"They will be released in accordance with the Law on Handling of Administrative Violations," Thach said and expressed his concern that if all prostitutes are released, they will not have any place to return nor a job because most of them are homeless and uneducated.
At present, Vietnam does not have specific provisions on helping prostitutes to reintegrate into the community. In particular, up to eight percent of the sex workers who are about to be released are HIV carriers.
Under the Law on Handling of Administrative Violations that was approved by the National Assembly, from July 2012, prostitutes will not be sent to social education centers. They will have to pay administrative fines only (VND300,000 - $15 for the first time and VND5 million if the violation is repeated). After that the local government is responsible for creating favorable conditions for sex workers to integrate into the community.
However, Thach said that after the Law on Handling of Administrative Violations was adopted, prostitution in HCM City shows signs of increasing. When they are caught in action, sex workers are willing to pay a fine and then continue their job because they know that they will not be managed or sent to social education and treatment centers as before.
Thach also said that the crimes related to prostitution also take advantage of the law to expand the scale of operation. If teenagers see sexual relationship to be very easy - just paying money to be sexually satisfied - the good values of love and marriage will be overlooked. Meanwhile, young girls who have no job will be easily drawn into prostitution for high profit while not being punished.
The HCM City Bureau for Social Evils Prevention has proposed the Government and relevant ministries to take tougher measures on prostitution besides educating and raising the awareness for sex workers.
Specifically, those who have a job and stable income but still work as prostitutes, for example the winners of beauty pageants, models, artists, must have their titles revoked and be banned from performing activities.
Those who have a home, in addition to administrative sanctions and sending their records to the local government, will be criticized in front of local residents if they repeat the violation. Those who do not have a home will be sent to social patronage centers.
The bureau also proposed to aggravate punishment on whore-masters who are civil servants and members of the armed forces.
Compiled by Nam Nguyen