VietNamNet Bridge - The director of Korean-invested Sae Hwa Vina Company in Cu Chi district, HCM City has disappeared, leaving VND10 billion ($500,000) of debt, including wages and social insurance.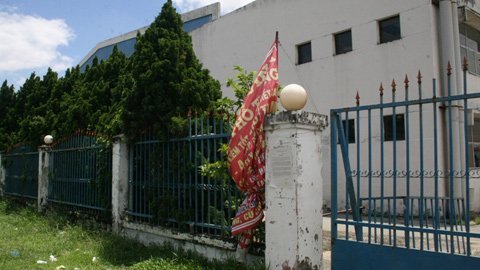 The Sae Hwa Vina Co. suspended operations since the early September 2012.
On September 19, hundreds of workers of the dyeing and garment export Sae Hwa Vina Co., Ltd. sent applications to HCM City authorities asking for intervention and protection of their interests.
Workers also grouped up to hunt the Korean director who was suspected to flee.
The Sae Hwa Vina Co. suspended operations since the early September 2012.
"The company suspended operations for nearly one month, but workers remain unpaid. The person of the highest responsibility is general manager but he has been missing," said worker Nguyen Thi Cam Ly.
According to our investigation, Sae Hwa Vina Co., Ltd. went into operation in August 1999. Since late 2011, the company faced a lot of troubles in production and business, resulting in loss. That is why the company did not paid salary and social insurance for workers.
For the last one month, hundreds of workers have had to look for work to pay for accommodations and to cover their living expenses. Some workers were frustrated and returned home to wait for the day they are paid.
According to the Cu Chi District Labor Federation, the total amount of wages, social insurance owed by this company is nearly VND10 billion ($500,000).
After workers sent their complaints to many agencies, on September 8, Mr. Kong Wan Sik, general director, released an announcement to appease workers.
He said that the firm would pay salary and social insurance debt by selling the SH Vina Company, based in Long An province, which is also ran by Mr. Kong Wan Sik.
At the meeting on September 11 with the Social Insurance Bureau and the Labor Federation of Cu Chi district, the company's representative said SH Vina had been sold for VND17 billion ($600,000) and pledged to settle salary arrears for workers and paid VND2 billion ($100,000) arrears of social insurance on September 29.
Recently, the company often sold goods in the evening. The move made workers doubt that the general director was preparing to flee to avoid paying salary debts.
After receiving complaints of workers, the HCM City Department of Labour, Invalids and Social Affairs has reported the case to the police in order to prevent general director Kong Wan Sik from escaping.
"Behavior restricted him to dodge his interests--settling CN Kong Wan Sik is unacceptable. HCMC Labor Federation continues to direct Cu Chi Labor Federation in close collaboration with the district authorities monitoring the situation of enterprises, prevent the dispersal of property. If companies continue delaying, the HCMC Labor Federation will support Sun collective action, "said Nguyen Van Khai, Vice Chairman of HCMC Labor Federation said.
Truc Ngon