VietNamNet Bridge – In the morning of September 8, hundreds of fishermen flocked to Chau Thuan Bien in Binh Chau commune, Binh Son district, to seek antiques from a shipwreck. The antiques are said to date back to the Ming Dynasty of China.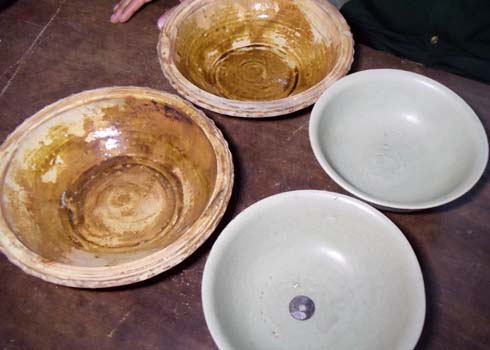 Pottery items from the shipwreck.
"I saw many people fishing out ancient pottery items with beautiful patterns. They said they would sell them to antique traders," a local man said.
Local border guards were present at the site, collecting four old ceramic bowls and an ancient coin from fishermen.
Deputy Director of the Quang Ngai Museum, Doan Ngoc Khoi, said that these bowls belong to the Ming Dynasty of the 15-17th centuries.
According to Khoi, the museum conducted an archaeological excavation project in Chau Thuan Bien in 1999, collecting several hundreds of kilos of antiques, mainly potter and stone items of the Ming Dynasty, 17th century.
Some items are now on displayed at the Museum of Vietnam History, with the topic "Maritime and Island Culture."
Kha Di