VietNamNet Bridge – A 17-year-old woman, who was at the 6th month of pregnancy, was unexpectedly in labor and gave birth to three baby girls.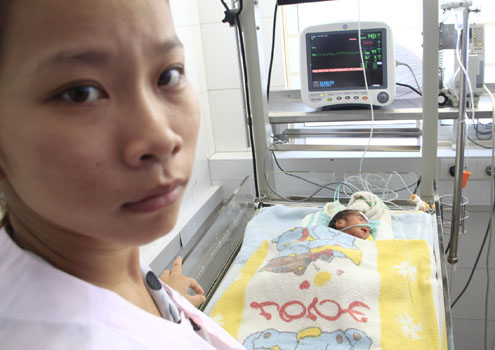 The teen mother and one of her babies.
Da nang Hospital received a pregnant woman named Le Thu Suong,17, in mid-April when the young woman (from the southern province of Bac Lieu) went to Da nang city to visit her husband, a worker.
Fifteen minutes after she was hospitalized, the young woman was in labor and gave birth to triplets.
Suong said that her health status was normal during the pregnancy. Sometimes she got backaches. Her family was poor so the young woman could not go to clinics for prenatal check-ups. The young mother was surprised and worried when she gave birth to triplets.
Three babies were weak. The largest baby was 1.4kg and the smallest was 900gr at birth. On May 7, one was moved out of incubator. The two others are still in incubators now. They are not named yet so they are called Gai Suong 1, 2, 3, after the name of their mother.
"Five days after giving birth, I returned to my husband's inn. We are very poor so we managed to leave my children at hospital but we do not have the heart to do that," Suong said.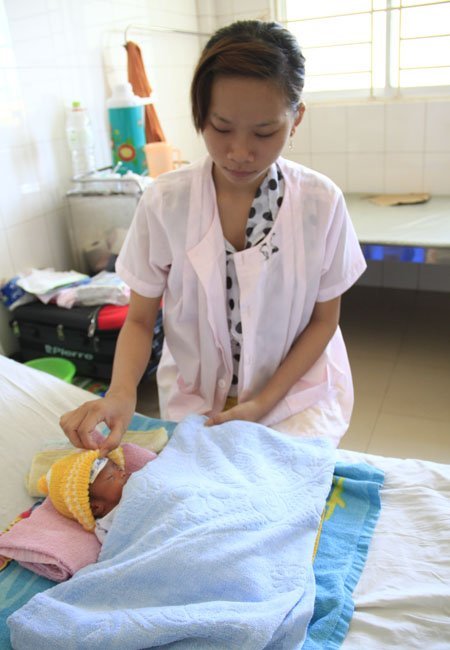 Suong's mother, Ms. Luong Thi Thao, said that Suong got married when she was only 16. They lived with Suong's parents. Duc went to Danang to work as a building worker. In early April, Suong went to Danang to visit her husband and she unexpectedly gave birth.
Thao was also poor so she did not have money to immediately go to Da nang to take care of her daughter. Until one week ago, she saw Suong in Da nang.
"We are so poor. It is great if kind-hearted people adopt one or two babies. Our children are too young. They cannot earn enough to feed themselves, so they cannot bring up all three babies," Ms. Thao said.
A doctor at Da nang Hospital said that since the young woman was hospitalized, she did not have money to buy clothes for her children and even food for herself. As she did not have much milk for the babies and food for the mother was donated by other patients.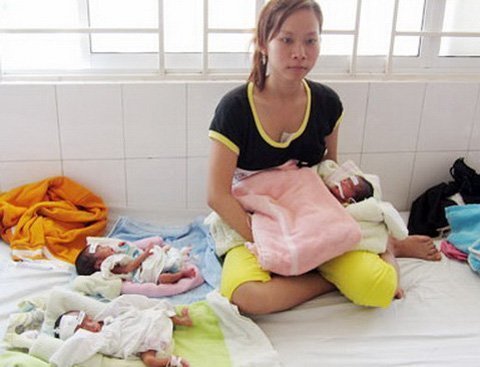 Le Ha