VietNamNet Bridge – To own plots of land of at least 100sq.m in a cemetery park, many people have paid a billion dong.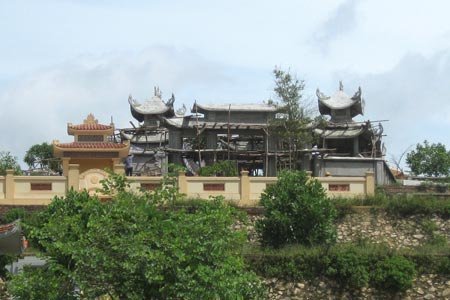 Around 50km from Hanoi's hub, Lac Hong Vien cemetery is built like a modern residential area in Ky Son district of Hoa Binh province. Asphalt paved roads run around hills, lighted up by high-voltage lamps. Tombs are situated on the hill slope, with streams below.
Each tomb is surrounded by flowers and trees, grass and brick fences. They look like minimized villas. Some plots of land which are hundreds of square meters are fenced, though there is no tomb inside.
On the center of a hill named Kim is the tomb of a rich man in Hanoi's old quarter. The tomb is built in a 100sq.m plot of land, surrounded by a lot of flower and ornamental trees. There are also chairs and tables to serve the dead's families whenever they come here to visit him.
Next to this tomb is the tomb of a businessman, which is faced by white stone. This tomb is also decorated by many ornamental trees. Visitors can sit down on stone-made chairs, with sophisticated patterns.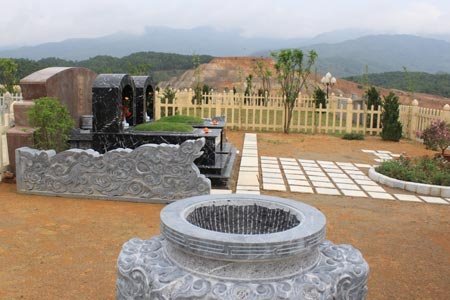 Not very far from this tomb is a "villa for the dead." There is a stone-covered tomb, protected by a big pair of dragons, a big incense burner, all made by blue stone. In the corner of this villa is a small temple. This "villa" is worth several billion dong (hundreds of USD).
According to an official of Toan Cau Trade JS Company, the investor of Lac Hong Vien cemetery, all plots of land which are located at nice positions in the cemetery are sold to rich families. To own a plot of land of around 200sq.m here, customers have to pay at least VND1 billion ($50,000), plus hundreds of million dong for construction fees.
Smaller plots of land, from 30 to 45sq.m and worth of VND200-300 million ($10,000-15,000), are favored by middle-class customers. Single tomb is 4.5sq.m each, priced at least VND30 million ($1,500).
There are a dozen of vast plots of land of between 300 to 500sq.m to build family cemeteries, which are sold for super-rich families since their prices are at least VND5-6 billion ($250,000-300,000)/plot.
Rich families also hire ornamental tree and worshipping service, with hundreds of million dong (tens of thousands of USD) a year.
"Large plots of land which are located at nice positions and have sufficient facilities are sold very easily though their prices are hundreds of USD. Before purchasing land, customers often take fengshui experts with them to choose land," said the cemetery's official.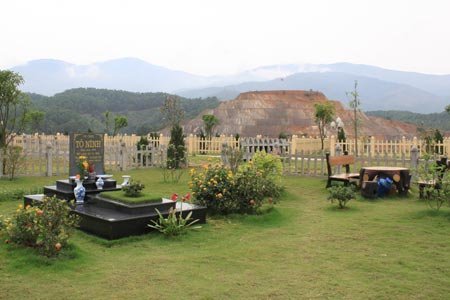 Those who are buried here are taken care very carefully. If their relatives cannot visit them on their dead anniversaries, the cemetery's staff will make rituals on behalf of their relatives.
There are also big tombs worth billion dong at Vinh Hang Cemetery in Ba Vi, Hanoi. On a 20-hectare hill are tombs which are covered by blue stones and decorated by flowers, ornamental trees, family temples which look like big pagodas, etc.
Different from Lac Hong Vien, where tombs must be built in a same design, tombs are built freely at Vinh Hang Cemetery. As a result, many tombs are designed very specifically. They are also cost billion dong each, including VND300-500 million ($150,000-250,000) for land only and hundreds of million dong for construction expenditures.
Building cemetery parks have become a new trend in Vietnam. Many cemeteries of this type are being built around Hanoi, such as Thien Duong in Soc Son district, Yen Ky, etc. To purchase land in these cemeteries, customers do not need to be Hanoi's residents.
Le Ha