Lao traffickers arrested in Dien Bien
Border guards in Dien Bien province have arrested two Lao nationals for illegally smuggling drugs.
The suspects were identified as Ly A Sua, 42, and Hua A Cho, 31, residing in Phongsali district, Laos.
Accordingly, at 22:00, the police caught them red-handed. These men were in possession of  6,000 pills of synthetic drugs, 3 kg of opium, and other exhibits which has now been seized by the authority.
The arrested admitted they transported the drugs from Laos into Vietnam for consumption.
Further investigation into the case is underway.
Steel flyover helps ease traffic congestion at Tan Son Nhat airport area
The final arm of steel flyover at the Nguyen Thai Son-Nguyen Kiem intersection in Go Vap district, HCM City was opened to traffic on January 18.
steel flyover helps ease traffic congestion at tan son nhat airport area hinh 0 With a total investment capital of VND504 billion, the steel N-shape bridge is one of the six major traffic projects aimed at easing traffic congestion at the Tan Son Nhat Airport area.
The bridge has three arms, with a 367m arm connecting Hoang Minh Giam and Nguyen Thai Son streets, the other 367 section arm turning north from Hoang Minh Giam street to Nguyen Kiem street, and the final 367m turning south from Nguyen Thai Son street into Nguyen Kiem.
The construction of the flyover would help clear gridlock on the routes to Tan Son Nhat airport.  
Earlier, only the first two arms of the bridge connecting Hoang Minh Giam to Nguyen Thai Son and Nguyen Kiem to Hoang Minh Giam were opened to traffic. Construction work on the final arm had fallen behind the schedule for nearly a year due to delays in land clearance.
One dead after head-on container truck collision
One person has been killed after two container trucks crashed into each other in Quang Tri province on January 19.
According to the initial information, at 8:30 AM, a trailer truck driven by Nguyen Chon Linh was heading towards Lao Bao-Dong Ha. Upon arriving at Km 61 +500, National Highway 9 in Tan Hop commune, Huong Hoa district, the vehicle was involved in a head-on collision with another truck.
Truck driver Nguyen Chon Linh, 29, was killed at the scene while the driver of the other truck, Le Quang Ha, 49, survived with only minor injuries.
According to local police, the two container trucks were carrying woodchips to Laos through the Lao Bao International Border Gate. 
Upon receiving the news, local authorities rushed to the scene to help ease traffic flow and investigate the incident further.
Tet get-together held for Vietnamese expats in Saudi Arabia
At the event (Photo: baoquocte.vn)
The Embassy of Vietnam in Saudi Arabia on January 18 held a get-together for overseas Vietnamese and guest workers in the Middle East country to celebrate the traditional Lunar New Year (Tet).
Vietnamese Ambassador to Saudi Arabia Vu Viet Dung took the occasion to update the participants on Vietnam's outstanding achievements in 2018.
The ambassador also encouraged Vietnamese people currently living and working in Saudi Arabia to enhance solidarity, assist each other and comply with the host country's laws. 
Dung asked companies which are responsible of sending guest workers to Saudi Arabia to promptly report difficulties facing Vietnamese workers to the embassy, adding that it will spare no efforts to ensure citizen protection in accordance with Vietnam's regulations.
The get-together brought warm moments to about 500 participants with traditional Tet dishes and songs about the motherland.
HCM National Academy of Politics to grant scholarships to South Africa
View of Ho Chi Minh National Academy of Politics (Source: hcma.vn)
The Ho Chi Minh National Academy of Politics (HCMA) is willing to provide full scholarships to South African students, said deputy director of the academy Le Quoc Ly at a working session with First Deputy General Secretary of the South African Communist Party Solly Mapaila in Pretoria on January 17.
Each year, the HCMA will grant 20 scholarships to the South Africa on courses taught in English, Ly said, adding that along with Vietnamese lecturers, the academy is inviting lecturers and experts from the UK and the US to teach.
He also said the HCMA is training many foreign students from Laos, Cambodia and Mozambique and plans to train those from Cuba.
Welcoming the Vietnamese delegation, Mapaila said the visit demonstrated the solidarity between the South African Communist Party and the Communist Party of Vietnam (CPV).
Since its foundation, the South African Communist Party has considered the struggles for national liberation against French colonialists and American imperialists led by the Communist Party of Vietnam as a model to follow.
Regarding the scholarships, he proposed assigning people in charge of liaison to speed up the cooperation.
At the meeting, representatives from the HCMA and the South African Communist Party exchanged notes on each country's socio-economic situation, as well as issues related to the development of socialism in the modern era.
Within the framework of its visit, the Vietnamese delegation is expected to hold a working session with the African National Congress (ANC) - South Africa's ruling political party – on January 18
TRAVEX helps to boost ASEAN tourism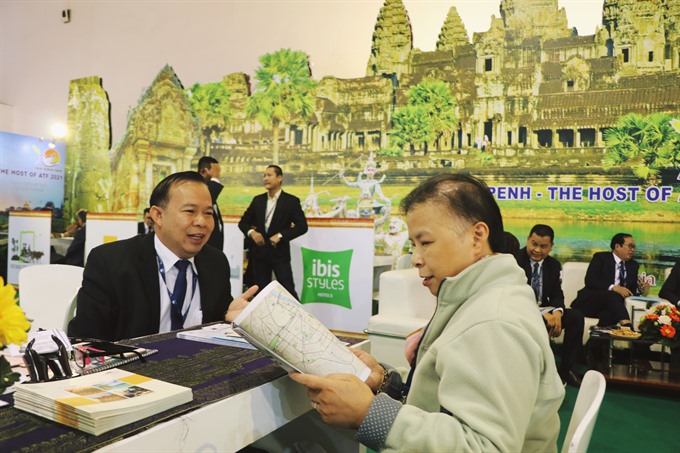 The Travel Exchange (TRAVEX) fair, a platform facilitating the trade of regional and individual tourism products from ASEAN member countries is under way, opening up various business opportunities for ASEAN members.  
The three-day event, held in the framework of the ASEN Tourism Forum 2019 in Hạ Long City, Quảng Ninh Province, also aims to showcase the cultural and tourism potential of the ASEAN member states.
The event is hosting more than 340 booths, of which around 120 are from 70 Vietnamese businesses.
Each booth showcases the diverse tourism products and cultural features on offer from the 10 ASEAN countries. Each member has its own motto to promote its particular tourism – Việt Nam with 'Timeless Charm', the Philippines with 'It's more fun in the Philippines', Thailand with 'Land of smiles', Malaysia with 'Truly Asia', Brunei with 'Abode of Peace', Indonesia with 'Wonderful Indonesia', Singapore 'Passion Made Possible', Myanmar with 'Be Enchanted', Cambodia with 'Kingdom of Wonder, Feel the Warmth' and Laos with 'Simply Beautiful'.
It is estimated that around 10,000 one-to-one business appointments between suppliers of ASEAN tourism products and services and international buyers will take place on-site during the event, ensuring ATF TRAVEX continues to place priority on business generation.
ATF TRAVEX is an annual leisure and travel trade event that offers the largest showcase of ASEAN destination products and services.  
ASEAN destinations have drawn the interest of global buyers from countries including Australia, the UK, France, Germany, Korea, China, Poland and Russia.
Vietnamese Minister of Culture, Sports and Tourism Nguyễn Ngọc Thiện said he hoped Việt Nam and ASEAN will work together to promote the potential of ASEAN tourism to international friends while he was visiting the event on Wednesday afternoon.
Iain Bitran, executive director of the International Society for Professional Innovation Management from the UK said "We do a conference every year in Asia Pacific and for me, coming to an event like this gives me the chance to find out about all the different destinations, particularly ASEAN and the opportunities for my association. I found it invaluable to come to this event."
"Asia is very much an innovative part of the world so for us to come to Asia makes a lot of sense. We always look to discover new countries and there are many up-and-coming countries in Asia, ASEAN, and in particular Việt Nam. For me, bringing an event to Việt Nam would be an interest in the next 2 or 3 years," Bitran said.
Chattan Kunjara Na Ayudhya, deputy governor of Tourism Authority of Thailand's International Marketing said "ASEAN has immense potential. So joining this ATF in Hạ Long Bay gives firms more opportunities to expand their market, and help people know more about the products and services of our sellers."
Talking about tourism in Thailand, he added, "I like to think Thailand is the land of smiles. It's hard to have one definition or description. Thailand has always been well known as a friendly country. I think it's the same as any other ASEAN country. Like Việt Nam, we are a very friendly people. So when we greet visitors, we greet them with a smile.
"Some people may like our natural attractions: beaches, waterfalls, mountains. Some people may like our historical sites, we have many world heritage sites. Some might like culture, temples, festivals. A lot of people also like our food. Thai food is world famous. But I think our most important attraction is people," he said. 
1,100 storm-resilient houses built by GCF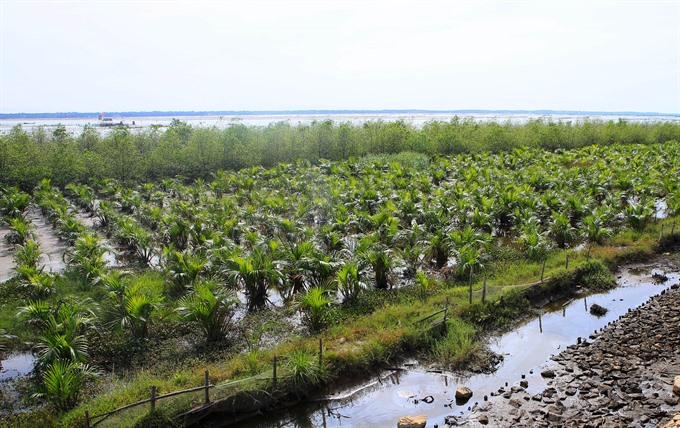 A mangrove forest in Tam Giang Lagoon, the central province of Thừa Thiên – Huế. 
Nearly 1,100 storm-resilient houses were constructed in 2018 in seven provinces under the framework of the 'Improving the resilience of vulnerable coastal communities to climate change–related impacts in Việt Nam' project funded by Green Climate Fund (GCF).
In its first project in Việt Nam and ASEAN, GCF has benefited some 4,000 residents in Nam Định, Thanh Hoá, Quảng Bình, Thừa Thiên Huế, Quảng Nam, Quảng Ngãi and Cà Mau provinces.
The project includes three components of storm-resilient housing, mangrove forest restoration and data systems with community engagement.
GCF, the UNDP and local authorities have worked together to implement the initiative in disaster-prone areas.
Caitlin Wiesen, UNDP Country Director, applauded Việt Nam's commitment to the project.
Besides storm-resilient housing, about 200ha of mangrove trees were planted or restored while 15,000 people in more than 100 communes were offered capacity building courses in disaster management and assessment.
US$4.5 million was disbursed in 2018. The goal for 2019 is $8.4 million.
"It means we need to double our efforts to commit with this ambitious goal. First is the approval of the 2019 annual work plan which is set to complete by January. Second is to confirm co-financing for constructing 1,380 houses and 1,386ha of mangrove which is a key for all supported provinces. Third is that we can agree on how to ensure the delivery of $4.8 million by July," she said.
Mangrove restoration is key to protecting vulnerable people and fisheries-based communities from storms.
However, mangrove restoration efforts are still behind schedule.
According to Hoàng Văn Thắng, deputy minister of Agriculture and Rural Development, it is a challenge to find 4,000ha on which to plant and restore mangrove as other similar projects have been implemented on accessible areas. Meanwhile, the cost to plant new mangroves is higher than previously.
Representatives from provinces of Nam Định and Thanh Hoá called for reconsideration of the area of mangrove planted and budget distributed to this component.
Launched in 2017, the project will be implemented over five years with non-refundable aid of USD$29 million by GCF. 
An Giang Province adds more ferries during Lunar New Year holidays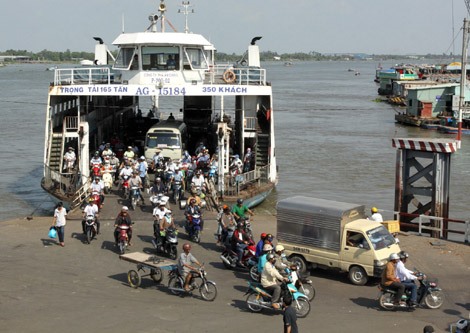 The An Giang Province plans to have 37 ferry boats operating during the Tết (Lunar New Year) holidays to meet visitor demand. 
The An Giang Ferry Co. Ltd plans to add more ferries during Tết (Lunar New Year) holiday from February 1 to February 10 to meet the demand of visitors in the province.
Trần Quốc Long, chairman of the An Giang Ferry Co. Ltd, said the company would have at least 37 ferries ranging from 30 to 200 tonnes at ferry terminals in the province during the holiday period.
The Châu Giang ferry terminal in Châu Đốc District will have six ferries with a capacity of 60 and 100 tonnes each.
The Tân Châu Ferry terminal in Tân Châu District will have eight ferries of 30 to 60 tonnes each, while the Tân An terminal will have three with capacity of 30 tonnes.
The Năng Gù ferry terminal in Châu Phú District will have six ferries with capacity of 45 and 60 tonnes each.
The company expects the number of visitors and vehicles at terminals will increase by 10 to 15 per cent compared to normal days. The company has also recruited 30 per cent more employees for the holiday period.
The company has also directed all ferry units to work overtime during the holiday season
The province's Department of Transport has told waterway transport units to ensure traffic safety and order at the terminals.
The department has also directed units to reinforce ferry bridges, roads and lighting systems, and have a sufficient number of life vests on each ferry. 
330 bicycles presented to poor students in northern region
As many as 330 bicycles worth a total 550 million VND (23,705 USD) were presented to disadvantaged students with outstanding academic results in Vietnam's northern region (Source: www.shb.com.vn)
As many as 330 bicycles worth a total 550 million VND (23,705 USD) were presented to disadvantaged students with outstanding academic results in Vietnam's northern region, to celebrate the upcoming Lunar New Year (Tet) holidays. 
The beneficiaries are students in Hanoi and Hai Phong cities, and those in Quang Ninh, Ha Nam, Hung Yen, Ninh Binh and Tuyen Quang provinces.
The charitable activity was arranged by Saigon - Hanoi Commercial Joint Stock Bank (SHB) and Dai-ichi Life Insurance Company of Vietnam (Dai-ichi Life Vietnam), in cooperation with the Vietnam Red Cross Society Central Committee. 
It is part of a programme of the SHB to aid poor kids and encourage their studies, said SHB General Director Nguyen Van Le. It began in June 2018, granting thousands of gifts and scholarships to poor students nationwide. 
The SHB is among major commercial banks in Vietnam, with charter capital hitting more than 12 trillion VND (517.2 million USD) and total assets worth nearly 300 trillion VND (12.93 billion USD) at the end of September 2018.
Nearly 6.7 million poor households get preferential loans in 2018
Close to 6.7 million poor households and policy beneficiaries gained access to preferential loans worth over 62 trillion VND (2.66 billion USD) in 2018.
The information was revealed by Deputy General Director of the Vietnam Bank for Social Policies (VPSP) Tran Lan Phuong at a conference to review the bank's operation in 2018.
Last year, the bank excellently fulfilled its credit growth target set by the Prime Minister, significantly contributing to realising the national target programmes on sustainable poverty reduction and new-style rural area building.
The system's credit growth hit more than 16 trillion VND while debt collection reached over 45.8 trillion VND, Phuong said.
Preferential credit came to all communes, wards and townships nationwide, focusing on those inhabited by ethnic minority people as well as disadvantaged, remote and border areas, he added.
The loans helped create jobs for more than 243,000 labourers, including nearly 6,000 sent to work abroad. Close to 51,000 poor students received loans to serve their study while over 1.3 million clean water and sanitation works were built in rural areas. About 30,000 houses were constructed for poor households, plus more than 2.800 social homes for low-income earners.
According to Phuong, despite high credit growth, overdue debts accounted for a small proportion, only 0.39 percent of total loan outstanding balance by December 31.
This showed that the credit quality was ensured, lending procedures were conducted seriously, and loans were used effectively by right persons, she stressed.
Da Nang inaugurates two classes for dioxin-affected children
At the inauguration of the two classes (Source: kinhtedothi.vn)
The supporting centre for Agent Orange (AO)/dioxin victims and poor children in the central city of Da Nang has recently inaugurated two classes for the group.
The upgrade of the facilities was sponsored by Canadian charitable organisation Boomer's Legacy Fundation and a delegation of the Royal Canadian Navy (89 million VND – 3,827 USD) and by the centre (52 million VND – 2,236 USD).
To Nam, Chairman of the Da Nang Association for Victims of AO/dioxin, which oversees the centre, thanked the Canadians for their support to help AO victims at the centre enjoy a better educational space.
Da Nang houses more than 5,000 AO/dioxin victims, of which 1,400 are children with serious conditions. The centre currently looks after 150 AO children from disadvantaged backgrounds and helps them learn crafts like embroidery, sewing and paper flower making.    
In 2018, the association raised more than 9 billion VND (387,000 USD) to assist the victims.
The US sprayed some 80 million litres of toxic chemicals in Vietnam during the American War, 61 percent of which was Agent Orange, containing 366kg of dioxin. As a result, more than 3 million ha of forested land was destroyed, while basic water and food sources for millions of people were contaminated.
Preliminary statistics showed 4.8 million Vietnamese people were exposed to Agent Orange/dioxin. Tens of thousands of people died from exposure, while millions of others went on to suffer from cancer and other incurable diseases. The children and grandchildren of many victims have been affected with birth deformities.
Victim blaming makes victims weaker
As part of the launching ceremony of the project 'BRAVE – Because you are trusted', a performance represents the pain victims of sexual assault suffer, especially when they told their stories to their family but were not trusted. 
Victims of sexual abuse and other forms of gender-based violence not only suffer from physical and mental pain but also from the culture of victim blaming.
Nguyen Van Anh, Director of the Hanoi-based Centre for Studies and Applied Sciences in Gender, Family, Women and Adolescents (CSAGA), said that victim blaming and self-blame hurt victims of gender-based violence and victims of sexual assault in particular.
"Because of victim blaming culture, the victims did not dare to or could not reveal their stories," she said.
Nguyen Thi Hieu, a researcher from Institute for Studies of Society, Economy and Environment (iSEE) said victim blaming is a phenomenon in which victims of crimes or tragedies are held accountable for what happened to them. 
Blaming the victim is common in rape and sexual assault cases, where the victim of the crime is often accused of inviting the attack due to their clothing or behaviour.
Within victim blaming, women are told to change their actions to avoid being assaulted or raped, by dressing differently or avoiding certain situations.
Hieu said victim blaming could have originated from belief in a just world where people reap what they sow and get what they deserve and from sexism and defensive attribution hypothesis, where a person uses beliefs as a shield against the fear that one will be the victim or cause of a serious mishap.
Hieu added that in Vietnam, gender-based violence was a result of Confucianism, particularly sexism and the perceived value of women's virginity before marriage.
Women who lost their virginity before marriage are often considered "dirty" and a source of shame for their family, leading to victims of sexual abuse and their family keeping quiet about the incident, she said.
 Hieu and other researchers conducted a study collecting hundreds of stories about gender-based violence published on four major newspaper in Vietnam – Vnexpress.net, Tuoi tre (Youth), phunuonline.com.vn and Phap luat Thanh pho HCM ( HCM City Law) as well as thousands of confessions posted on Facebook page S.O.S – Share out Stories from 2016 and 2017.
The study found the way the stories were reported caused victim blaming. The reports tended to focus on the actions of female victims as causes for the violence. For example, if a wife has an affair, she has challenged her hot-tempered husband.
Suspects in sexual abuse cases were usually referred to in terms of their relation to the victim, instead of being referred to as a suspect in a crime.
Researchers said such word choice made the case become a "private family business", tend to make victim responsible for what happened to them.
Few reports in the newspapers mentioned intervention by authorities, agencies or organizations that protect women.
Only cases with serious consequences were commented on by authorities, Hieu said.
A study by iSee also found most of victims want to speak out. The victims, especially those who suffered sexual assaults repeatedly, said they wanted help to end the situation or recover from the sexual assaults.
The victims suggested gender education for boys and girls should start early ab both school and in the home.
Parents and families should pay more attention to their children or tell them how to protect themselves.
Witnesses or confidants who are told about sexual assault should not ignore victims, they recommended.
Sponsored by the Australian government, three organisations – CARE International, iSEE and CSAGA, have held a ceremony to launch the project 'BRAVE – Because you are trusted' which focuses on addressing gender-based violence through changing the culture of victim blaming.
BRAVE stands for Building Responsibility and Accountability for Gender-based Violence Elimination.
The three-year project starting from May, 2018 aims to engage those who experienced gender-based violence, media and public in ending victim blaming.
The project is expected to educate those whom the victims share their stories with.
Instead of expecting victims to endure in silence, it is a call to action for policy makers and society to face up to how public attitudes and prejudices perpetuate violence, Acting Ambassador of Australia to Vietnam Justin Baguley said at the launching ceremony.
Moreover, instead of blaming victims, it is necessary for confidants to help them recover.
The project expects to reach more than 11 million people directly, benefit some two million indirectly, establish a network of victims and more importantly, help victims speak out against gender-based violence.
Baguley said BRAVE was the first project of its kind in Vietnam to challenge victim blaming and self-blame.
"It's a new approach and it holds up a mirror to how the media portrays victims, distancing them from ourselves or somehow deserving of the aggression and harm. We know these tendencies exist in all societies and that they are damaging. They merely silence survivors and normalise gender-based violence," he said.
Gender inequality underlined all violence against women and girls, he said, adding that women's safety depended on work to displace the discrimination they face.
Course to train doctors for poor and remote areas starts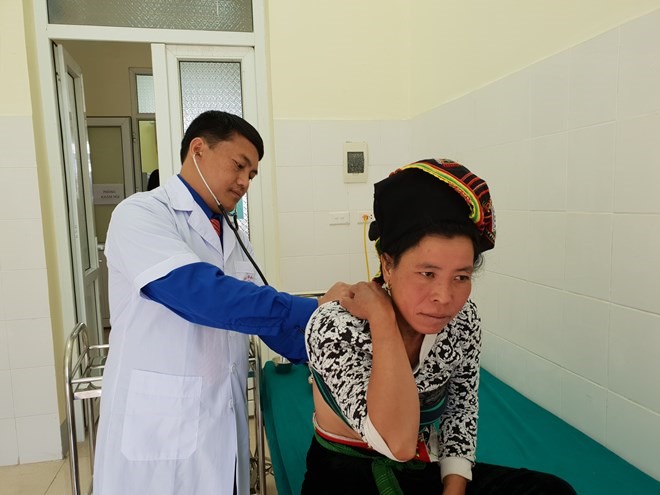 A doctor examines a patient in Mường Tè, Lai Châu Province. 
A course to train 28 doctors to work as volunteers in poor and remote areas kicked off on Wednesday afternoon in Hà Nội, organised by the Ministry of Health (MoH).
The young doctors belong to 11 specialties of medicine – internal, external, obstetric, pediatric, emergency, resuscitation, anesthesia, diagnosis, traditional medicine, infectious diseases and dental.
The course is the 15th of its kind since 2003, sending young volunteer doctors to work in poor, remote, border and island areas.
The doctors will attend training courses at medical universities in Hà Nội, Hải Phòng and Huế before travelling to their final destinations. Some 332 doctors have been trained by the programme so far, the ministry reported.
Associate Professor Nguyễn Tuấn Hưng, deputy director of the Personnel Management Department of the MoH, said the young doctors will be sent to 18 poor districts in 10 provinces.
The deputy director said that once the doctors arrive in the remote communes, the ministry would review and evaluate their actual practices. According to the ministry, doctors previously trained on the course have succeeded in applying their skills and supporting local medical workers.
They were highly appreciated by local authorities and residents, Hưng said. Grass-roots medical centres were able to treat more patients, minimising overloading at central hospitals.
Statistics from the ministry show that the country has over 11,000 health centres at commune and ward levels. But the centres have failed to lure highly qualified and skilled doctors. An estimated 62 poor and remote districts nationwide face a lack of 600 skilled doctors, vietnamplus.vn online newspaper reported.
Isolation, inadequate facilities and low salaries are the main reasons for the situation.