VietNamNet Bridge – As urbanisation has progressed rapidly in the country's big cities, overloaded transport infrastructure is increasing the risk of traffic accidents and worsening environmental pollution.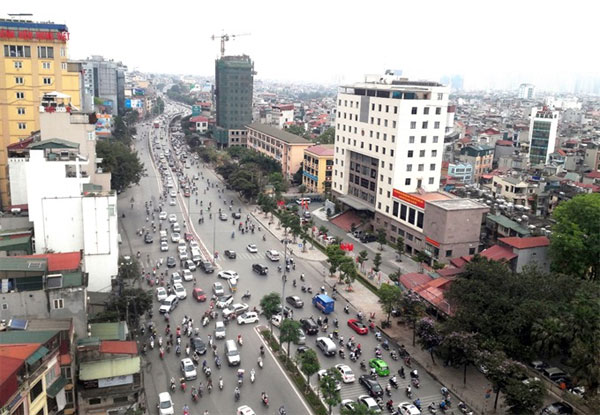 Dai Co Viet is one of the most congested streets in Hanoi. — VNS Photo Doan Tung
According to Associated Prof. Dr Luu Duc Hai, director of Viet Nam Research Institute of Urban and Infrastructure Development, urban planners should consider building lanes and roads exclusively for cyclists and pedestrians only, reported Kinh Te và Do Thi (Economic & Urban Affairs) newspaper.
In big cities like Hanoi, HCM City and Da Nang, the pollution seems to be mounting year by year due to population growth and as a consequence, the rise of combustion-engine vehicles. 
Statistics from the Ha Noi Natural Resources and Environment Department showed that greenhouse gas emissions in the city have gone up sharply.
The department estimates that activities using fuels and energy would emit 18.2 million tonnes of CO2 gas by 2020 and 42.7 million tonnes by 2030, tripling the number recorded in 2015.
President of Nature and Environment Protection Society Nguyen Ngoc Sinh told the paper that it was time for big cities in the country to focus on measures to limit combustion-engine vehicles and replace them with electric and biofuel vehicles.
Sinh also agreed with the proposal to build exclusive lanes for pedestrians and cyclists, saying it would reduce the exhaust fumes and a way forward should we want to develop urban centres in a sustainable manner.
Many countries around the world have had roads reserved for cyclists and pedestrians for decades now, he said, citing Denmark's Copenhagen as the pioneer city in this regard.
Meanwhile, Dr. Hai expressed his opinion that a developed urban city should offer residents different choices of transport, including bicycles and public transportation.
"Overloading of transport infrastructure during the urbanisation process has brought high risks of traffic accidents and environmental pollution", Dr. Hai told the paper.
At present, the number of people using means of public transport in big cities is underwhelming, accounting for about 15 per cent of total road users, the expert said.
"A large number of private vehicles so readily available is the main cause for the traffic congestion in inner cities, which has become more and more complicated," he said.
"So roads for cyclists and pedestrians are needed because walking and cycling are good for people's health and the environment as well", he said.
If roads for cyclists and pedestrians connect to means of public transport, traffic in big cities would be considerably eased, said the director.
Source: VNS