VietNamNet Bridge – It's a busy time of year for bee hunters with just a little over a month left to collect honey.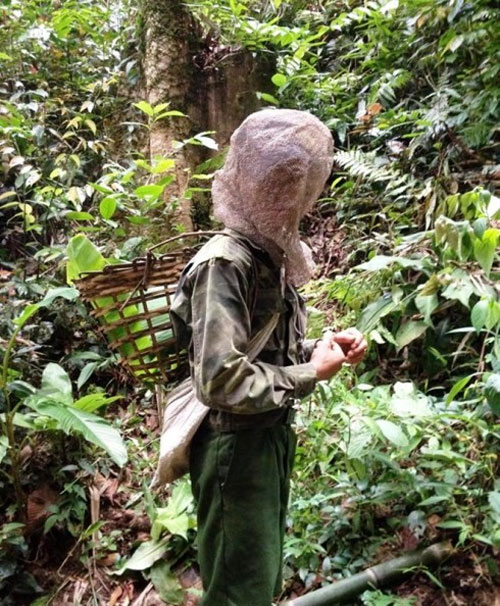 A forest bee hunter prepares to climb the tree to catch a beehive in Nghe An Province. - Photo nghean24h.vn
This is considered the best time of year to scour forests in search of nests in the Nghe An Province's Nam Hung Commune.
Nguyen Phung Quan, 32, begins his day with others heading into the forests in search of their prize.  
"Bee hunting is handed down from my ancestor. In the past, people mainly collected honey for daily use as gifts and also medicine. Over the years, it has become a job to get millions of dong each day," he told Tien Phong (Vanguard) newspaper.
"For my family, forest honey hunting has brought a lot of money."
Quan, after ten years, found it's not a job for everyone.
It requires the hunter to have experience, be stubborn and must understand the behavior of bees.
To collect wild honeycombs in the woods, hunters have to climb up trees tens of metres high or cling to the rocks to poke the beehives.
Many hives are located on the tops of tall trees, about 50m from the ground.
Wild honey hunters in Nghe An said the home to wild beehives was the forest in Que Phong District. To reach that location, they have to walk through a long trail with many slippery slopes and wade through deep streams.
Quan revealed that to know which areas have honey bees, hunters have to go along streams to the waterfalls where bees often reach for drinking and then fly toward their nest.
According to experienced hunters, they usually get beehives at night to be safe. During the day they make a ladder to the beehives.
The tools used to collect beehives are knives, nets, vines, lighters and bamboo baskets to keep honey.
A dangerous job, says the experienced hunter.
Thang, who specialises in hunting the ground bee which is aggressive and poisonous says hunters have to wear special protective clothing and masks.
The cheapest clothing which is sewn from thick canvas for hunting bee was also over VND1 million (US$43), Thang said.
"Those without protective nets might be stung and must be treated in hospital immediately. You can be killed from some stings," he added.
He said bee hunters often worked in groups to watch out for each other.
The best time to seek beehives was from the 4th to the 8th lunar months, Thang said, adding that they often went from Nghe An Province to Da Nang City to collect beehives.
"Sometimes, we collect a big beehive in Da Nang, weighing nearly 20kg, so we can earn a lot,"
 "Luckily, a group can dig 30-40kg of ground bee nests a day."
Hunters would use smoke to repel bees to take the hive.
"In recent years, we have not used fire to repel bees like they used to because it can cause forest fires. Most honey collectors know the dangers of using fire to get honey," Thang said.
In the past, bee hunters in Nam Dan District could easily get honey in local forests but now they have to go far, hunting in in Do Luong, Thanh Chuong and Nghi Loc districts or neighboring provinces such as Ha Tinh and Quang Binh.
Thang said hunters always leave the part of the hive with the pupas so that the bees will not leave the hive.
"We try our best to not harm young bees and to help bees regenerate," he said.
Nguyen Duc Than, a forestry officer of Nam Hung Commune, said there are about 15 people doing this job in and out the province.
"This is a good income for many households in recent years," he said.
Nguyen Thi Phu, Quan's wife confided: "My family's economy is improved thanks to this job. I often sell honey for passers-by because my house is near the highway."
 "Every time we meet aggressive bees, we have to leave the tools and run in the opposite direction of the wind to avoid bees chasing us and sometimes we also find snakes on the tall trees," he said.
The biggest fear in this job was to encounter poisonous snakes while catching honey, Quan said.
Source: VNS