The HCMC government on August 6 asked the municipal police to investigate multilevel cryptocurrency scams, particularly a recent case involving HCMC-based crypto mining firm Sky Mining, reported the local media.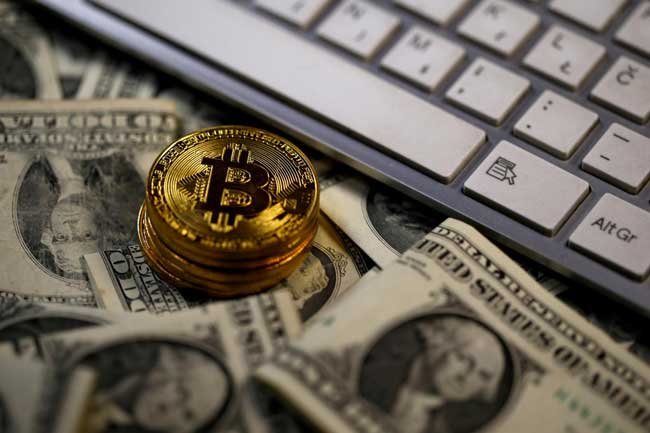 Bitcoin tokens are placed on U.S.dollar banknotes, next to computer keyboard
The State Bank of Vietnam does not recognize Bitcoin and other cryptocurrencies as legal tender in the country, according to the local government. As such, the investment, possession, sale and use of these virtual currencies for payments bear a high risk of fraud and are not protected by the law.
The municipal government noted that residents and businesses should have a better understanding of the issue, thereby minimizing adverse effects on their legitimate rights and interests.
On Monday, a group of investors from the southern provinces of Ba Ria-Vung Tau and Kien Giang visited HCMC to send a letter to the municipal police, accusing Le Minh Tam, general director of Sky Mining, of cheating them.
Thanh Nguyen, who represented the group, told Nguoi Lao Dong newspaper that she and other individuals had invested US$41,000 in a Sky Mining project. While some people have received interest payments in the first phase of the project, those involved in the second phase have yet to receive any money.
On July 30, another group of 300 people who had invested in Sky Mining lodged a similar complaint with HCMC's Phu Nhuan District police.
Earlier, news reports estimated some 5,000 people were victims of Sky Mining. Each of them had invested at least US$5,000 in a digital currency mining machine and then assigned the company to operate it to mine cryptocurrencies on their behalf.
Most of the victims had borrowed money from loan sharks because of Sky Mining's guarantee that they could get a return of 300% on their investments in three to four months. This made it possible for the firm to raise a staggering US$36 million from 5,000 people in just five months, from March to July, this year, to buy 7,000 cryptocurrency mining machines.
Sky Mining promised a high rate of return and generated returns for early-bird investors by acquiring new investors. The company is believed to have bet on the strong rise of cryptocurrencies as seen in the recent past, but this did not happen as expected. The Sky Mining chief was only able to make the first few rounds of interest payments before his cash flow declined.
Tam and Sky Mining's Deputy Director Le Minh Hieu are allegedly responsible for stealing the US$36 million from investors before fleeing abroad, possibly the United States or Germany.
A new petition on Change.org has been started, demanding their extradition to face trial. If Tam is in the United States, extraditing him to Vietnam may prove difficult as the country has no extradition treaty with the United States.
The petition lists Tam's passport number and claims that he had solicited investors from Vietnam, Japan and Africa to contribute between US$500 and US$5,000 to buy shares in his cryptocurrency mining operation. The victims allege that many of them have lost their life savings, while one investor has committed suicide.
SGT