VietNamNet Bridge – The investigation unit of public security ministry has begun investigating a massive cryptocurrency fraud scheme perpetrated by HCM City-based companies who lured in investors with promises of high returns.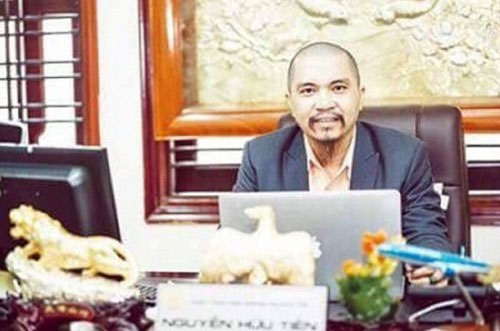 Nguyen Huu Tien. — Photo cand.com.vn
The masterminds of the fraud were identified as Nguyen Huu Tien, 34, and Pham Viet Son, 60, chairman and director-general of VNCOIN Co Ltd in HCM City and Nguyen Hong Quan, 41, the company's IT technician.
Public security officials said they were "surprised" with the sophisticated means the suspects used to draw in investment from gullible people.
MLM scheme to cryptocurrency
In May, 2015, Tien opened Thien Rong Viet Co Ltd and hired Quan to hold multiple positions in the company.
A year later, Tien set up another company, OTCMAX, and hired Son as its director-general and Quan as IT technician.
Tien held several conferences and drew up non-existent projects to attract investment, such as a grassroots credit fund in Thanh Hoa Province, a sand mining project in Binh Thuan and multiple condo and malls in HCM City – all of which turned out to be a multi-level marketing scheme.
However, due to increasing public wariness following similar schemes that were exposed, Tien's OTCMAX struggled to find new investors by the end of 2016 and had a hard time paying the high interest it had pledged to investors.
He decided to suspend OTCMAX's website and asked investors to convert their investment into shares of Thien Rong Viet – both of the companies were still unlisted on the stock exchange at this time.
According to police, from August to November of 2016, 6,000 'investors' committed capital to the tune of VND200 billion (US$8.5 million) into the made-up projects.
At the height of cryptocurrency fever last year, in September, Tien changed the name of OCTMAX to VNCOINS, which is also the name of the virtual currency the company now trades in.
Tien continued to hold various conferences and meetings to hook in investors, vowing they would receive daily interest as high as 2.5 per cent.
Initially, the conversion rate was set as $0.9 for one VNCOIN.
To avoid suspicion, Tien told the IT department to manipulate VNCOIN – varyingly raising and reducing its price – to create the impression of a real cryptocurrency market similar to bitcoin.
At the moment arrest orders against the accused were made, each VNCOIN was worth $10.
Trade of cryptocurrency, despite not being officially recognised as legitimate under Vietnamese law, has still been traded in growingly diverse but shady markets and attracted many investors.
The Skymining case in HCM City is also being investigated, after the virtual currency company's owners fled after collecting billions of dong in investment from hundreds of investors across the country. Similar to other fraud schemes, investors were also promised interest as high as 300 per cent in 12-15 months.
Source: VNS