U.S. Volleyball Players Launch Youth Sports Diplomacy Program in Vietnam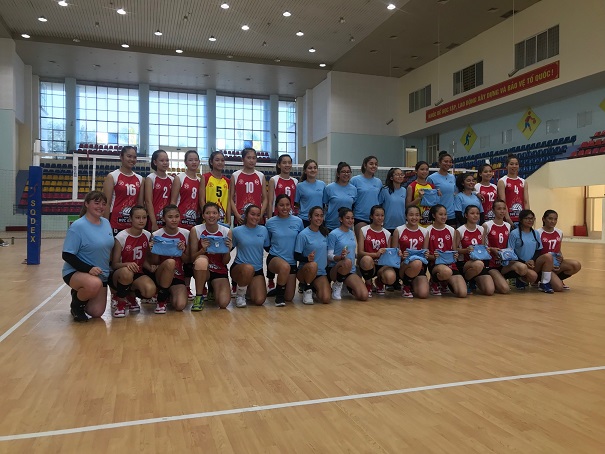 Twenty-five female high school volleyball players and coaches from the United States kicked off a U.S. Department of State sports exchange program in Vietnam on July 10 as part of a program to build friendships through sports and to create mutual understanding among the young people of the two nations. 
Volleyball teams from Duc Giang, Bac Ninh, and Quang Ninh will host exhibition games with San Diego's Exodus Volleyball Club The San Diego team will also visit KOTO to learn about local opportunities empowering at-risk-youth; spend a night on Halong Bay to learn about environmental preservation efforts; and tour cultural sites including the Temple of Literature and the Museum of Ethnology. 
Following their visit to Vietnam, the San Diego team will then travel to Luang Prabang, Laos, where they will host a volleyball clinic and tournament with local teams. 
Teams from Vietnam and Laos will then spend a week in San Diego in December 2018 for a reciprocal exchange experience which will be funded by the U.S. Department of State. While in San Diego, players from Vietnam and Laos will play friendly matches against local teams, enjoy dinner in the homes of local San Diegans, and explore local cultural sites while deepening their connections with their San Diego peers. 
This program, organized by the San Diego Diplomacy Council in partnership with the National Ability Center, is funded through an International Sports Programming Initiative cooperative agreement through the U.S. Department of State's Bureau of Education and Cultural Affairs' Sports Diplomacy division.
Community Centre launched in fishing village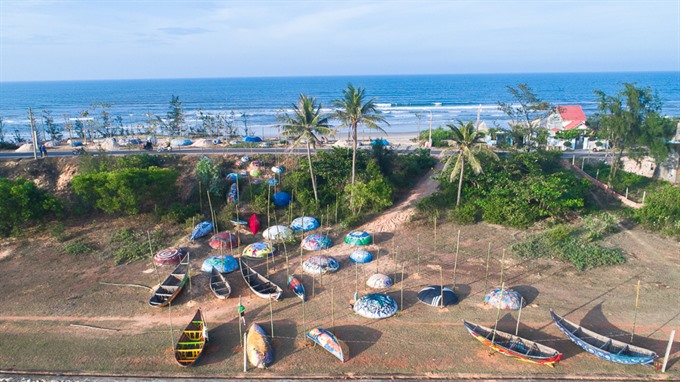 An installation of coracles and fishing bamboo boats with with painting decoration creates an art space for tourists exploring Tam Thanh commune. 
A community centre has been opened in Tam Thanh Commune in co-operation with the UNESCO Office in Hà Nội to promote  tourism, cultural exchanges and artistic performances among the local community and tourists.
The center, which was built with funding from Mitsubishi Corporation through UNESCO Hà Nội, will serve as an information centre for tourists in Trung Thanh Village, just 7km northeast of Tam Kỳ City in the central province of Quảng Nam.
The village became famous after Korean artists transformed the walls of old houses into colourful murals with portraits of villagers and the local landscape in 2016.
The village was awarded the 2017 Asian Townscape Award for its colourful murals.
It's also the first community project in Việt Nam that weaves art space into community lifestyle.
Tam Thanh, with a population of 6,000, has a 6km coastline and a tranquil environment, and tourists can easily connect from there with Tam Kỳ and Hội An. It welcomes around 500 visitors each day, and 2,000 tourists on weekends.
Last month, Korean artists launched the second stage of a mural project – part of the Korea Foundation Community Art Exchange Programme – with 34 new murals.
The project aims to attract more tourists to the fishing community and adds another tour option from Hội An, the Mỹ Sơn Sanctuary and the world biosphere Chàm Island. 
Bình Thuận ready to prevent oil spills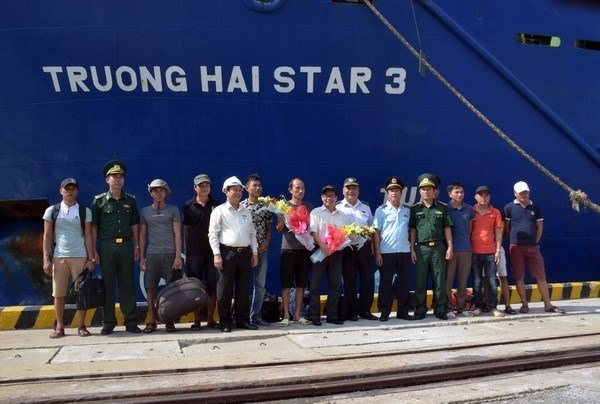 Crew members of the An Phú 868 Vessel are rescued and taken to Chu Lai Port. 
The People's Committee of southern Bình Thuận Province yesterday sent an urgent message to authorised agencies on the implementation of measures to prevent oil spills from sunken vessel.
In the message, the committee approved the plan of renting vessels capable of extracting oil from the An Phú 868 vessel as proposed by the provincial Department of Natural Resources and Environment. 
In addition, the committee asked the Department of Natural Resources and Environment, the provincial Maritime Port, the provincial Border Guard Command and relevant departments, sectors and localities to closely coordinate and carry out the plan of the provincial Department of Natural Resources and Environment.
It asked the authorized agencies to hire vehicles to extract oil and take measures to deal with unexpected incidents. The agencies were required to keep contact with the Southern Oil Spill Response Centre to get support when in need.
At 10am on June 5, the An Phú 868 vessel with the capacity of 2,000 tonnes was transporting cargo from An Giang to Hải Phòng when it hit a shallow lagoon. The hit left the vessel stranded and tilting.
Nine crew members on the vessel were rescued. There are currently about 10,500 litres of oil on the vessel. 
Fiery crash on belt-ring road kills bus passenger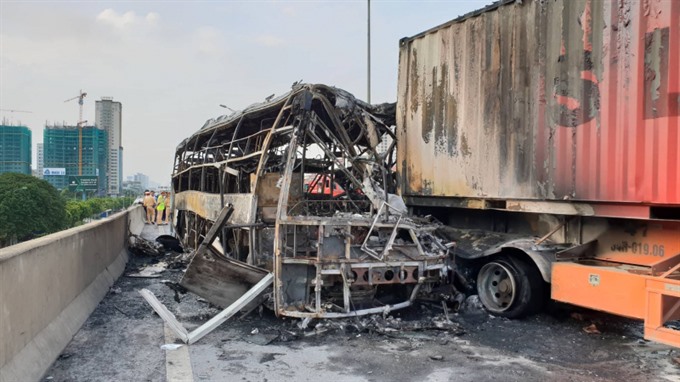 Passenger bus is burnt after crashing into container.
A 45-seat passenger bus running on the capital's belt-ring road in the direction of Cầu Giấy Road crashed into the rear of a container car near the National Convention Centre at 4am Wednesday, local media reported.
The crash caused the passenger bus's head to collapse and then the bus caught fire.
Police said a pregnant passenger of the bus died. The driver and another passenger were injured and taken to the hospital.
The container was also burnt in the back while its tires were broken. A motorbike running next to the passenger bus was also burnt. The fire was extinguished after three fire engines arrived at the scene.
Lieutenant Colonel Nguyễn Đức Thắng, deputy head of the Traffic Police Team No.7 of Hà Nội City Police's Traffic Police Department said that the news had been received and the police team had dispatched police force and fire-truck to the site to assist the victims.
In the morning, police were blocking access to the scene and vehicles were banned from entering the belt-ring road from the entrance at Khuất Duy Tiến Street.
Serious congestion occurred at Phạm Hùng Street, a main route in the region as it was the peak time for city residents travelling to work.
South faces electricity shortages
Staff check a transformer station in Long An Province. Southern provinces could face power shortages in the coming years because the construction of many power plants is behind schedule. 
The country's southern region is expected to face a shortage of electricity for the next three years as the construction of power plant projects is one to four years behind schedule, according to the Ministry of Industry and Trade (MoIT).
In the 2016-20 period, total installed generation capacity in the region provided a total capacity of 15,500 MW of electricity, missing the target of 30 per cent in energy demand.
The MoIT said that if construction of one coal-fired power plant of annual capacity of 1,200 MW remains behind schedule, the southern area could face the electricity shortage of 7.2-7.5 billion kWh each year.
Most power plant projects in the south under construction are implemented by Electricity of Việt Nam (EVN), Việt Nam National Oil and Gas Group (PetroVietnam or PVN), and Việt Nam National Coal and Mineral Industries Group (Vinacomin or TKV).
Some projects are implemented under the BOT (Build-Operate-Transfer) form, while there are independent power producer (IPP) projects as well.
Construction of 27 power projects are behind schedule.
The delays are blamed on time-consuming contract negotiations or capital shortage.
Among the 15 power projects invested by EVN, construction of four power projects is one to two years behind schedule.
Đinh Quang Tri, EVN's deputy general director, said the slow process of getting approval from ministries, departments and agencies was among the reasons for the slow progress of the projects.
Construction of PVN's eight thermal power plants with a total designed capacity of 1,200 MW each is making slow progress.
Meanwhile, TKV's four power projects are also more than two years behind schedule.
Nguyễn Anh Tuấn, general director of TKV, said the group was deploying three coal-fired power projects, while the other had not been approved for an investment location.
"The group differs in negotiating the price framework of electricity," he said.
According to the MoIT, most power plants usually require huge investments, while they also have to face problems in land clearance and selection of the form of investment.
EVN and the Việt Nam Institute of Energy said that electricity cuts could become a major issue in the southern provinces in the future.
It estimated power cuts will occur for 373 hours in 2020, 293 hours in 2021 and 593 hours in 2022.
Nguyễn Ngọc Hưng of the MoIT's Việt Nam Institute of Energy, said demand for electricity was set to increase by 10 per cent per year, so the southern provinces could face a high risk of power shortages in coming years.
If more solar and wind power projects open, the power shortfall could be offset, he said.
MoIT and the Việt Nam Institute of Energy should consider choosing an effective solution to deal with the region's power shortages, he added. 
Đắk R'Lấp Hospital treats 5 A/H1N1 patients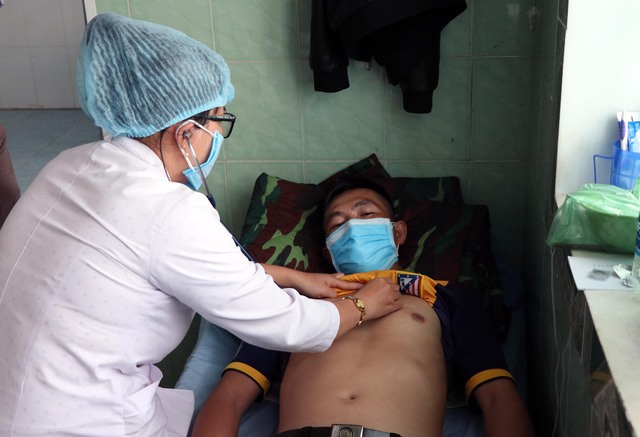 Đắk R'Lấp District General Hospital has received five patients with A/H1N1 virus since early this month in the Central Highlands province of Đắk Nông.—Photo  dantri.com.vn
Đắk R'Lấp District General Hospital has received five patients with A/H1N1 virus since early this month in the Central Highlands province of Đắk Nông.
One patient was moved to Chợ Rẫy Hospital in HCM City for further treatment while four patients have been treated in the hospital.
On July 2, a person from Kiến Thành Commune was taken to the district hospital with symptoms of high fever, sneeze, runny nose and heavy breathing. He was then taken to Chợ Rẫy Hospital.
Later, the hospital took samples from several people, who had a high risk of getting the virus after contact with the first patient and found four people positive with A/H1N1 virus.
Đào Minh Nghiệp, deputy head of the hospital, said all five patients were in stable condition but they were still isolated to avoid spreading the virus to others.
The hospital has cooperated with the district's medical centre to spray chemicals to sterilise all rooms and areas around the hospital last Saturday, he said.
The local administration has yet to identify how the first patient got the virus.
It has asked Tây Nguyên Institute of Hygiene and Epidemiology to cooperate to find the source of infection and the provincial Health Department to dispatch more medicines for preventive treatment. 
Company fined $1,100 for food safety violations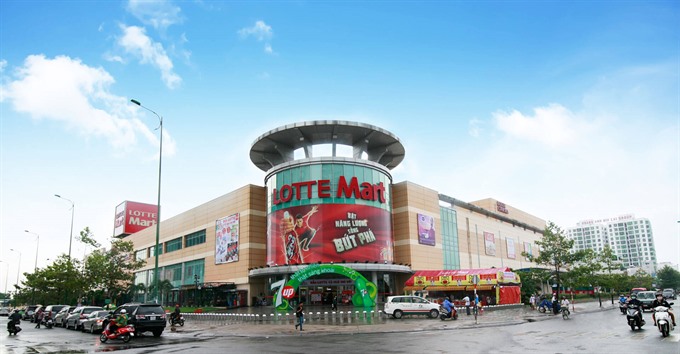 Lottecinema Viêt Nam Company Ltd., was fined VNĐ26.5 million (US$1,100) for violations in food safety and hygiene, according to HCM City's Food Safety and Hygiene Management Authority.– Photo phunuvietnam.vn
Lottecinema Viêt Nam Company Ltd., was fined VNĐ26.5 million (US$1,100) for violations in food safety and hygiene, according to HCM City's Food Safety and Hygiene Management Authority.
Previously, an inspection team toured the company based on the third floor of the Lotte Shopping Mall in District 7 and found that the company was using a food safety certificate which expired three months ago.
The inspectors witnessed company staff place food directly on dirty floors, in unclean food containers, and using lavatories in food stores.  
The company was ordered to pay an administrative punishment of VNĐ26.5 million (US$1,100) for the violations. 
Đồng Nai Province makes it easier for people with HIV/AIDS to access treatment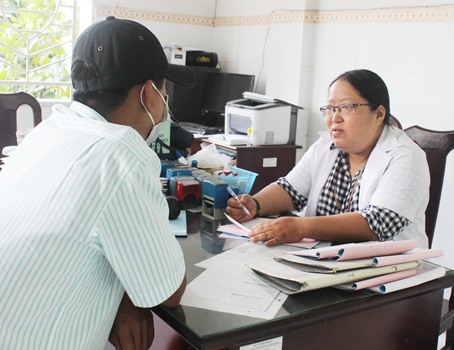 A man with HIV receives treatment at the Đồng Nai Province HIV/AIDS Prevention and Control Centre. — Photo dongnai.gov.vn
People with HIV/AIDS in the south-eastern province of Đồng Nai who have public health insurance can now go to any medical facility for treatment without requiring a transfer order from their designated hospital.
Until now they could only go to the health facility registered in their health insurance card. If they wanted to go to other places including higher-level hospitals, they had to obtain a transfer order from the facility.
The new system makes it easier for them to their hospital of choice, Dr Nguyễn Giỏi, deputy head of the province HIV/AIDS Prevention and Control Centre, said. 
The province's website cites the case of a woman from Vĩnh Cửu District who tested positive for HIV eight years ago and developed pneumonia and candidiasis and needed to go to a province-level hospital for treatment.
It took a long time to get the transfer paper from the Biên Hòa city Preventive Health Centre, she complained.
Two medical facilities, the province HIV/AIDS Prevention and Control Centre and the Long Khánh town Health Centre, have yet to sign up for the new system with Việt Nam Social Security, but are expected to come on board this month.
Dr Trương Văn Rạng, deputy head of the latter, said the centre has all the facilities needed to examine and treat people with HIV/AIDS.
It now provides free ant-retroviral (ARV) drugs to 412 people with HIV/AIDS.
Dr Nguyễn Thi Văn Văn, head of the Long Thành District Health Centre, said the ARV drugs are sponsored by the Global Fund and provided free.
The Global Fund is a partnership between governments, civil society, the private sector and people affected by AIDS, tuberculosis and malaria, designed to accelerate the end of the diseases as epidemics.
Of 486 people with HIV treated at her centre, Văn said 112 do not have health insurance cards.
The Ministry of Health has warned that if health facilities do not sign up with Việt Nam Social Security to cover HIV treatment for insured people, the province would have to cover the cost of ARV therapy for them and the Global Fund would stop its assistance from next year.
Đồng Nai Province has seen a decrease in the incidence of new HIV cases in recent years from more than 300 in 2015 to 200 last year and 60 so far this year.
But the incidence among men who have sex with men has increased sharply.
As of the beginning of this month the province has issued for free health insurance cards to more than 2,600 people with HIV/AIDS. It is likely to issue another 300 soon.
Its goal is to ensure everyone with the disease is covered by the beginning of next year.
According to the province Department of Health, 2,900 people with HIV/AIDS are receiving treatment at health facilities, with more than 87 per cent having health insurance cards. 
HCM City to cut internet fees for local workers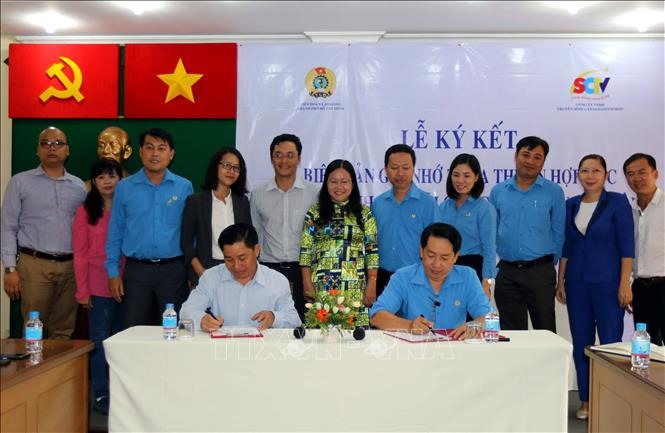 More workers will have access to cheap internet services under an agreement between Saigontourist Cable TV and HCM City Federation of Labour. 
The HCM City Federation of Labour on Monday signed a Memorandum of Understanding with Saigontourist Cable TV Company (SCTV) to carry out a preferential pricing programme for television and internet service packages for manual workers.
Under the agreement, the federation will conduct a survey and provide a list of boarding houses with five or more rooms per house to the company. Those houses will be covered by the preferential pricing programme.
In particular, SCTV will provide television and internet services with high quality and maintenance them after instalment.
SCTV has committed to reduce the price of the cable television subscription by up to 40 per cent, from VNĐ120,000 to VNĐ50,000.
The price for the cable and internet package would fall from VNĐ220, 000 to VNĐ100, 000.
The time for the preferential pricing package would last 24 months.
It will be first carried out in Thủ Đức, Bình Tân, and Tân Phú districts from this month to the end of this year.
This is a part of the programme called "For Benefits of Trade Union's Members" held by Việt Nam General Federation of Labour.
Kiều Ngọc Vũ, vice president of the Federation of Labour, said: "This programme will bring opportunity for workers to use communications products and services at a afforable price".
Bird collision delays flight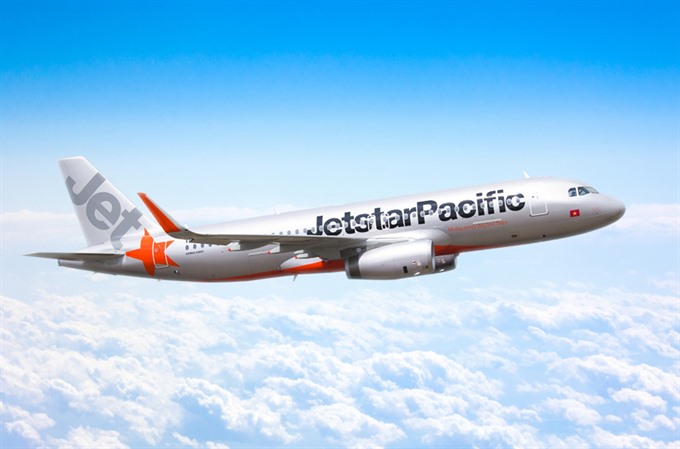 An Airbus A321 Jetstar Pacific plane. One of the carriers aircraft was grounded for repairs at Đồng Hới Airport after colliding with a bird while landing. — Photo courtesy Jetstar Pacific
A plane was grounded at Đồng Hới Airport in Quảng Bình Province for repairs on Monday after a slight collision with a bird.
Budget airline Jetstar Pacific said the Airbus A321 flying from HCM City to Đồng Hới had hit a bird as it was landing Đồng Hới Airport at 1:30pm.
The flight, which was scheduled to return to HCM City at 1.50pm the same day, was delayed for six hours.
Jetstar said it had compensated each passenger VNĐ300,000 (US$13.2) and a free meal.
The incident also delayed other flights.
In April, a Jetstar Pacific plane had to abort take-off after a pregnant Czech woman fell ill on-board, and in May, a plane flying from Hà Nội to Đà Lạt City had to make an emergency landing at Đà Nẵng International Airport after a male passenger faintedr.
Two years ago, a woman went into labour and gave birth at 10,000 metres on a Jetstar Pacific flight from HCM City to Đà Nẵng.
In April, a VietJetAir flight was delayed in Hải Phòng after also hitting a bird.
In 2013, two Vietnam Airlines planes collided with birds at Hà Nội's Nội Bài Airport and HCM City's Tân Sơn Nhất while landing.
Dozens injured in bus collision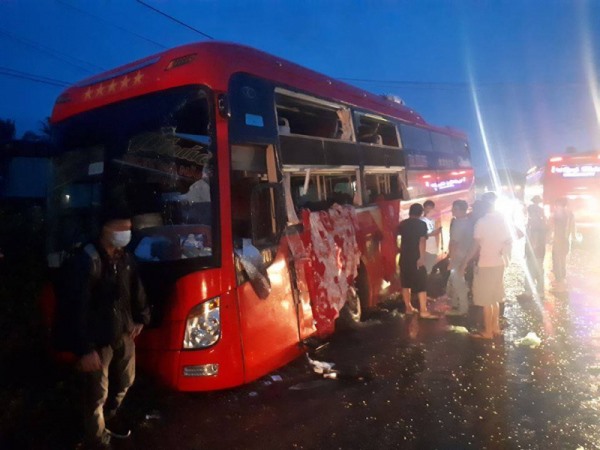 The scene of the accident. — Photo baogiaothong.vn
Two passenger buses crashed on a highway in Krông Pắk District in the Tây Nguyên Central Highlands of Đắk Lắk on Monday, sending one plunging into a ditch and many passengers were injured.
Giao Thông (Traffic) newspaper reported there were no fatalities but a number of people were taken to hospital, and both buses were badly damaged.
Witnesses said the damaged bus belonged to the Quý Thảo transport company and was carrying 30 passengers to Buôn Ma Thuột City.
The other was operated by the Hùng Phúc transport company running from Đắk Lắk to Đà Nẵng City and carrying about 40 passengers.
A passenger on the Hùng Phúc bus told the newspaper that he had been sleeping and was woken suddenly by a loud bang and people screaming. 
Drug traffickers nabbed in Thanh Hoá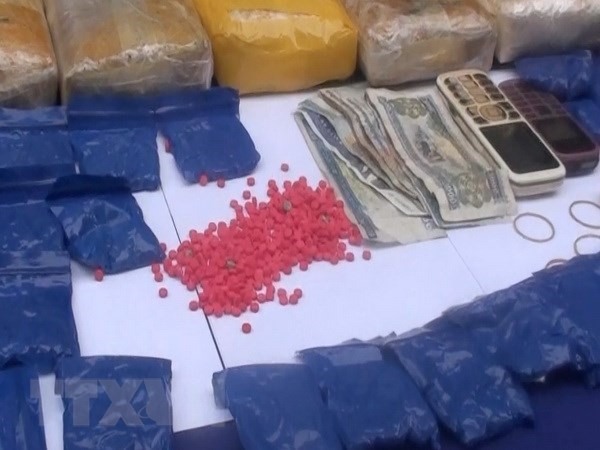 Photo for illustration only. 


Thanh Hoá Province Police arrested two drug traffickers and seized two kilos of methamphetamine, 4,000 ecstasy pills, one handmade gun and five phones on Sunday afternoon following an extensive investigation, the Vietnam News Agency reported.

Lương Văn Trác and Ngô Trường Long were caught attempting to transport the illegal narcotics in Trung Lý Commune, Mường Lát District.

Police also arrested Lê Xuân Hiên for his involvement in the crime.

The ringleader of the gang has been named by the suspects as Lương Văn Trác, a heavy drug addict with previous convictions.

The value of the drugs, which were transported from Laos, has been estimated at VNĐ200 million (US$8,600).

Thanh Hoá Police are conducting further investigations.

This time last month, the provincial police also arrested Nguyễn Ngọc Thành, 41, in another drug-related case.

Thành was caught in the act of transporting nearly 3kg of methamphetamine, over 5,800 ecstasy pills, and nearly 40g of heroin from the border area between the provinces of Thanh Hóa and Hua Phan for sale in Thanh Hóa City. 
HCM City names street after late professor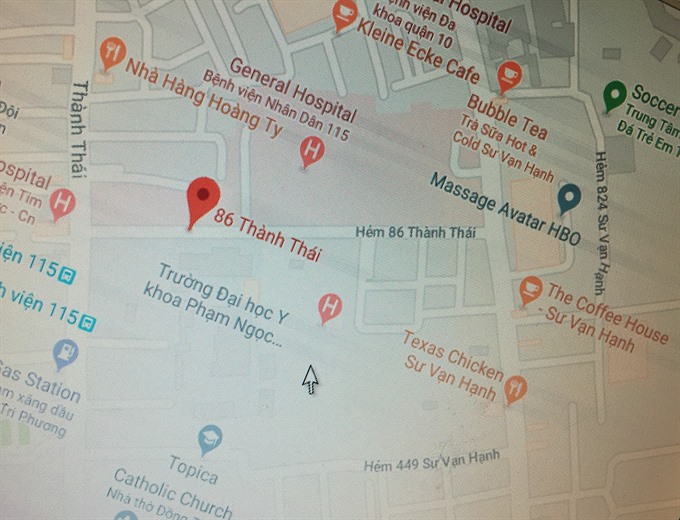 A street called Alley 86 in HCM City's District 10 has been named after late professor Dương Quang Trung, who made significant contributions to the medical sector in Việt Nam. 
A street called Alley 86 which links Thành Thái and Sư Vạn Hạnh streets in HCM City's District 10 has been named after the late professor Dương Quang Trung, according to the city's People's Committee.
Trung (1929-2013), who earned a doctoral degree from the University of Bordeaux in France in 1958, was from the southernmost province of Cà Mau.
Trung, who was also known as Tư Trung, made many significant contributions to the medical sector in Việt Nam.
In 1989, he co-founded, with Professor Alain Carpentier of the Alain Carpentier Foundation, the HCM City Heart Institute.
He was the director of the city's Health Department from 1975 to 1990.
In 2006, he received the French National Order of Merit from President Jacques Chirac for his great contributions to building friendship and co-operation in medical services between Việt Nam and France.
He was also founder of Ngọc Thạch University of Medicine (former HCM City Training Centre for Medical Workers) in District 10, the Trauma and Orthotics Hospital in District 5, and the HCM City Eye Hospital in District 3, among others.
In 2016, a statue of Professor Dương Quang Trung was placed at the HCM City Heart Institute. 
Doctors at HCM City hospital perform first pacemaker surgery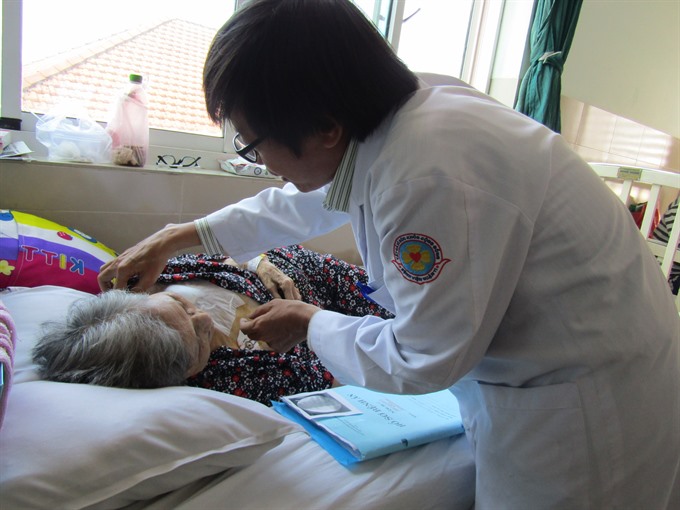 Doctors at HCM City's District 11 Hospital examine a patient who received a pacemaker to correct her abnormally slow heart rate. Photo courtesy of the hospital
Doctors at HCM City's District 11 Hospital performed their first pacemaker implant surgery on an 82-year-old woman last week, who is expected to be discharged from the hospital this week.
The patient was hospitalised on June 26, with symptoms of fatigue, shortness of breath, and lack of appetite. Her heart rate was 44 beats per minute compared to the normal rate of between 60 and 100.
She was being treated for hypertension and urinary tract infection, and formerly had heart failure.
Dr Đặng Trường Tiến of the hospital's department of cardiology, said the pacemaker was essential for her survival. Her heart rate is now 60 beats per minute.
Sponsors paid for the surgery, according to the hospital, which had called for donors to pay for the pacemaker implant. 
First debate on regional minimum wage 2019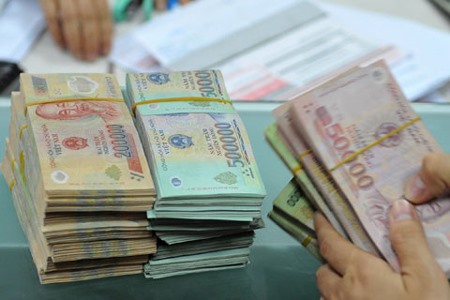 The National Wage Council yesterday opened its first meeting of the year, discussing the regional minimum wage change to be applied next year.— Photo vnexpress.net
The National Wage Council yesterday opened its first meeting of the year, discussing the regional minimum wage change to be applied next year.
The change would affect about ten million people who are working with labour contracts in non-State enterprises. 
The council is responsible for studying wage changes and consulting the Government about the annually-changed regional minimum wage. It includes officials from the Labour Ministry, Việt Nam General Confederation of Labour (VGCL) that represents employees and the Viet Nam Chamber of Commerce and Industry (VCCI) to represent employers.
Currently, the minimum wage is applied for four different regions in Việt Nam as follows Region I: VNĐ 3.98 million (US$ 189); Region II: VND 3.53 million (US$ 168); Region III: VNĐ 3.09 million (US$ 147) and Region IV: VNĐ 2.76 million (US$131). The highest rate covers urban parts of Hà Nội, Hải Phòng, HCM City, Đồng Nai and Vũng Tàu.
The 2018 regional minimum wage is 6.5 per cent higher that that of 2017, equal to VNĐ180,000-230,000 (US$8-10) a month.
At this meeting, vice chairman of VCCI, Hoàng Quang Phòng proposed regional minimum wage should be kept unchanged.
"Most domestic and foreign employers told the VCCI that next year was not the right time to adjust the minimum wage as they wanted to increase their financial capacity or they wanted to spend funds – which they can arrange – on training and improving employees' skills to better meet job requirements and increase productivity," Phòng said.
"The minimum wage should be increased then, in the further future," Phòng said.
Vice president of VGCL Mai Đức Chính said the labour confederation proposed an increase of 8 per cent.
He said Việt Nam's gross domestic product (GDP) in the fist half of this year increased more than 7 per cent compared with the same period of last year.
"The economic growth is notable and labourers deserve to benefit from the economic development," Chính said.
He also said that Government decided the 7-per cent increase for employees working in State organisations and enterprises this month, despite its tightened budget.
"Non-State enterprises should consider adjusting wages they pay their employees at least at the same rate as Government did," Chính said.  
Vũ Quang Thọ, director of the Trade Unions Institute under VGCL, told media that the VCCI's proposal was not reasonable because the consumer price index (CPI) of this year's first half increased about 4 per cent compared with the same period last year.
A recent survey by VGCL showed that monthly minimum wage could cover about 92 per cent of minimum living conditions for employees while Việt Nam targeted that by 2020, minimum wage could ensure their minimum living conditions.
"If the wage is not increased next year, it would have to be increased sharply in 2020," Thọ said.
Addressing the meeting, deputy Minister of Labour, Invalid and Social Affairs cum chairman of the wage council Doãn Mậu Diệp said that according to Resolution 27-NQ/TW on wage reform that Central Party Committee issued in May, 2018, the State would gradually not intervene in the wage policy of enterprises but promote negotiations between employers and employees.
He said that from now until 2020, regional minimum wage must be adjusted to ensure minimum living conditions for employees, especially those who were paid the least.
"When negotiating minimum wage changes, factors such as GDP, labour productivity, salary on labour market and employers' budget must be taken into account," he said.
It's expected that the National Wages Council will have two or three meetings discussing the wage changes before submitting its proposal to Prime Minister Nguyễn Xuân Phúc for a final decision. 
Two seriously injured in collision between train and car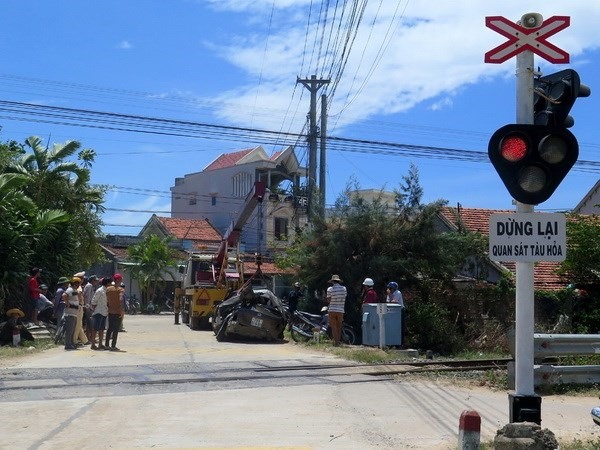 The scene of Monday morning's collision between a train and a car in Phú Yên. 
Two people were seriously injured in a collision between a train and a car in the central coastal province of Phú Yên on Monday morning.
The accident happened at about 9am, at the North-South railway between Phú Hiệp Station and Đông Tác Station of Hòa Hiệp Bắc Commune, Đông Hòa District.
The driver of the car was a local man, Mai Văn Toàn. According to witnesses, the car was driven across an intersection between railway and road while the train was running, despite the crossing being equipped with signal lights and an automatic bell.
Consequently, the South-North route's SNQ2 train crashed directly into the car, dragging it about 5m.
Both people in the car, Toàn, were seriously injured and taken to Phú Yên Province's General Hospital. Witnesses said the car was destroyed completely, while railroad fences were also knocked down.
The accident caused some following trains to slow down and stop at stations .
Reservoir safety threatened during rainy season in Quảng Trị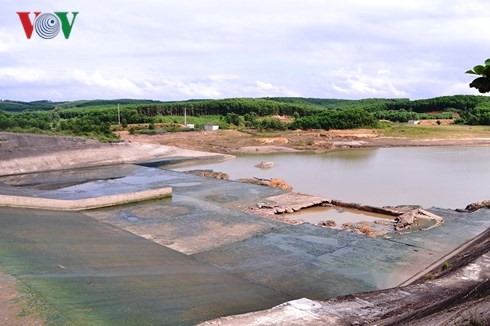 Irrigation structures have been seriously damaged by recent heavy rainfall. — Photo vov.vn
Two important irrigation structures in central Quảng Trị Province – the Nam Thạch Hãn flood spillway and Triệu Thượng 2 reservoir – have suffered serious damage, threatening the locality during the ongoing rainy season, vov.vn reported.

A 1,000sq.m concrete structure at the Nam Thạch Hãn flood spillway has broken, and is now at a high risk of collapse.

Meanwhile the roof of the dam at the Triệu Thượng 2 reservoir had been repaired several times but broke again and again.

The two irrigation structures supply water for nearly 20,000ha of farming land in three districts in the south of the province.

They are also a source of water for 200ha of saline aquaculture area and nearly 90,000 households in the lowlands area.

The local authorities are seeking comprehensive solutions with advice from experts.

Professor Nguyễn Chiến from University of Water Resources warned that people's safety is under threat during the rainy season if there is no proper solution.

For a temporary solution, concrete walls surrounding the structure have been placed to prevent landslides.

Hồ Xuân Hòe, deputy director of Quảng Trị Province's Department of Agriculture and Rural Development, said that experts will be invited to analyse the damage and propose measures.

Đồng Văn Tự, deputy head of the Directorate of Water Resources under the Ministry of Agriculture and Rural Development told vov.vn that there should be short-term solutions to avoid incidents and reduce the budget spent on repair work.

"More than VNĐ10 billion (US$435,000) has been allocated to Quảng Trị Province for the work. The Ministry of Agriculture and Rural Development has proposed to the Prime Minister to spare more of the budget to repair Nam Thạch Hãn dam," he said. 
Hòa Bình opens second flood gate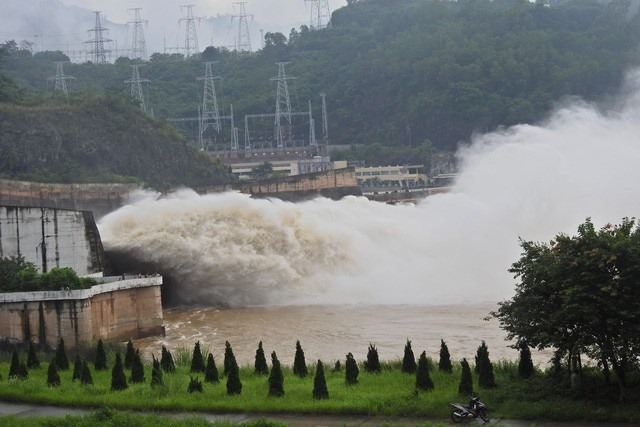 Hòa Bình Hydropower Plant opens a flood spillway. — Photo dantri.com.vn
In an effort to deal with recent heavy rains that have hit northern parts of the country, Hòa Bình Hydropower Plant on Monday morning opened a new flood gate, the second since July 7.
The Central Steering Committee for Disaster Prevention has asked that Hòa Bình Hydropower Plant, depending on the severity of further heavy rain and flooding, continuing to open further flood gates, aiming to reduce water levels back to normal.
At 2pm on Sunday, the Central Steering Committee for Disaster Prevention sent the official message No 08/CĐ-TW to Hòa Bình Hydropower Plant, warning that the water level of Hòa Bình reservoir was increasing. At 1pm on Sunday, it was measured at 107.67m, while the flow to the lake was 4,758 cu.m/s, and the total discharge volume was 3,970 cu.m/s.
According to the National Hydrological Forecast Centre, from Sunday to Monday, there were heavy rain and thunderstorms across much of the northern region, with mountainous and midland areas experiencing moderate to heavy rainfall. Lai Châu, Lào Cai, Hà Giang, Tuyên Quang and Yên Bái provinces all witnessed heavy showers. From Sunday until tomorrow, in upstream areas of three rivers: Đà, Thao and Lô, water is forecast to reach heights of between two and three metres.
Hòa Bình Hydropower Plant must closely monitor the water flow to the reservoir, water levels upstream and downstream of the dam, and regularly provide reports to the Central Steering Committee for Disaster Prevention and State relevant agencies.
To prepare for the opening of the first gate on July 7, Hòa Bình Province authorities relocated 100 per cent of households in Vạn Chài Village, Tân Thịnh Ward to safe areas.
At the same time, local authorities informed fishing households living around the downstream area to catch all fish and place fish cages near the shore, in order to ensure the safety of people's property. 
Int'l conference on world heritage held in Hạ Long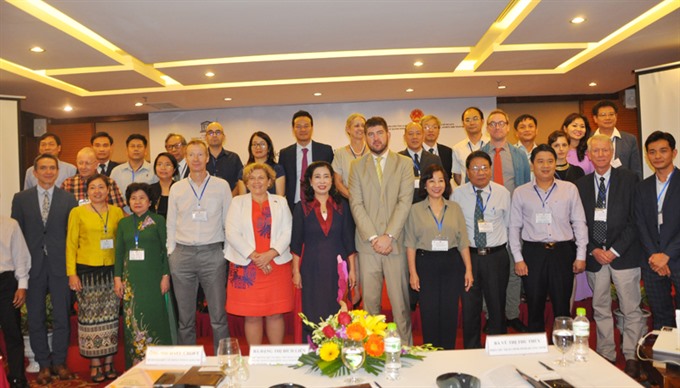 Tourism challenges: Delegates pose for a photo at the conference. – Photos baoquangninh.com.vn

An international conference entitled "World Heritage and Sustainable Development in the Contemporary Context" was held yesterday at Mường Thanh Luxury Hotel, Hạ Long City in the northern province of Quảng Ninh.

The conference was co-organised by the United Nation Educational, Scientific and Cultural Organisation (UNESCO) and the Ministry of Culture, Sports and Tourism.
It aimed to consider practical situations and provide recommendations on promoting the protection and enhancing World Heritage sites through sustainable development.

The conference attracted over 100 delegates, including policy makers, heritage administrators, scholars and businessmen in Việt Nam, as well as experts from UNESCO and the International Union for the Conservation of Nature (IUCN).

In the context of Việt Nam becoming an emerging economy, policy makers and heritage administrators are facing new opportunities and challenges, among them were new factors like the appearance and participation of entrepreneurs at heritage sites.

This is the right moment to examine the opinions and evaluations of scholars and experts on the actual state of heritage sites as Việt Nam joins the 2030 agenda of the United Nations' sustainable development, in order to have full knowledge on the contributions of world heritage sites in Việt Nam, as well as referencing nations in the region with this goal, including the realisation of the fast development of tourism and the role of regional entrepreneurs.

Speaking at the conference, Deputy Minister of Culture, Sports and Tourism Đặng Thị Bích Liên said, "Việt Nam has been a member of the Convention on Protecting World Cultural and Natural Heritages since 1987. Up until now, among more than 3,500 historical and cultural sites, Việt Nam has chosen a number of special heritages to submit to UNESCO as world heritage sites.

"Along with great achievements attained so far, the administration, preservation and promotion of the values of world heritages in Việt Nam is confronting challenges, especially balancing solutions over relations between preservation and development."

The UN World Tourism Organisation (UNWTO) confirms that cultural and natural heritages serves to increase tourism.

Therefore, this international conference includes key topics relating to enhancing legal framework to protect heritage and sustainable development, links with the community, public and private co-operation at world heritage sites, as long as the result of research experts collected at various heritage forums serve as a lesson for nations to apply in preservation and development.

Michael Croft, head of UNESCO in Việt Nam, said tourism is becoming more important to Việt Nam.

"Not only to Việt Nam, but we can consider tourism a trend in South East Asia, the second fastest growing tourism market in the world. For sustainable development, this context brings us many promising opportunities and big challenges. We hope this conference will be expanded further to find solutions in the preservation and administration of heritage sites," Croft said

Jake Brunner, head of the Indochina and Myanmar countries group of IUCN, said pollution is the top challenge for tourism development in Hạ Long Bay,

"In 2015, an analyst sponsored by the United States Agency for International Development (USAID) to the Asian Management and Development Institute (AMDI) showed not only that tourism boats discharge untreated waste water into the Bay, boats equipped with treatment systems rarely use them. Controlling such boats presents a challenge. We have asked city authorities to build a waste water system to solve this problem for 500 boats in the Bay," he said.

Phạm Đình Huỳnh, deputy head of Hạ Long Bay administration board, said in recent meetings that the preservation of the bay meets some difficulties in protecting the local ecosystem.

"To correctly evaluate the preservation status of Hạ Long Bay, we have asked the supervision group from IUCN to come to the bay. After the visit, they highly appreciated the work of management and preservation of the bay," Huynh adds.

To conclude the conference, Phạm Thị Thanh Hưong, representative of UNESCO office in Ha Noi, said currently the body has created a project to assist the local community living in the craft villages, surrounding the administrative border of Hội An city.

"We train local people to be tour guides, teaching them how to communicate in English with foreign tourists. This is how we handle the situation in developing tourism, and introduce our heritage in a spiritual way rather than an economical way, and creating a host community in the relationship linking the guest community", she said.

"I am also asked many times how can we preserve the environment while still increasing tourist numbers each day. I think if we do not do something for the community, they will soon be affected by urbanisation. It is inevitable, so the best we can do is work to leave no one behind," she added. 
Culture ministry permits salvaging ancient shipwreck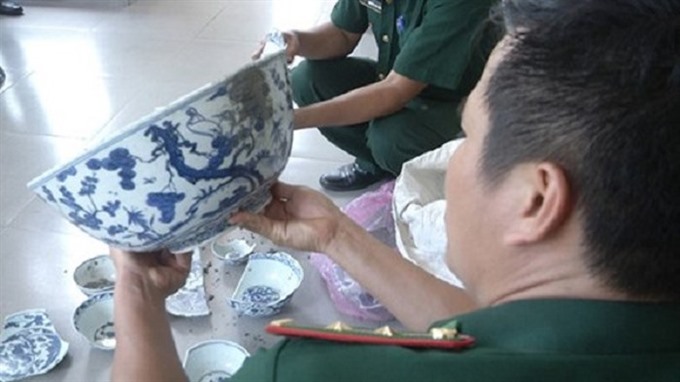 Experts examine objects taken from the sunken vessel. — Photo baomoi.vn
The Ministry of Culture, Sports and Tourism has permitted the National Museum of Vietnamese History to co-ordinate with Quảng Ngãi Province's culture department to salvage a shipwreck in the sea area of the central province's Bình Sơn District.
The work will cover an area of 800sq.m around the shipwreck.
The salvage process is expected to last from now until September 15. The next five months will be used for classifying and defining the objects gathered. Researcher Nguyễn Văn Đoàn, deputy director of the museum will supervise the task.
The objects will then be preserved at Quảng Ngãi provincial museum, while the national museum will be responsible for sending a report to the culture ministry.
The ship was discovered during a dredging project to construct a port in waters near Quảng Ngãi Province's Dung Quất mixed-use economic zone last July.
The vessel is about 30m long and 10m wide, containing ceramic items traced back to the 16th century, many of which were produced in China. It is located at a depth of 9m, 6-7m from the shore.
The vessel and its cargo may provide information on an epoch of thriving trade in silk and pottery between Quảng Ngãi and foreign countries, according to Nguyễn Đăng Vũ, former director of the local Department of Culture, Sports and Tourism.
In the feudal past, Chinese merchant ships often visited the province to wait out storms, do business, and stock up on food, said Đoàn Ngọc Khôi, deputy director of the local general museum.
Quảng Ngãi's coastal waters are nicknamed 'the cemetery of ancient ships' due to the high number of shipwrecks discovered there.
Archaeologists believe that many of these ships may have been set on fire either accidentally by sailors or deliberately by pirates.
Earlier this year, Culture Minister Nguyễn Ngọc Thiện approved a plan to salvage the ship with proposed budget of VNĐ48.4 billion (US$2.1 million) from the State budget.