VietNamNet Bridge – The Department of Health in northern coastal Quang Ninh Province has invited doctors from Hanoi's Bach Mai Hospital to take air samples for tests to find out why nearly 100 workers lost consciousness during work hours last month.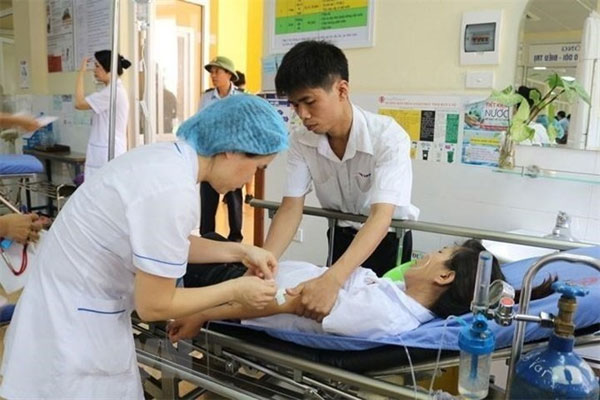 More than 50 workers needed treatment at Viet Nam-Sweden Hospital in northern coastal Quang Ninh Province after fainting at work. – VNA/VNS Photo Trung Nguyen
On June 6, nearly 100 people suddenly suffered shortness of breath, nausea, vomiting and dizziness while working for Yazaki Group in Dong Mai Industrial Zone in Quang Yen Town.
As many as 70 workers were hospitalised after they fainted. The rest had to be immediately evacuated from the workplace.
Test results from the Viet Nam-Sweden Hospital showed that the health indices of these workers were in normal. Some were discharged from the hospital.
By June 10, there were 57 workers under treatment at the hospital.
Nguyen Tien Hung, deputy director of the department said that the cause of the incident was under investigation and whether gas poisoning was the possible cause remained unknown.
Ninh Duc Chu, director of the provincial Centre for Disease Control, said that the environmental monitoring of gas at Yazaki Group on July 6 showed that in the warehouse, the amount of formaldehyde gas was between 4-5 mg per cubic metre of air, a four to five times higher than the permitted standard. 
The provincial People's Committee directed the departments and authorities of Quang Yen Town to implement urgent measures to ensure a safe working environment for the workers of the company. 
It has assigned the provincial Department of Health to improve the quality of air in the warehouse of the company and announce the cause of the incident as soon as final test results are available.
The company has been urged to close the warehouse until the results showed the air is safe.
At the dialogue between the company and workers held on June 10, the company agreed to ensure the payment for affected workers while they were under treatment at the hospital.
Source: VNS