VietNamNet Bridge – Vietnam has made huge strides in ensuring access to family planning. Ongoing investment has ensured that contraceptives, services and information are available to virtually the entire nation, experts agreed at a ceremony to mark World Population Day on Wednesday in Hanoi with the theme of "Family Planning is a Human Right".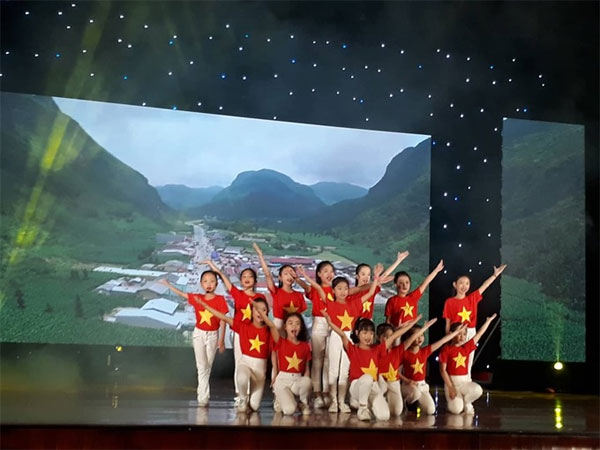 Children join a music performance to welcome World Population Day on July 11. — VNS Photo Thu Trang
The rate of modern contraceptive use rose from 37 per cent in 1988 to 67 per cent in 2016.
Vietnam's maternal mortality rate dropped significantly from 233 deaths per 100,000 live births in the 1990s to 58 per 100,000 live births in 2016. The nation's fertility rate also dropped by more than half, from an average of five children per couple in the 1970s to the replacement rate of 2.09 in 2006.
Addressing the event, Deputy Minister of Health Pham Le Tuan said, "All these results of population and family planning work have contributed significantly to our socio-economic development, especially towards poverty reduction, social protection, healthcare and the successful implementation of the Millennium Development Goals - setting a strong foundation for the Sustainable Development Goals."
"We can truly say that family planning investments have yielded savings in state spending on social services and an increase of 2 per cent of GDP per capita," he said.
Yet challenges remain, the experts said.
Amongst young unmarried people, the need for modern contraceptives is as high as 30 per cent. Gaps also persist in the provision of adolescent sexual and reproductive health information and services, including ensuring access to quality comprehensive sexuality education.
Ingrid Fitzgerald, Gender and Human Rights Adviser for the UNFPA Asia-Pacific, said, "Gender equality plays a crucial role in family planning: access to family planning – and the right to choose the number, timing and spacing of our children – is key to achieving women's rights."
"Together, we can build a future where zero is the only acceptable number: zero maternal deaths, zero unmet demand for family planning and zero violence and harmful practices against women and girls," concluded Astrid Bant, UNFPA Representative in Vietnam.
"A future in which we fulfil the hopes and dreams for millions in Asia and the Pacific, including Vietnam, in alignment with the central pledge of the 2030 Sustainable Development Agenda and its SDGs -- to ensure that absolutely no one is left behind," she said.
Source: VNS