VietNamNet Bridge – Hundreds of kilos of dead fish have been found floating in Hanoi's West Lake, the capital's largest lake and a popular scenic spot, over the weekend, posing a health hazard to those living nearby.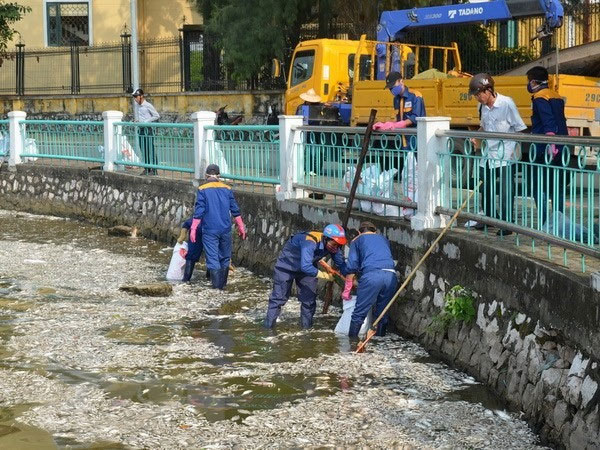 Environmental workers clear dead fish from the shores of Hanoi's West Lake on Monday morning, July 9. — VNA/VNS Photo
The mass fish death was first spotted on Saturday afternoon near Lac Long Quan Street and Tay Ho Temple.
By Sunday afternoon, environmental workers had collected more than 300 kilos of dead fish. 
Dead fish have reportedly been seen at the lake on Monday morning. The dead fish, mostly tench and tilapia, were floating along the shores of the lake, mainly along Trich Sai, Quang Ba and Nhat Chieu streets.
Initial test results from relevant agencies showed that the fish died from a lack of oxygen, which was caused by abnormal weather patterns. A prolonged heatwave was cut short by heavy rainfall over the weekend.
The dead fish have caused a serious odour and deeply affected the lives of people living or working in the area.
Nguyen Son Tung, a resident from Lac Long Quan Street, said that this was not the first time fish had died en masse in the lake.
A few years ago, his family had to suffer the horrible smell when hundreds of tonnes of fish suddenly died, leaving the surface of the lake covered with rotting fish.
The West Lake Investment and Exploitation Company and Ha Noi Drainage One Member Co Ltd have been asked to mobilise boats and workers to collect dead fish and dispose of them safely to protect the surrounding environment.
In 2016, over 200 tonnes of dead fish were reportedly collected from the lake between October 1 and the morning of October 4.
A preliminary report from the Hanoi's People's Committee showed that oxygen depletion was partially to blame for the environmental catastrophe. Results from the water sample tests later indicated that the oxygen index was zero and the ammoniac index was 24 times higher than the permitted level.
Hanoi authorities instructed relevant authorities to quickly install 40 aeration devices to provide oxygen for fish in the lake and spray chemicals to sterilise areas around the lake. Environmental police have been mobilised around the area to stop anyone dumping waste into the water.
The environmental catastrophe has seriously affected residents nearby. Many restaurants and coffee shops were forced to close and some local residents were temporarily staying with relatives because of the smell.
Source: VNS