Many tourists have complained about getting itchy rashes after bathing in Da Nang beaches.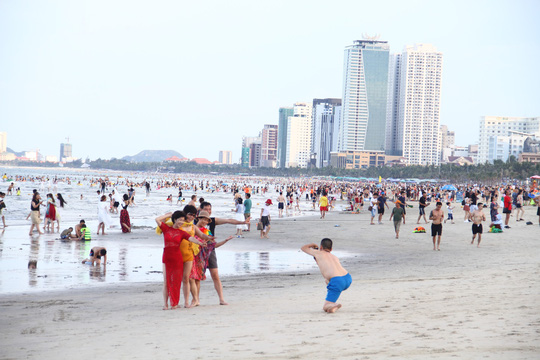 My Khe Beach attracts between 16,000-25,000 visitors a day during summer time
The Management Board of the Son Tra Peninsula and Da Nang Tourism Beaches on July 3 said they have informed the Da Nang City's Department of Natural Resources and Environment about visitors' complaints about the probably polluted seawater at local beaches.
According to the board's vice head, Tran Dai Nghia, the problems have occurred for several days and are affecting the health of local people and visitors. Nghia urged the department to quickly discover the cause.
Head of the Da Nang City's Department of Natural Resources and Environment, Dang Quang Vinh, refused to comment about the situation.
Many people have complained that they got rashes and felt itchy after bathing at several beaches in Da Nang including Pham Van Dong, My Khe, T20.
A local woman, Dang Thuy Hang, wrote on her Facebook that she and her 10-year-old daughter felt really itchy after five minutes bathing at T20 beach on July 2.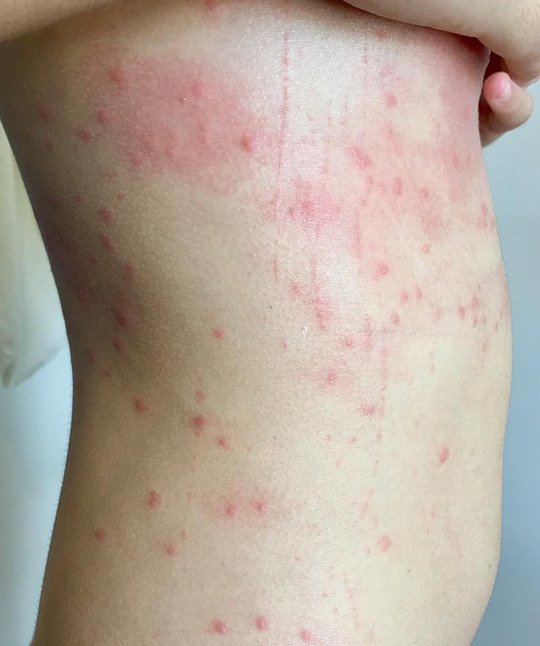 A 10-year-old girl gets rashes after bathing at T20 Beach in Da Nang City on July 2. Photo from Facebook account of Dang Thuy Hang 
"We got out of the water right after that," Hang said. "My daughter then saw eruptions all over and I had to take her to hospital."
According to some local people, jellyfish may be the cause as they are usually seen in summer and cause rashes if they come into contact with the skin.
However, director of the city's Drainage and Wastewater Treatment Company, Mai Ma, believed that the problems were caused by polluted seawater.
"There was heavy rain on June 26 which brought a large amount of wastewater from eight discharge pipes to My Khe Beach," Ma explained. "While we're waiting for the water test results, I think the most likely cause was the pollution from the wastewater discharge. Besides, we're also thinking aquatic plants could be the cause, but not jellyfish."
Ma added that the problems that had previously occurred at My Khe and Lien Chieu beaches were caused water-based plants not jellyfish.
DTinews