VietNamNet Bridge – Hanoi officials want to make it compulsory to open a new bank account to register a car.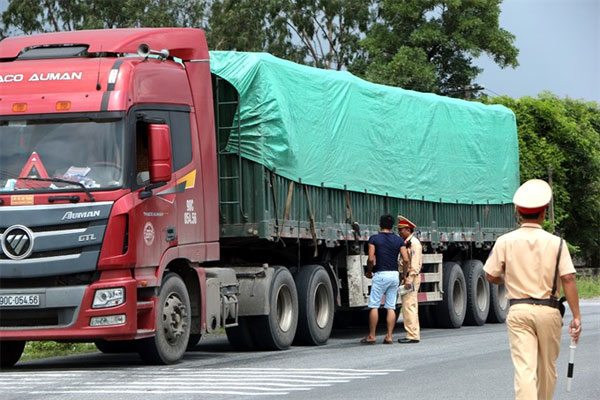 Police inspects a truck driving on the National Highway No.1A. - VNS Photo Doan Tung
The municipal People's Committee recently proposed a draft regulation on the issue to the Ministry of Security.
However, its feasibility has come under question.
Explaining the regulation, city authorities said that these bank accounts will be used to fine car owners for traffic tickets.
Hoang Ha of Dai Nam Law Firm in Hanoi told Vietnam News Agency that at present, there were no regulations asking a citizen to open a new bank account when buying and registering a car.
Car purchases, according to him, are a civil transaction between sellers and buyers. Moreover, cars can be traded immediately after being purchased.
Agreeing, Dinh Thi Hoa of DTH Law Firm, called the draft regulation unreasonable and unfeasible. Opening a bank account is a right, not a responsibility of citizens. Moreover, they also need to pay an initial fee and maintain a minimum balance.
Experts also wondered how law enforcement could charge traffic ticket fines to drivers' bank accounts if the accounts have insufficient funds.
Also, by forcing citizens to open a new bank account, authorities would violate Civil Rights indicated in the Constitution and Law of Credit Institutions.
Hoa also said that not all drivers violated traffic laws.
The draft regulation would also impact enterprises and transport service businesses.
Pham Van Tuan, director of Viet Ha Company in Hanoi, said that his enterprise had many vehicles, including both trucks and cars. Regarding traffic tickets, the company must pay fines if their drivers quit and when the violation is committed by a person who rents his company's vehicles.
Do Toan, another transportation service provider in Xuan La Ward, Tay Ho District, said that authorities could decide between direct fines and traffic tickets on a case by case basis.  
The draft regulation had been proposed in 2016 by the city police.
According to Toan, with the nearly 300,000 cars being bought a year and assuming owners have at least VND10 million (US$430) in their account, banks will receive a total of VND3 trillion ($129 million) without the need to allocate any capital.
Dinh Quy on Hoang Hoa Tham Street said other countries had used traffic tickets to handle traffic law violations for a long time. This, he said, helped save time for vehicle users. However, it would take time for people to get used to the regulation.
At present, drivers who violate traffic laws have to pay traffic tickets when they register their vehicle. This forces drivers to be responsible for their fines otherwise their vehicles will no longer be road legal. The solution is optimal, therefore, it seems irrational for a new regulation to be applied, according to Quy.
Hoa said the regulation was not a solution to prevent traffic law violations. Law enforcement forces should raise public awareness of traffic safety, not force them to open new bank accounts.
Nguyen Van Thanh, head of Viet Nam Automobile Transportation Association, said if new bank accounts were required to pay fines, account holders had to receive interest.
Source: VNS