The hot spell in the northern and central regions over the past days will continue until the weekend, according to the National Centre for Hydro-Meteorological Forecasting (NCHMF).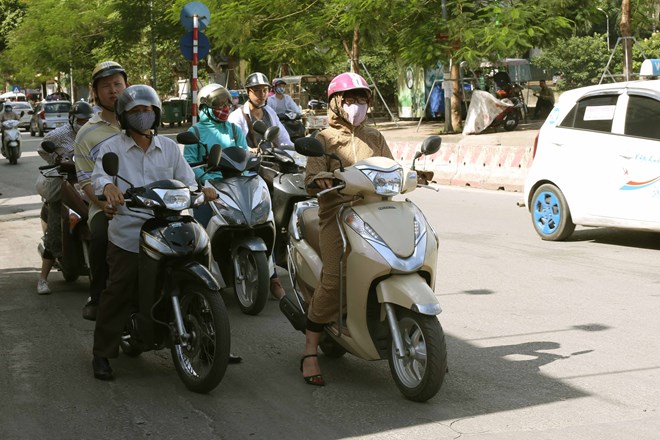 Road users wait for the green light in the shadow to avoid the baking sun at the Truong Chinh - Ton That Tung intersection in Hanoi 
According to the National Centre for Hydro-Meteorological Forecasting, the average temperature in the northern region on July 1 was from 35 to 38 degrees.
The heat wave is forecasted to last until July 5 and the regions will experience from 11-16 hours of average temperatures above 35 degrees. The highest temperatures in the Central region will be 38-40 degrees. The highest temperature in Hanoi on July 1 and 2 will be around 37-39 degrees, but some locations will have higher temperatures of 40 degrees. 
The number of drivers going out in Hanoi has decreased noticeably. Many people working outdoors finish up at 10 am or 11 am instead of 12 pm. Nguyen Ngoc Diep from Dong Da District said they cancelled a family picnic at the weekend due to the heat.
A drought has been going on in the past two months in Quang Ngai Province and damaged thousands of hectares of crops. Nearly 200 hectares were destroyed in Duc Pho District alone and a large area of land in Ly Son is being abandoned. Quang Ngai Department of Agriculture and Rural Development reported that they lack water for 1,000 hectares of cultivated land. Meanwhile, the water level at various lakes and reservoirs dropped sharply.
Quang Nam provincial authorities are having to deal with saltwater intrusion in the Thu Bon and Vinh Dien rivers along with the drought. Head of Duy Xuyen District Department of Agriculture and Rural Development Van Ba Nam said since the two pumping stations in Duy Phuoc and Duy Vinh couldn't work, they might lose 500 hectares of rice.
Danang authorities issued warnings over wildfires as the temperature reaches 40 degrees. Local beaches have been overcrowded in the past days, especially from 11 am to 3 pm.
Ninh Thuan has been the hottest place in Vietnam. The temperature at 8 am in Phan Rang City reached 36 degrees in the past four days. Several remote areas in Bac Ai and Ninh Son districts experienced temperatures of over 40 degrees.
Cao Thi Xuan Lan said she had to send her two children to live with their grandparents in Da Lat to escape the heat. Many people sprinkled water onto the ground or placed a bowl of ice in front of the fans for cooler winds. Hoang Van Thai, a contractor in Phan Rang said they had to reschedule work shifts to avoid the blazing heat.
The heat wave also causes many people to fall ill with viral fever and diarrhoea. Ninh Thuan General Hospital reported a surge in the number of patients. The doctors are dealing with over 70 patients a day.
Dtinews