VietNamNet Bridge – The rising number of greenhouses in the resort city of Da Lat is having a negative impact on the local scenery and climate, experts have warned.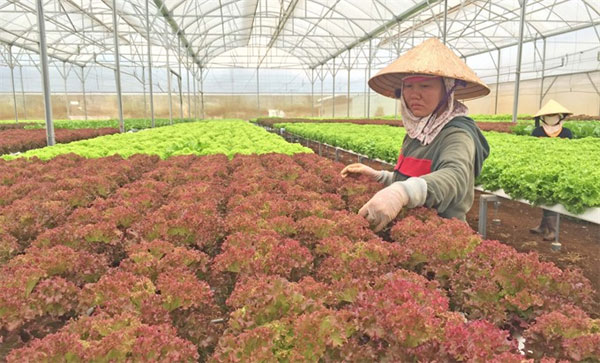 A farmer tends to lettuce in a greenhouse in Da Lat City in the Central Highlands province of Lam Dong. — VNA/VNS Photo Nguyen Dung
Dr Vu Ngoc Long, former director of the Southern Institute of Ecology, told Tuoi tre (Youth) newspaper that greenhouses and net houses used for vegetable and flower farming were dominating the landscape of Da Lat's downtown and outskirts.
"Green leaves are being replaced by white and blue canopies," he said, adding that the scenery of a resort city was damaged.
The city has about 10,000ha of farmland, and it has been reported that green houses and net houses take up 4,400ha and 1,200ha respectively. Greenhouses and net houses are mostly used for hi-tech agriculture.
The area of greenhouses and net houses is now five times higher than five years ago.
According to the Lam Dong Province's development plan, Da Lat will have 20,000ha of vegetable farms and 2,800ha of flower farms by 2020. Hi-tech agriculture will cover about 75 per cent of vegetable farms and 90 per cent of flower plantations.   
"The increase of hi-tech agriculture in Da Lat also means more greenhouses and net houses," Long said.
Greenhouses and net houses are used to limit the impacts of sudden weather changes on agricultural production, but not all plants adapt well to the environment.
"Greenhouses have negative impacts on the environment such as raising air temperatures, reducing soil quality and polluting the water system," Long said.
"There are too many greenhouses being built close together, sparing no room for ventilation, which leads to a build-up of hot air," he explained.
With outdoor temperatures rising, people were turning to air conditioning to keep cool, worsening the situation.
"Da Lat's downtown and surrounding areas, especially those with a high density of greenhouses, are warming up," he said.
At an altitude of 1,475m, Da Lat has an average annual temperature of 17.8ºC, which peaks in April at 19.1ºC and drops off in December to 15.7ºC.
In the last ten years, the average temperature in the city has increased 1-1.5 degrees Celsius, and the gap in temperatures over the course of 24 hours has extended by 3 degrees Celsius.
On areas where greenhouses and net houses had been built, rainwater was not being absorbed and was consequently flowing down into Cam Ly Stream.
"Da Lat and Lang Biang are located at the upper parts of Dong Nai River and Serepok River, so pollution and the negative impacts of climate change could be widespread," Long said.
Local resident Pham Thi No, 45, who lives in Thai Phien flower village, said that so many greenhouses made living in the area unpleasant.
"It's getting hotter and hotter in this area, and at around midday you can smell the stench of fertiliser," she said.
"This area floods easily after half an hour after rain," she added.
"About a kilometer from here, you will feel the difference. It's much cooler," she said.
Long said that local authorities and farmers did not how to use hi-tech agriculture, including greenhouses biotechnology, automation and organic farming.
"As a result, they have built loads of greenhouses, but should be the last option in response to harsh weather," he said.
Long said that regulations were needed to monitor greenhouses and what was being grown in them.
Vice chairman of Lam Dong Province People's Committee, Pham S, said that experts had warned that greenhouses should not be built on slopes, but local farmers had ignored the warning because of the profits they could earn.
The province had asked authorities in Da Lat to research profitable plants that did not require greenhouses.
"In the long term, the province would like to add more green space and reduce the area covered by greenhouses," he said.
Thierry Huau, a French architect who contributed to an adjusted master plan for Da Lat's development until 2030 with a vision to 2050, told Tuoi tre newspaper that the development of agriculture in the area needed to be reviewed.
Da Lat should focus on promoting clean agriculture and revitalising polluted soil. Volleys of greenhouses should be replaced by flower valleys or clean agriculture areas.
"In the next step, agriculture combined with tourism should be promoted strongly. Agriculture production will be lower but generate higher quality and Da Lat will develop sustainably," he said. 
Source: VNS