VietNamNet Bridge – In summer it is a common sight to see children reading books at Kim Dong Book Centre in District 1, one of the few good spots for them in HCM City.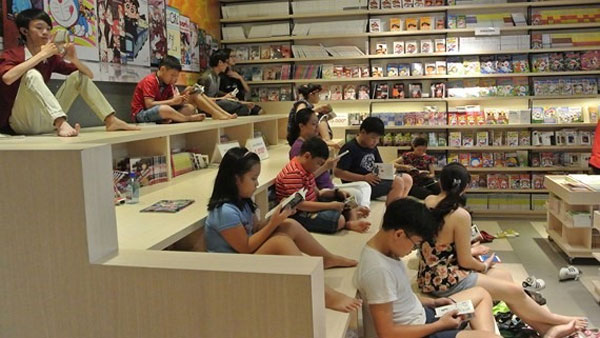 Kids read books at Kim Dong Book Centre in District 1, one of the few good reading places for them in HCM City. – Photo sggp.org.vn
An employee of Kim Dong said at least 200 children and teenagers come in daily, with many parking themselves there for the whole day.
A woman, who declined to be named, said she brings her child there often since it has a large selection of books appropriate for all ages.
Do Thi Mai Loan, head of the children's section at the HCM City General Science Library, said around 300 young readers come in daily during the summer, with many parents leaving them there during working hours.
The public library has over 30,000 books, some donated, and colourful interiors and organises summer activities such as science clubs, craft sessions and exhibitions to offer kids new reading topics.
An 11th grader told Viet Nam News: "I think the library is big and comfortable, and has a lot of reading materials for me. I hope once its renovation is finished in August it will be even better."
Vu Duong Thuy Nga, head of the Ministry of Culture's library department, said providing good public reading spaces is crucial to developing the reading habit in society.
More, better reading spaces needed
The city has few places for children to read. Public libraries often lack reading materials meant for them.
Kim Dong on the other hand is a great place for children to read since it is designed to encourage reading rather than just be a place to sell books, and also has facilities for eating and drinking.
But it only has books it publishes.
The HCM City General Science Library has a large reading area for children and frequently gets new books, but it is not large enough for the kids thronging there in summer and is quite far away from several districts.
Other facilities such as HCM City Book Street do not have enough reading space for children.
Meanwhile, summer book exhibitions are typically organised at cultural houses and attract larger numbers of children, but they are not regular reading spaces for kids and are meant more to promote reading.
The upshot of all this is that many parents end up taking their children to bookstores to read though most are not designed to be reading spaces.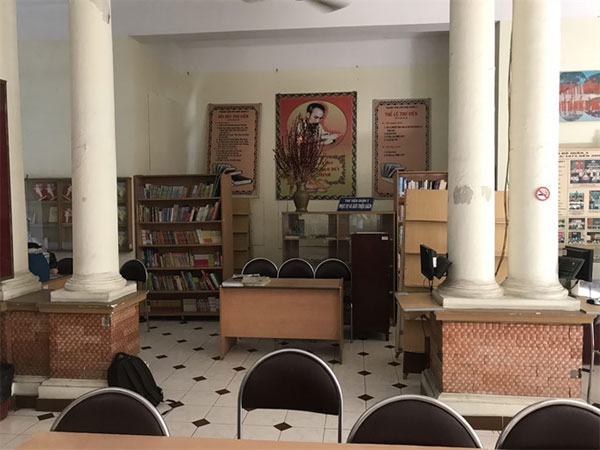 The District 3 public library rarely has children coming in. – VNA/VNS Photo Viet Dung
Plans to pamper kids
Building facilities with a large selection of children's books and a play area where kids can read during summer has been on the city's radar for some time, but there are challenges.
Many public libraries for instance have difficulty in buying books because of a lack of resources. Some deal with this problem by taking turns to offer certain books with other public libraries.
Many of the public libraries are in poor shape with bad lighting, deteriorating interiors, and shortage of books and staff.
An employee of the library at the District 3 Cultural House, who wished to remain anonymous, said: "We have two or three young readers coming every week; our main visitors are officials who come here to read newspapers. We only update our book selections every quarter due to our tight budget.
"Most libraries like us serve as a storehouse for books used for special events rather a place for kids to read every day. There are bookstores in District 3 that are more attractive to kids."
The District 5 public library is quite popular with kids, with 10-20 coming daily on average during summer. It has a sizeable collection of children's books and frequently organises well-attended reading events.
It promotes itself by frequently exhibits books in nearby schools, a model that some other public libraries are now using.
Its manager, who asked not to be named, said: "Reading is important for students since it is a great way to relax after school. However, many libraries are having difficulty with space, so there is only so much we can do.
"Also, kids just are not as interested in books as before since there are more sources of information and entertainment nowadays."
Cultural houses in some wards such as Da Kao have their own, small spaces for reading, consisting of bookshelves and a few stools.
The HCM City General Science Library is undergoing renovation, which will expand its area to nearly 400 square metres to provide a better reading space and more activities for children during their summer vacation.
Phuong Nam Book Company has several large bookstores in HCM City and Binh Duong Province, with a third of their area used as reading spaces and playgrounds for children. The company plans to open more stores in Hanoi and the Central Highland.
A suggestion has been made by authorities to combine small public libraries in contiguous districts like 1, 3, Phu Nhuan, and Binh Thanh into a single large one.
Last year the Government approved a plan to promote the reading culture, saying it is important for fostering education and culture.
It will modernise public libraries and increase the number of books they have, and create favourable conditions for private libraries and publishers to develop.
VNS