VietNamNet Bridge – Nguyen Thi Hao from Cu Khe Commune, Thanh Oai District, Hanoi was sentenced 18 months of imprisonment for making fake alcohol in a trial opened by the Ha Noi People's Court on Tuesday, reported the Vietnam News Agency.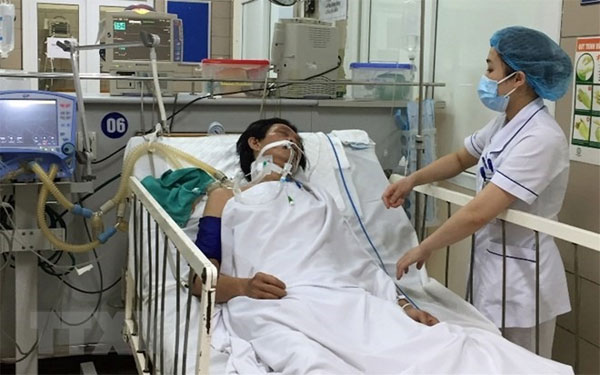 Fake liquor imposes several health threats to drinkers. Photo for illustration. – VNA/VNS Photo
According to the indictment, in May, 2015, Hao established a traditional rice wine processing facility without any business registration. Her self-claimed "traditional rice wine" was actually a combination of industrial alcohol, cassava wine, sugar, tao meo also known as Docynia indica, a kind of apple that is grown in Vietnam's, fermented sticky rice and well water.
However, a label on every bottle of her wine says that it is made in a traditional method. The product was widely distributed to restaurants and shops around town, at a duck noodle soup stall on Nguyen Chi Thanh Street, for example.  
On February 28, 2017, Nguyen Minh Khuong from Yen Bai Province and his family had a dinner at the stall where he drank a couple glasses of the wine made by Hao. At 2am on the next day his health turned critical and he was immediately hospitalised. Khuong's health report later said that his health was damaged by drinking fake wine.
According to an inspection by the Institute of Criminal Science and Technology under the Ministry of Public Security, bottles of wine seized at the duck noodle soup stall had a high percentage of methanol – from 37.92 per cent to 38.44 per cent.
Methanol is compounded from hydro and carbon dioxide. It is extremely hazardous to humans. Inhaling or drinking methanol may cause headaches, vomiting, vision loss, respiratory failure or even death.
At the trial, Nguyen Thi Hao admitted her wrongdoings. The trial panel determined that Hao's behavior was dangerous to society and violated the state's food and beverage safety management.
According to the Viet Nam Food Administration under the Ministry of Health, over the past ten years, 382 people have been poisoned by unsafe alcohol and 98 of them died as a result
Most cases of alcohol poison are caused by drinking alcohol of unknown origin, or home-made liquor sold at small restaurants and street stalls. 
Source: VNS