VietNamNet Bridge – Nearly 40 per cent of enterprises with foreign direct investment (FDI) in Vietnam are facing a shortage of employees and have struggled with recruiting new labourers, said an official from the Ministry of Labour, Invalids and Social Affairs.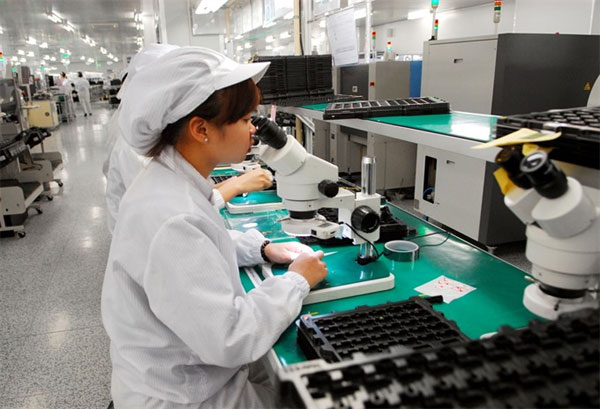 A worker of South Korea-invested Myungjin Electronic Vina Compnay in northern Thai Nguyen Province. — VNA/VNS Photo Danh Lam
The difficulties in recruitment are due to a shortage of skilled labourers, said Tao Bang Huy, deputy head of the Employment Department, at a seminar on labour in the FDI sector in Hanoi yesterday.
FDI enterprises in Vietnam plan to recruit more than 67,000 labourers this year, accounting for more than 51 per cent of the total number of newly-employed labourers in all sectors.
Huy said that the quality of Vietnamese labourers working in the FDI sector remains limited. It is often hampered by factors related to physical strength, working behaviour and awareness of professional discipline.
According to National Assembly deputy Ngo Duy Hieu, director of the Industrial Relations Commission under the Viet Nam General Confederation, wages in the FDI sector are higher than those in the non-State sector, but remain lower than the wages of State employed labourers.
By 2017, the average monthly wage of FDI sector employees reached over VND6.204 million, compared with nearly VND5 million in the non-publicsector and around VND6.224 million in the State sector.
There is a gap between wages for men and women. A man working for an FDI company earns over VND6.8 million per month while a woman earns only VND5.8 billion per month.
This is an area that needs improvement, said Hieu as there are more female employees than males – in several enterprises, women make up more than 90 per cent of the labour force.
Each FDI labourer has to work around 275.8 hours overtime per year, relatively high compared to other sectors. Overtime hours are highest in the industries of textiles, leather shoes and electronics enterprises.
Several companies reported 500-600 extra hours of overtime per year for employees, far exceeding extra time limit regulated by Vietnamese laws, Hieu said.
Hieu also pointed out the fact that some FDI enterprises end work contracts with labourers above the age of 35 because the companies feel some sectors do not fit the workers' ages.
According to the Employment Department, this is an issue that enterprises and workers need help with, as only 63 per cent of FDI companies currently employ workers over 35 years of age.
"We need policy breakthroughs to protect vulnerable employees. FDI enterprises need to pay attention to securing labourers' livelihoods," Hieu said.
Le Van Hung from the Vietnam Institute for Economics said, "If Vietnam is willing to make major changes and attract investment from high-capacity FDI enterprises then improving the labour force quality is a must. Otherwise we will be left behind."
Tao Bang Huy from the Employment Department said that to improve the efficiency of the labour force working for the FDI sector, the country should select FDI enterprises which generate large value and promote worker productivity and training.
The Ministry of Labour, Invalids and Social Affairs and other relevant agencies will work together to make amendments to the labour law, he said.
There are currently more than 3.6 million labourers working for over 14,600 FDI enterprises nationwide as of 2017, according to the General Statistics Office of Vietnam.
FDI sector plays an important role in national labour productivity growth. From 2006-2016 the FDI sector amounted to 29.3 per cent of average labour productivity growth of the country, compared with 46.6 per cent from the non-State sector and 24 per cent from the State sector, revealed Vietnam Institute for Economics. 
Source: VNS