VietNamNet Bridge – It was Mark Twain who inimitably said: "Buy land, they are not making it anymore."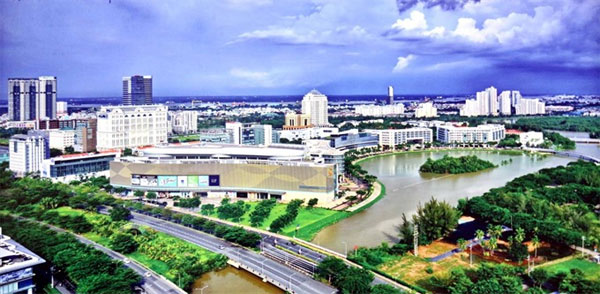 An overview of the South Saigon urban area, HCM City. Illustration. — VNA/VNS Photo
Sound advice when land is turned into a commodity that is bought and sold in a "free market," but this is a mythical entity for many people in Vietnam, because they can only dream of owning a piece of land or a home in the nation's urban areas.
Theoretically, though, as per the nation's charter, all of the country's geographical features – land, water bodies, underground minerals as well as resources deep under the sea belong to "the people," but the State represents the people in managing them – making the State the highest authority.
It is but natural then that the State's management of this most precious resource comes under close, critical scrutiny.
The onus, then, is on the Vietnamese State to manage this resource effectively and equitably, and despite some major steps taken in the past towards equitable distribution, its record of late has left a lot to be desired.
It is a telling fact that in recent years, land disputes account for around 60 per cent of all legal headaches in the country. There is also a clearly discernible upward trend in mass land disputes and prolonged cases that have evoked alarming dissatisfaction and anger. The anger was on full display in last year's Dong Tam incident in a rural area of Hanoi and during the recent flare up in the new urban area of Thu Thiem in HCM City. Both cases involved forced acquisition and relocation of local residents to implement "key projects."
And as things stand, "key projects" are quite commonplace, given the country's fast-paced development and keenness among authorities for presenting a shiny face on the progress they want to claim. However, the question is: Why do such projects hit some people really hard and benefit some people or institutions handsomely? And the follow up question is: Is public land being managed fairly, equitably and transparently? Let us be honest about the answer: No.
Problems with the vast tracts of land under the management of different State agencies only make it to the media and forefront of the people's consciousness when they slip beyond the control of authorities, and the publicity becomes unavoidable. This, by itself, bespeaks of an opaqueness that facilitates "under the table" deals that, in the final analysis, hurt the people on whose behalf the properties are being managed.
A glaring instance of this was the scandal that engulfed the central city of Da Nang last year. A private real estate mogul, Phan Van Anh Vu, was able to buy up State-managed "golden estate" through personal ties with the highest authorities of the city. This was not a sudden development. The alleged ability of Vu being able to manipulate corrupt high-ranking officials of Da Nang had been talked about for several years, and he was referred to as a mafia leader.
The unfurling of the case has implicated corruption at very high levels. It forced the Communist Party to modify its own disciplinary regulations to extend them to cover retired and even deceased Party members so as to facilitate investigation into serious cases of corruption. This is not a symbolic move. It denotes an acknowledgement of how grave the problem is.
Cao Thanh Binh, deputy head of the Budget Department, HCM City People's Council, said that the State-run HCM City House Trade Management Ltd Co, in charge of managing businesses concerning State real estate, has cheaply rented several land lots to private businesses. Then, there is the risk of private businesses buying up the State companies that rent land at a depreciated price, only to jack up their shares later, making the State-owned companies minority shareholders, depriving the State of due benefits from managing public property.
In a report released earlier this week, several other State-run enterprises, frequently referred to as 'economic steel punches', such as tobacco producer Vinataba, agro-product maker Vinafood and chemical manufacturer Vinachem, were found by the State auditing agency to have committed multiple violations in land management.
Most notably, when these companies implement certain projects and need to re-purpose land areas under their management, they transfer the land to a self-appointed partner investor without going through proper bidding process.
"Without public bidding and tendering, competitiveness is reduced while risks are heightened as the self-selected investor might not possess sufficient capacity and experience to undertake the project," the auditing agency said.
And these are just three of nearly 140 State-owned enterprises that enjoy control over prime land in various areas of the country. Without constant, close supervision, the current situation is a recipe for disaster.
Similar "mistakes" in urban land management have been found in big cities across the country. The State auditing agency also pointed out that the municipal administrations in Hanoi, HCM City, Can Tho, Binh Duong and other cities have all appointed investors for projects without going through any public bidding process, fixing land prices at lower than their actual commercial value, leading to losses estimated (conservatively, for sure) at VND8.3 trillion (US$362 million). And this is the figure for just three years between 2013 and 2016.
The actual losses incurred by the State budget because of under-evaluation and other forms of mismanagement and corruption over the last decades cannot be estimated, but they should not be underestimated, either, because this can continue in the years to come if things don't change.
To put all this lost and missing money in context, we should imagine what it could be used for. It could be used revive the country's aging railway system that has not seen a substantial infrastructure upgrade since it was built under French colonial rule 100 years ago. The money could have helped improve the living standards of thousands of overworked but underpaid doctors and teachers in a country where public institutions are still the mainstay of its 'soft infrastructure.'
To give this missing or lost funds some more specific context, let us take just two land lots in Hanoi: 29 Lieu Giai and the land lot where the Giang Vo Exhibition Centre was built 40 years ago – both located within a busy area in Ba Dinh District. In an open market, these areas would easily fetch VND100-200 million for each sq.m. However, these land lots belong to the State and stay under the management of the State Capital Investment Corporation (SCIC), so it was sold for just one tenth of its market price to a private developer, who plans to erect condos with dizzying heights (a suspicious exception at that, since such towering buildings are a no-no in the inner urban zone).
The Ministry of Finance has "suggested" that the Government Inspectorate inspects as many as 60 similar cases with dubious purpose conversions of prime land lots including eight in Hanoi and five in HCM City. The Government Inspectorate has agreed to launch investigations into these cases since the middle of last year. We can safely bet that the findings are not going to assuage public anxieties about gross mismanagement or outright corruption.
At this point, the least discerning amongst us can sense a shared pattern in these cases – large holders of State-owned land mysteriously struggle to put a correct price tag on 'the hen that lays the golden eggs,' underselling these prime assets and causing losses that run into several trillion dong.
Faced with such a major crisis, the expected responses have been forthcoming – establishment of databases, accurate land valuation mechanisms, review of State administration works on land, possibility of setting up a "clean" public land fund, forced re-planning of tardy projects, and so on.
Well and good, but whether these will meet or belie people's expectations remains to be seen.
We have seen that there is some serious intent among the highest echelons of the Party and State to root out corruption, but as far the management of public land is concerned, ground realities will have the final say.
Source: VNS